Whether it's mandated or self-initiated, the coronavirus quarantine is on. Hopefully, by now you've gotten yourself a few supplies — don't hoard toilet paper! make chicken broth! — and you're feeling some degree of safety and security. This next stage is going to be a hard one: staying inside, keeping out of public spaces, and not going to large social gatherings.
You're likely to get a little stir crazy. Okay, maybe a lot stir crazy.
To help you through the quarantine, we're going to be offering recipes throughout the month that will allow you to level up your cooking game and eat well (without potential virus carriers touching your food). The ingredients we're using are easily available through delivery services (and stores). If you do go to the store or a market, remember to wash produce thoroughly.
– Steve Bramucci, LIFE Editorial Director
Ingredients
Pepe is a fundamental Roman dish. The recipe is very straightforward and requires only a few ingredients. Where the complication lies is in the execution. This isn't an advanced ragu that has to simmer for a whole day. It's a pretty basic buttery cheese sauce/ cracked pepper base that really only takes about 12 minutes from start to finish. It's a bit mac 'n cheese, a bit Carbonara, a bit spicy, and all good.
You'll need about one cup of real hard parmesan, 1/2 cup of pecorino, two spoons of unsalted butter, about two spoons of coarsely cracked pepper, and about a half package of good durum and semolina spaghetti. You'll need water and salt to boil that pasta and that's it.
You'll also need a large pot to boil the pasta, a saucepan to make the sauce and toss the noodles, and a set of tongs.
A quick note on the cheese: If you can, get a nicely aged parmesan chunk. 24 months is a good standard aging that'll give you a light umami taste, creaminess, and a semi-coarse texture. 30 months will be sharper and harder. The pecorino should also be something you buy in a big ol' chunk. The pecorino is a lighter, nuttier, smoother, and a more in-your-face umami cheese. Taste the parmesan and pecorino side by side when you start to get a sense of how divergent these cheeses are. The parmesan should be subtle while the pecorino should be robust.
Prep
Get a pot of water on the boil with a pinch of sea salt. Once it's boiling, throw in about six ounces (around half-a-pack) of the spaghetti and bring it back to a boil while moving it around a little.
While that's cooking, grate the cheese using the small teeth on a cheese grater. Then use a pestle and mortar if you have one to very coarsely grind the peppercorns. If you don't have a pestle and mortar, it's not the end of the world. Use a pepper mill — or, if all else fails, find a way to smash them in a bowl. Point is, you want the pepper to be probably twice as coarse as would usually come out of a pepper mill to the point that some corns are just split once.
Cook your pasta about two minutes shorter than dictated on the package. This will give you a nice al dente. Scoop out at least 3/4 cups of the pasta water and then drain off the pasta in a colander and give it a nice toss. Now it's time to cook.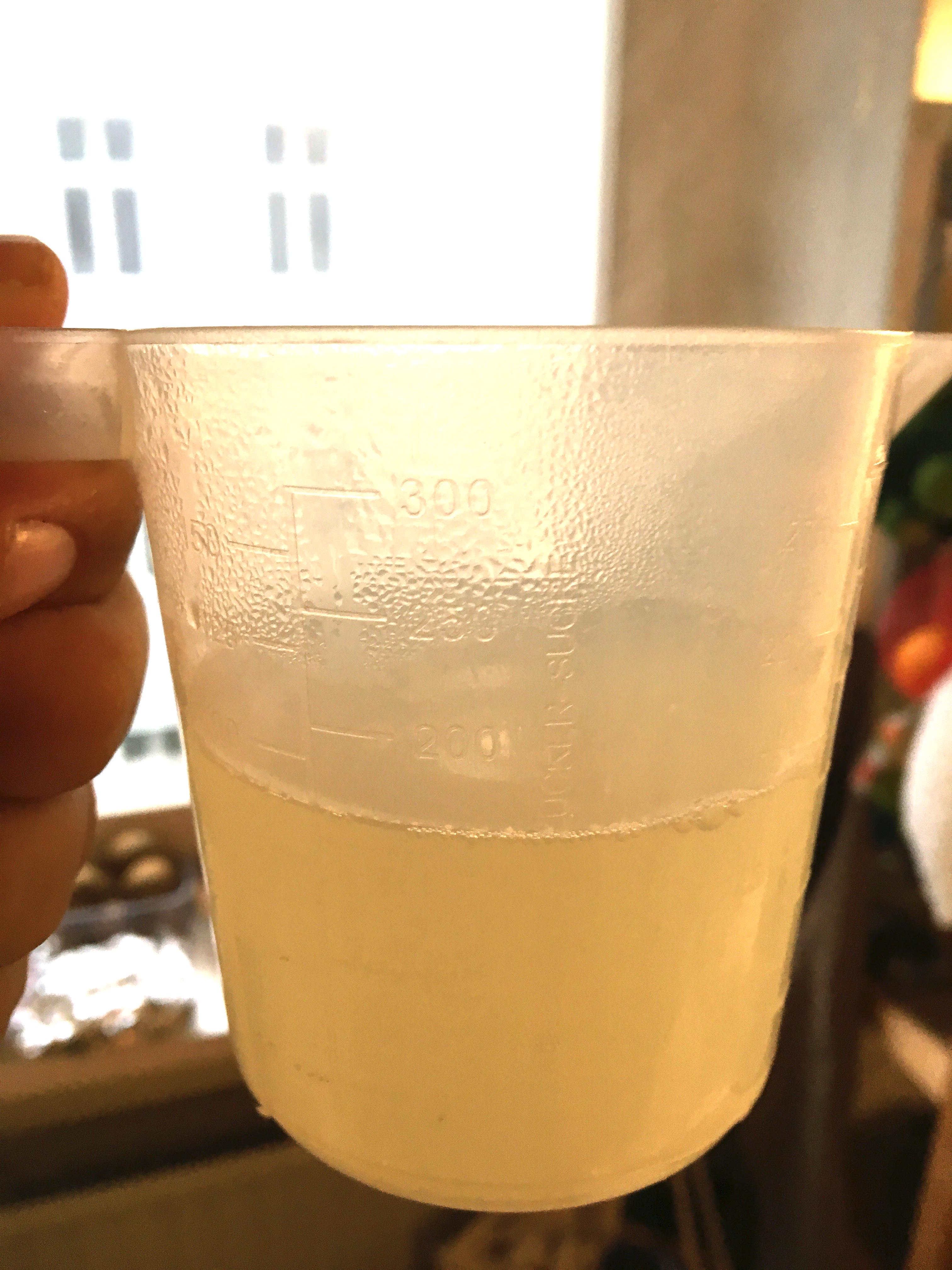 Cook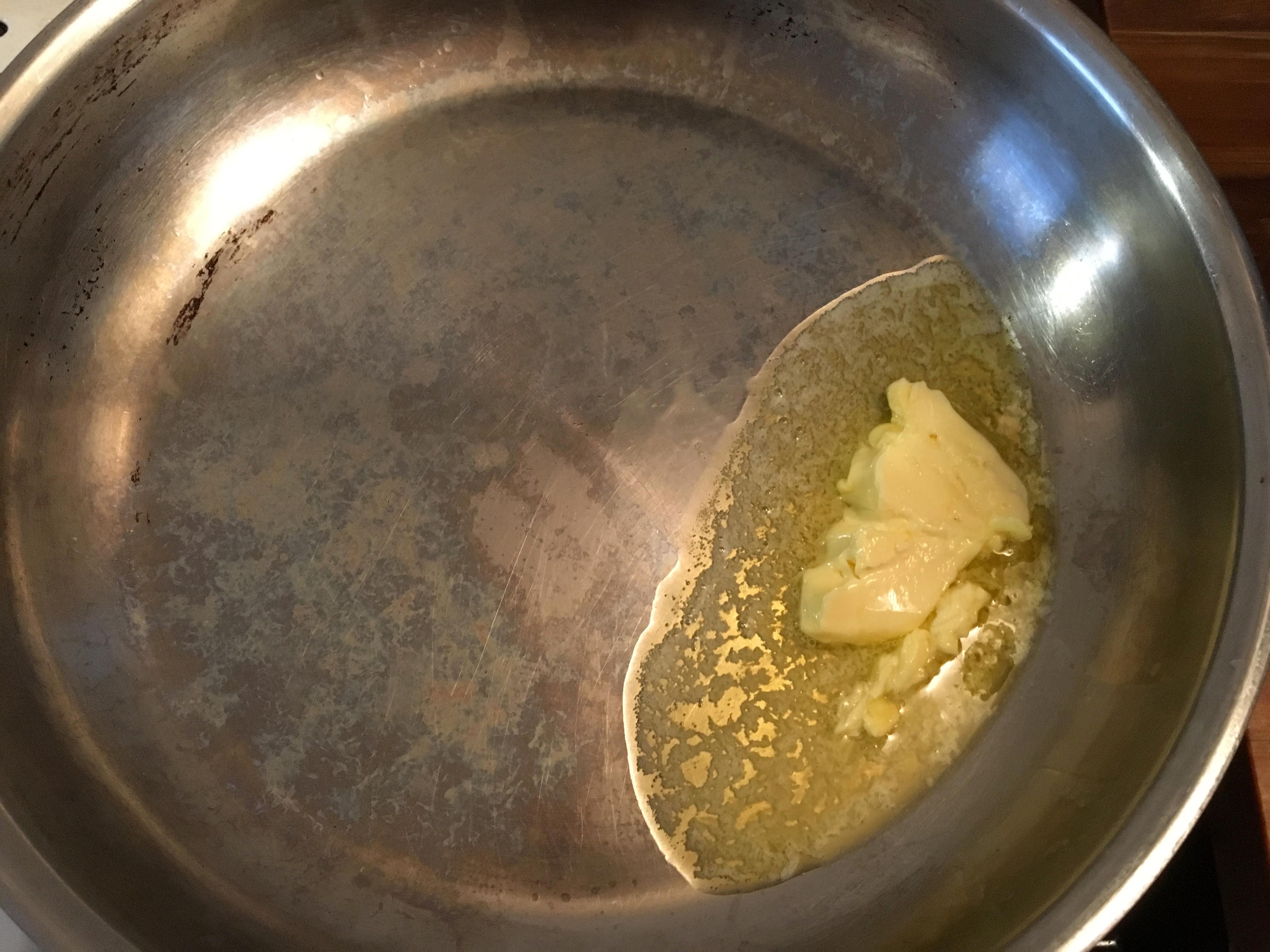 Heat up a sauce pan with your butter on medium to medium high heat (not too hot). Once it's fully melted add in about two spoons of your cracked pepper. You want to let that bloom as the butter just starts to brown. This shouldn't take more than two minutes. When you start to smell the peppercorns and see the browning in the butter, you'll know it's ready.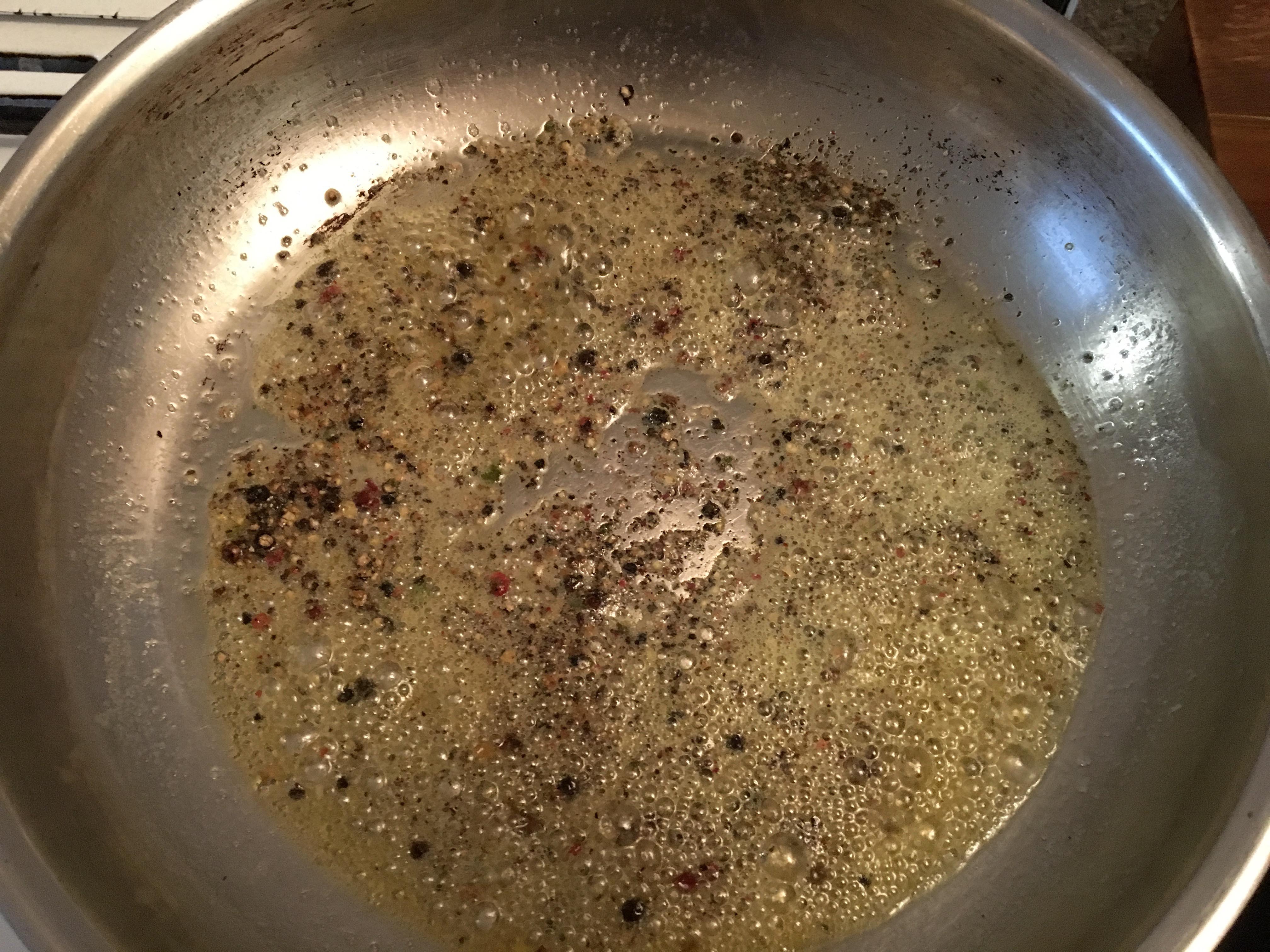 Next, add in about 1/2 cup of the pasta water and bring that to a simmer. Then add in the spaghetti. Use your tongs to move it around until it starts to coat the noodles.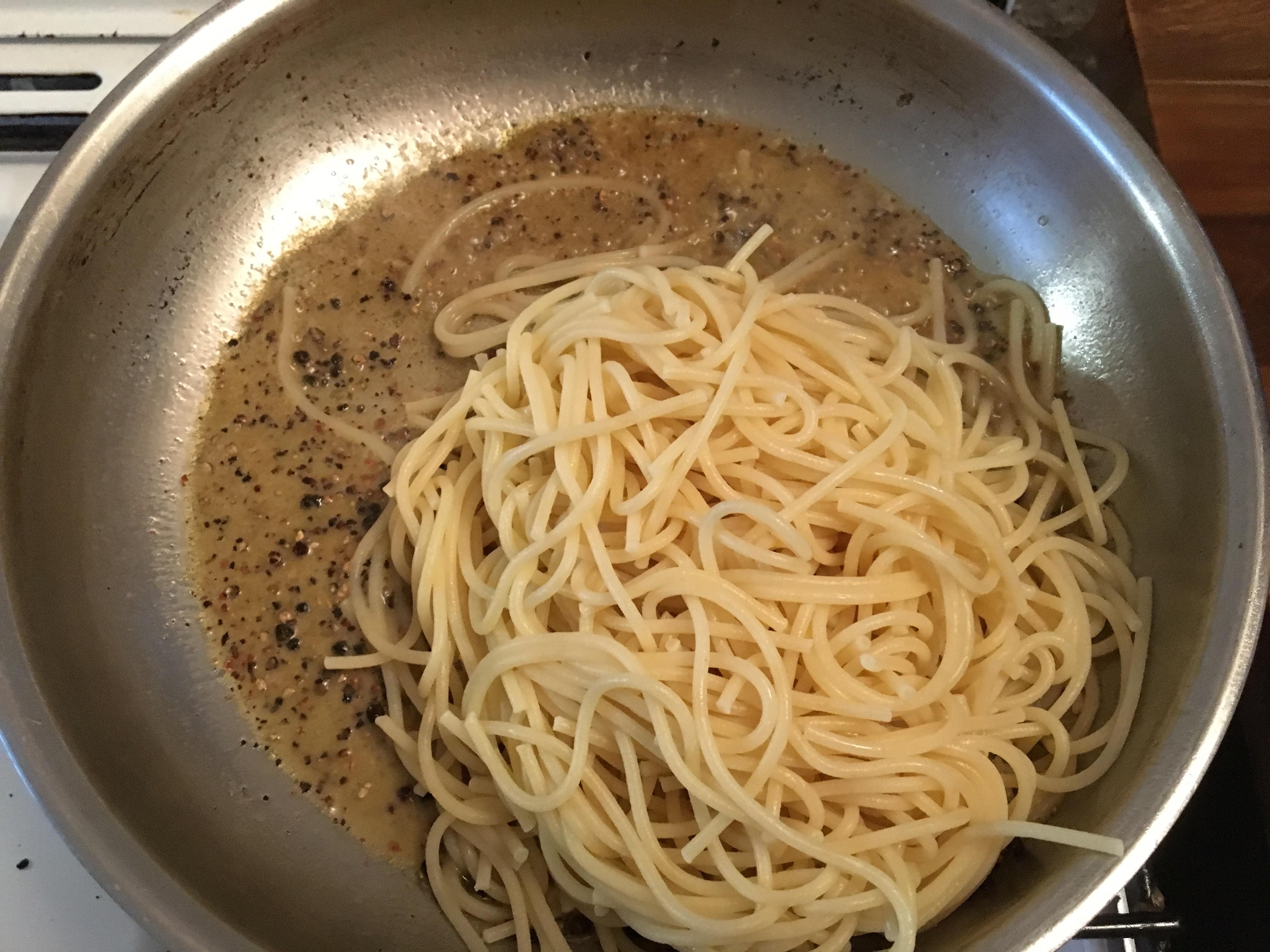 Add in the parmesan and continuously move the noodles so that a light and creamy cheese sauce starts to form. You may have to dash in a little more pasta water to assure it isn't too dry. What you're looking for is a velvet texture that shines. There should be zero clumps. This should take less than a minute.
Remove the pan from the heat and add in the pecorino. You want to add this last as it's the crux of the bright cheesy flavor that accents the sharp peppercorns. Quickly and gently stir in the pecorino with the tongs. Again, if it looks like it's drying out, dash in some more pasta water. Make sure that the peppercorns are getting evenly distributed throughout the spaghetti while you do this (they tend to clump a little on the tongs). That's it.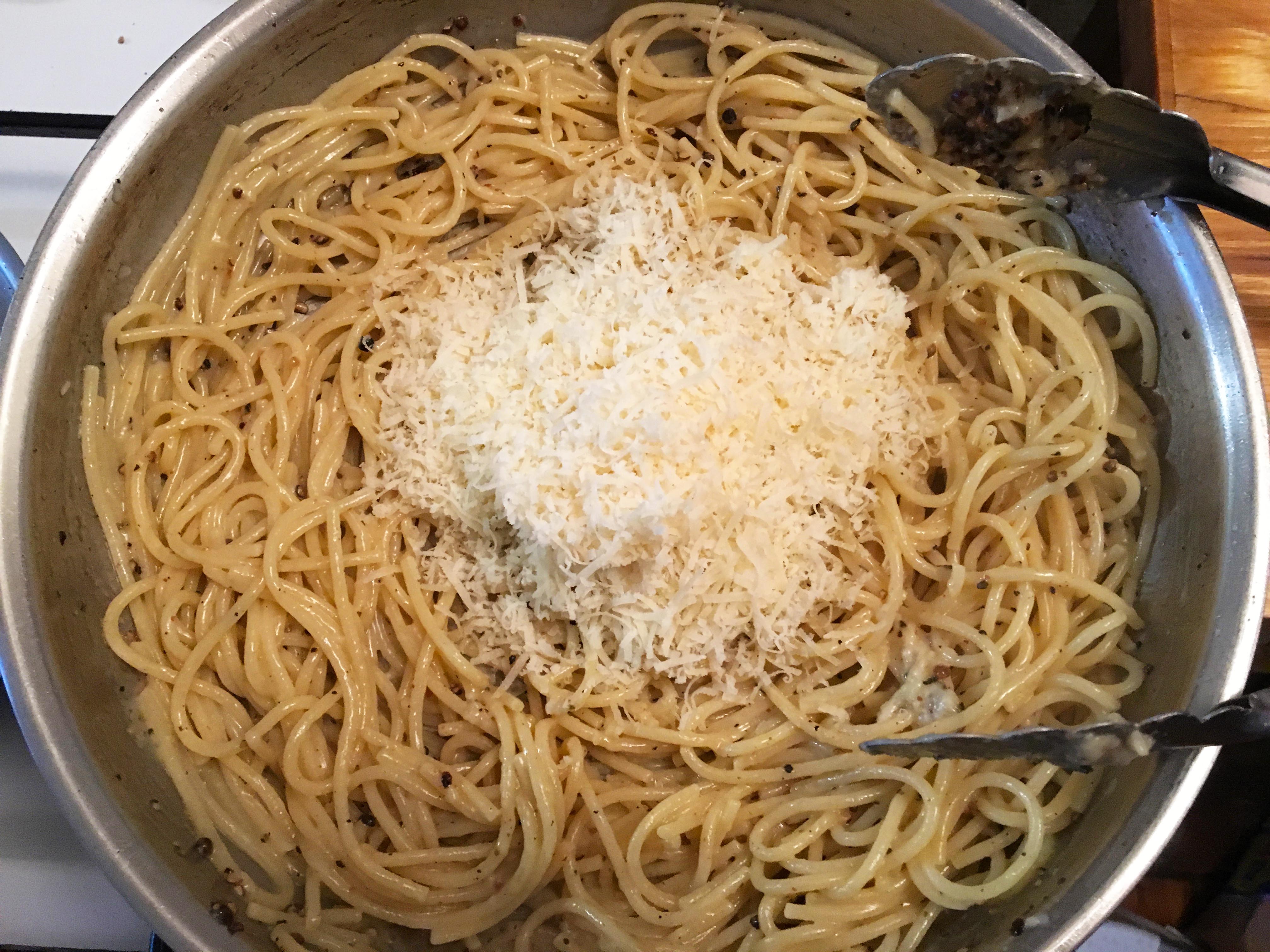 Serve
You really want to serve this immediately. The svelte cheese and pepper sauce should have a nice shine to it and be as smooth as silk.
Twist your tongs to wrap the spaghetti around them and gently place it in a warmed pasta dish (just throw it in an oven on low when you start the spaghetti water). Do this twice per serving as you don't want to pile too much pasta in one bowl. This recipe should easily serve four people as a pasta course.
Use a fine pepper mill to crack a little more pepper around the dish and over the spaghetti and then gently sprinkle a little more fresh parmesan over the noodles. Time to dig in.
The cheesy parmesan base is accented nicely by the big umami and nuttiness of the pecorino. Then there are the peppercorns. They add this bright spiciness that's boldly satisfying with the subtle cheesiness. Maybe oddly, it all feels very light and airy. There's no heavy pasta feeling like you get with a Carbonara or Bolognese — which, if we're being honest, is kind of a great perk.