Over the past four years, I've covered new ice cream releases in early June. That way, you can enjoy them all summer long. But this year… when did summer even start? Is it defined by weather or ease-of-living? Because life hasn't felt easy since March. Also, do we even want more summer? Don't we just need it over with?
All the existential angst of 2020 slowed down our ice cream rankings, to be sure. But with August past its midway point and the season coming to an end, we suddenly feel like… well… not extending summer exactly, but definitely maximizing it in whatever ways we can. And eating ice cream certainly has that effect. Plus all the national brands (and many local ones) ship anywhere in the country these days. Meaning that you can get these flavors right to your doorstep — via delivery or a shopping service — without breaking quarantine.
Here are the best new ice cream flavors for the Summer of 2020 to help you finish the season strong.
Pro Tip: As a maker of ice cream, a lover of ice cream, and a man who weighs a solid 20 pounds too many because of ice cream, I take my home-eating experience very seriously. This year, I discovered that if you buy storebought waffle cones and toast them in the oven for a few minutes, even previously stale cones will crisp up enough to taste homemade.
They'll also lose their shape though, so be prepared to reshape them when you take them out of the oven.
McConnell's S'Mores
Last year, McConnell's won "flavor of the summer" with their "Honey Cornbread Cookie." It's still on their site, in limited quantities, so you probably don't want to miss that one, if you haven't tried it yet. But the S'mores entry from this year — which actually isn't on their site right now, because it's launch has been pushed to September 4th — is also a winner.
The secret here is that the marshmallow bit — the ice cream base — isn't saccharine sweet. It's more like a modified-vanilla bean, with new flavor notes but no overwhelming sugary-gooeyness. The graham cracker swirl gives a nice textural balance, while the fudgy chocolate is gooey, which works nicely.
Bottom line: A pint that conjures s'mores without the mess. And this isn't even McConnell's best flavor of the year.
Häagen-Dazs Rose & Cream
Häagen-Dazs has really been leaning into the whole booze things over the past few years — their Spirits line caught our eye in 2019, too. This year's entry is four things all at once:
Boozy but not overpowering.
Tart in a way that ice cream rarely is (that white grape/ vinous tartness).
Incredibly creamy.
The first time I've really found myself wanting more of anything Rosé flavored, including the wine itself.
The alcohol infusion is legit without being overpowering here and the "peaches and cream" concept with wine really seems to work.
Bottom line: The best thing to happen to rosé since the memes.
Serendipity Strawberry Fields Sundae
Serendipity is new, but the ice creamery behind it, Serendipity 3, is a New York institution. Especially amongst celebrities, a point the property is very eager to make on their website. Well, what can we say? The famous people are right this time. Serendipity is making quality pints with thoroughly thought out flavor combinations.
Earlier in the summer, Dane Rivera said that the tartness of cheesecake wasn't really working as ice cream in many of The Cheesecake Factory's flavors. But it shines here — with literal bits of cheesecake and graham cracker crust embedded in an ice cream base that would best be described as "light on the strawberry."
Bottom line: This is a more balanced, brighter strawberry ice cream. And definitely the best strawberry flavor I've had in a long time.
Coolhaus Queens' Coffee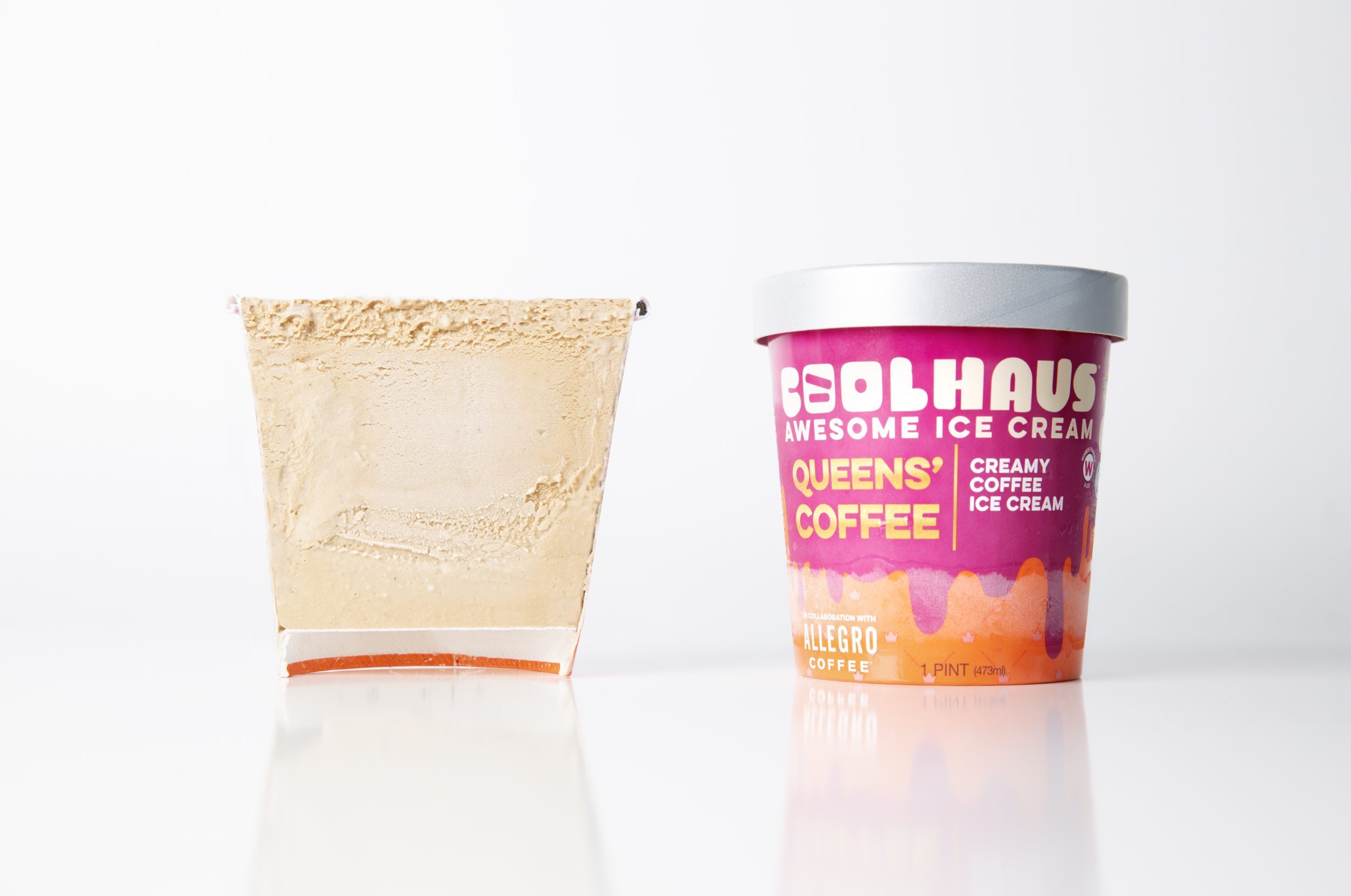 Thre are a few flavors this year that are just really, really good riffs on a classic ice cream iterations. This is the perfect example. The Three Queens Coffee Blend, from Allegro Coffee, is produced in East Africa by three different collectives of female coffee farmers and entrepreneurs across Malawi, Rwanda, and the Democratic Republic of Congo.
The result? Really, really good coffee ice cream.
How much better could a coffee ice cream be than the classic Häagen-Dazs coffee pint? Well, a fair bit. Whereas other coffee flavors are just that, this is actually definable as a light roast, with layered notes of chocolate and tropical fruit and a fantastic aroma.
Bottom line: It's literally the best coffee ice cream I've ever tried and a great reminder that classics are classics for a reason.
Ripple Cookies and Cream (Four Pack)
Ripple is less of an ice creamery and more of a plant-based dairy — selling a variety of vegan milks and powders. But that might be for the better, because they clearly know how to make a vegan flavor taste like the real thing. I'm calling out the cookies and cream, but really any part of this four-pack would hit this list before vegan offerings from most full-blown ice creameries (including many of the other brands on this list).
All that said, don't be fooled into thinking that we're talking about healthy ice cream here. Whereas low cal ice creams were definitely a thing (which I campaigned vehemently against) for a while, this year saw releases that were every bit as fatty and sugary as their dairy-filled counterparts. That's fine with me. I know what I'm getting into when I have a bowl of ice cream, I embrace it. If your approach is similar, you'll love these flavors.
Bottom line: This is the Impossible Meat of ice creams — you won't know it's vegan.
McConnell's Boysenberry Pie
The pie crust in this flavor, made with rye flour, is the heartiest crust you'll find in any ice cream and 99.99% of actual pies. It ends up making the perfect flavor combo (in a perfect ratio) — balancing out the boysenberry ice cream base and adding nice texture and flavor notes. I think perhaps the best thing to say about this tart-savory combo is that with 50 pints for testing in the freezer, it was the only one I found almost empty when I got around to trying it.
Bottom line: Another great example of McConnell's distinct ability to produce flavors that feel bright, un-muddled, and natural — while also coming up with creative plays on classic flavors.
THROWBACK PICK: Salt & Straw Sea Salt with Caramel Ribbons
Unless I'm mistaken, Salt & Straw — the dominant food-truck-turned-multi-city-scoop-shop that really defined the hipster ice cream boom in LA and Portland (in San Francisco it was Bi-Rite Creamery; NYC had multiple entries that could lay claim) — didn't have any new, non-vegan pints come out this year.
Which, technically, means they're not on our list. But it's a quarantine year, so exceptions can be made.
Time to shout out the flavor that made Salt & Straw famous: Sea Salt with Caramel Ribbons. This pint is the flavor that brought salted ice cream to the masses. Sure, "salted caramel" was around — but it was still overly sweet. This is a legit sea salt ice cream with caramel running throughout (and not too much of it, either). It's so salty that it'll remind you of making vanilla ice cream with rock salt as a kid and accidentally getting some of the rock salt in your batter. But by the end of the pint, you won't mind if the caramel is gone — the salt is powerful-yet-balanced, the texture is pure silk, and the sweetness ratio is spot-on.
Bottom line: The best pint of ice cream I've ever had and a lock as the dessert during my death row meal.