Over the past decade, Iceland has experienced a travel boom like no other. Between 2000 and 2014, the number of visitors to the tiny island more than tripled, from 302,900 to 998,600. Good business for a country whose population equals that of Corpus Christi, Texas.
National Geographic attributes Iceland's explosive tourism growth to its former president, Vigdís Finnbogadóttir, who leaned in before leaning in was even a thing. "She befriended leaders like Ronald Reagan and Mikhail Gorbachev—and made sure to be photographed with them." Finnbogadóttir put her island on the map, boosting it to its current status of being the #1 country to visit if you want to make your Instagram friends jealous (and, of course, have a memorable travel experience).
Uproxx photographer Baldemar Fierro recently went to take photos and said this:
I just feel like they have everything figured out and it creates a pretty happy culture. The people are taken care of and it shows. I remember driving by the only prison on the island and it was super small — which seems like a good reflection of how things are run.

It's normal there for people to go into a restaurant to have a coffee and leave their babies sleeping in strollers on the sidewalk — that level of trust is incredible. I've never seen that anywhere else.
It wasn't just the vibe that he loved, he was impressed with the landscape too:
As a photographer, it's just one of the most wild, stunning, geographically fascinating landscapes I've ever scene. Massive monoliths, black sand beaches, towering waterfalls…

Some insane wind too. One day the wind picked up a stone and it shattered our window, so it's the one place where you need to get the rental insurance.
Here are 11 more reasons to book a ticket:

It's Pretty Cheap To Get There
Thanks to WOW air, the "happy Icelandic low-fare, high-performance airline," the country is more accessible than ever. How accessible? If you want to visit in June, you can find roundtrip airfare from Boston for as low as $358. That price dips all the way down to $258 if you're willing to visit in September, when the weather starts taking a turn for the cooler. That said…
The Weather Is Decent, All Things Considered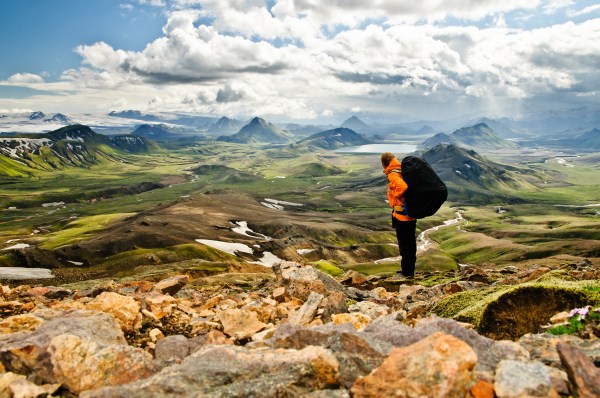 Iceland is just below the Arctic Circle — which means that you would probably expect the temperature to be pretty nippy year-round. In reality though, it's not that bad. Because of fancy weather-impacting stuff (okay, strong ocean currents if you really want to know), the average January temperature in Reykjavík hovers right around the freezing point, at 32 degrees Fahrenheit.
Of course, don't expect to go surfing without a wetsuit in the summer — the average temperature in July is in the mid-50s, with particularly balmy days reaching up into the 70s. And those ocean currents do bring wind with them, as well. So, maybe just pack some layers.

You Can Trek Through Europe's Largest Manmade Ice Cave
Open only since June of last year, the tunnels of the ice cave stretch 500 meters through the solid ice of the Langjökull glacier. Navigating the ice cave is the perfect activity for someone who wants to feel extreme, without too much actual risk.
There's even an LED-lit ice chapel in the tunnels, for anyone wanting a truly unique wedding venue.
Rave With Radiohead While You View The Midnight Sun…
Yes, Radiohead. The band is going to be in Reykjavik during this June's Secret Solstice festival, along with other names like Of Monsters and Men, Deftones, and Die Antwoord. Even if festivals aren't really your thing, experiencing the midnight sun is worthy of any Bucket List.
…Or Catch The Northern Lights During Winter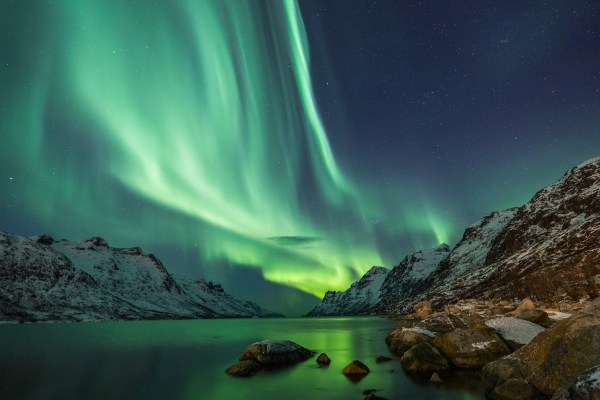 Iceland is also a prime spot for viewing the aurora borealis — the flip side of summer's long days means that winter is full of long, dark nights. And darkness, of course, is key for any Northern Lights-spotter.
That said, the Northern Lights are definitely not a guaranteed weather phenomena — though pages like the Northern Lights Forecast are making easier to know when to head outside and where to go. The good new is: If they don't appear, you can get a floating water massage while you're waiting.

You Like Horses? They've Got Horses
First, a short lesson: Icelandic horses are not the same as American horses. They're smallish — almost pony-sized — and very hardy. And you won't find them (at least not naturally) anywhere else. An import from Norse settlers more than 1,000 years ago, the breed died off outside Iceland some time afterward, and on Iceland, adapted to the climate. Visit Iceland uses the horses as part of their marketing push and it's easy enough to find an outfitter company that will get you onto the back of one for a few days.
Who wouldn't want to hang out with an Icelandic pony for a day or seven? Especially when it's taking you past all the Golden Highlights of the South.
Or Take A Hike At Landmannalaugar
Part of the Fjallabak Nature Reserve, Landmannalaugar is in the rugged, uninhabited interior of Iceland and is one of the country's most beloved natural sites. You can get there via bus from Reykjavik; once you're there, there's plenty to do and see. Natural hot spring? Yes. Steaming sulphur pot? Definitely. Hiking? Bring your boots, because there are plenty of trails to explore.
If you're really into hiking, you'll definitely want to take the 34-mile (read: multi-day) Laugavegur trail— it's considered one of the best hiking trails on the planet, so… NBD. Just make sure you also pack along a tent: There are mountain huts along the route, but advance reservations for them tend to fill up pretty quickly.
Dive Between Tectonic Plates
If hiking one of the top trails in the world doesn't thrill you, then how does visiting one of the top dive sites in the world sound? Because that's exactly what the Silfra fissure is, and guess where it's located? Yup — Iceland. Or, more specifically, inside the Þingvallavatn Lake in Iceland's Þingvellir National Park.
Aside from being the only place in the world where you can dive between tectonic freaking plates, the Silfra fissure boasts an underwater visibility of more than 100 meters. Dive.is explains that the water's clarity is due to glacial melt being filtered for 30-100 years by porous underground lava. "The Silfra water is as pristine as water can get and you can drink it at any time during your dive or snorkel," the site assures cautious divers.
Be aware, though: Because the water's source is glacial melt, it's cold. Like, 35-39 °F year-round. So bring a thick wetsuit. And maybe some hot cocoa for when you resurface.

The Blue Lagoon Is Perfect For Max Chill Time
You wouldn't think that a manmade lagoon that's the byproduct of a nearby geothermal plant would be a huge attraction, but hey — Iceland is full of surprises, and the Blue Lagoon is one of 'em!
Honestly, though, it's not as Marvel-Supervillain-waiting-to-happen as it sounds. The life cycle of the lagoon, which is renewed every two days, is this: Superheated water from a lava flow runs through the power plant, generating electricity and heat for a municipal water heating system. After all that happens, the water is pumped into the lagoon, people bathe in it, and all is okay. Because it's volcanic water, it's chock-full of all the minerals people love, including sulphur and silica (which is where the color of the lagoon comes from). At 104 °F, it's also nice and warm year-round, making it ideal to soak in, even in the dead of winter.
Don't Forget About Skyr, Harofiskur, Pylsa, and Kókosbolla
Just as important as feeding your eyes with the sights of Iceland is feeding your stomach with its local delicacies. Some popular options:
Skyr, a yogurt-like Icelandic cultured dairy product that's actually got a similar history to Icelandic horses (extinct everywhere else!). Sure, you can pick up a pack of Siggi's at Whole Foods any day, but where better to try Icelandic yogurt than in Iceland?
https://www.instagram.com/p/2BfGe7qHJt/

Harofiskur, wind-dried Icelandic haddock served with butter as a snack. W.H. Auden reportedly said of it, "The tougher kind tastes like toenails, and the softer kind like the skin off the soles of one's feet." Yum.
https://www.instagram.com/p/BAm_if9LY5K/
Borramatur, a super traditional Icelandic buffet served throughout the month of Borri (January/February). The meal can be a bit off-putting (not to mention stinky), with dishes such as fermented Greenland shark, cured rams' testicles, boiled sheep heads, liver and oat blood pudding, headcheese, and cured seal's flippers often featured on the menu. If all else fails, you can drink away the memory of the meal with Brennivin, a clear caraway-flavored liquor similar to aquavit, which is considered to be Iceland's premiere schnapps.
Pylsa, Iceland's answer to hot dogs. If you're budget-traveling Iceland, pylsa is what you want to look for — you can buy it from street vendors for around $2. Common toppings include fried and/or fresh onions, mustard, ketchup and remoulade. If you're looking for a premium pylsa experience, you'll want to hit up Reykjavik's Bæjarins Beztu, which reportedly boils their dogs in water mixed with beer.
Take It All In On The World's Greatest Roadtrip

Congratulations! You've nearly reached the end of this article and are currently feeling overwhelmed with all the incredible experiences Iceland has on offer (don't worry, we are, too). Worry not, traveling friend — you can, indeed, have it all, thanks to Iceland's 830-mile Ring Road.
Because remember? Iceland is an island, and a small one at that. Which means that it's perfectly feasible to rent a car and take a road trip around the entire island. You'll see fjords. You'll see plateaus and flat land. You'll see cute villages, and sheep, and maybe even Northern Lights. Miss Tourist has written a couple of fantastic articles on roadtripping the island in two weeks, and the ins and outs of renting a car in Iceland.
Just take to heart the two biggest tips from travelers: Make sure you deck out your car with travel necessities in case the weather turns inclement, and if you see something neat, make sure you find a safe place to pull off to the side of the road instead of stopping in the center of it. It's not rocket science.
Other than that, enjoy your time on what may be the greatest little island on the planet.
More photos: