My graduate advisor, who's consulted on a couple of films, liked to say, 'A word is worth a thousand pictures.' You cannot exactly capture what happened in a movie. Casino captures the era, the look, the personalities.
There are certain thoughts that manifest when you're engaging in conversation with a man that willingly took another man's life. Despite the inherent reservations, I felt no danger: Frank Cullotta is half-way through his 70s at this point, his days of pointing pistols are well behind him. Still, the man's words crackle and whip like the syllables were poisonous. He drops his "R" pronunciations, and rifles off f-bombs with the grace of a hobbled Cirque de Soleil dancer. There's a hazard to his huffs, even at his age. The former mafioso-turned-witness had a contract on his head for at least a decade, and when speaking to him, it's obvious that the remnants of his past boil the cuss stew escaping through the phone's speaker.
A Chicago tough guy in the mafia, Cullotta made his way to Las Vegas in the late '70s, and became a part of the mob machine helping run the desert city. He was there through the bloodshed, the big business, and the mob's eventual implosion. Now, Cullotta runs several tours in Las Vegas that take visitors through the old haunts the mob used to frequent. He also has thoughts on the film that loosely documented his era in Sin City, Casino, along with, of course, his own brand.
"It's about 75% to 90% accurate," he told me. "They got to juice it up. It's a movie. Real life is boring. Movies, that's what they do, they juice them up. I was the technical consultant on the movie. Nick Pileggi did a tape on me. If it wasn't for me, there would be no book Casino, and there would have been no movie Casino."
More than just a technical advisor on the film, Cullotta is also portrayed in the movie by actor Frank Vincent. Yet, the truth is, in order to get the full story of the mafia's time in Las Vegas, one needs to go deeper than just absorbing Martin Scorsese's mafioso masterpiece. The film does have a lot of truths in it, but it's just one era of the mob's stranglehold of the Vegas strip represented in the movie. The mafia began their domination of the desert town long before the film begins.
What was Las Vegas really like when major mafia families held their interests there? How exactly did they come to control one of the most lucrative cities in America? What did Casino get right?
To understand the gravity of the mafia's control of America's gambling capital, you need to start at the beginning…

Blood on the Strip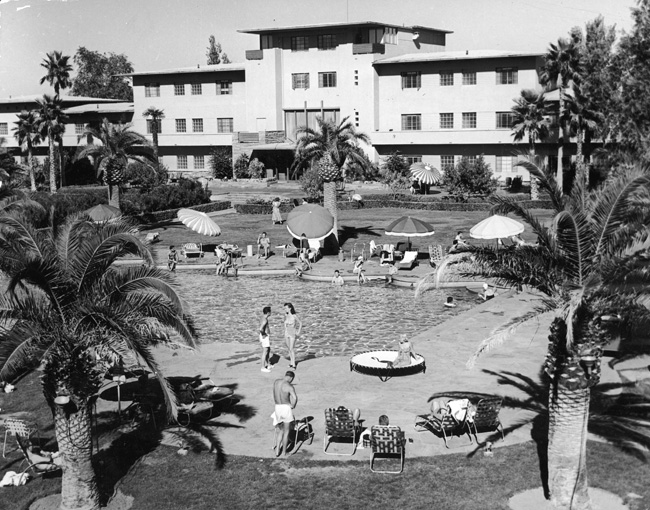 It's safe to say the Flamingo was the beachhead — on the Strip at any rate.
Las Vegas was being built on a foundation of gold.
"The state of Nevada legalized gambling and reduced the residency requirement for divorce[1931] ; both of which were designed to get people to come here, like the place, and stay here and invest," UNLV Associate History Professor, and author of the History of the Silver State, Michael Green explained over the phone. "But if they didn't, at least they would spend some money while they were here."
"World War II was a key turning point thanks to a lot of military bases being built in Nevada and the surrounding states," Green continued. "Also in 1941, the first hotel on the strip opened — the El Rancho Vegas — on April 3. It had about 65 rooms so it wouldn't exactly fit in today. The El Cortez opened the same year, downtown, and that may have been the first [Meyer] Lanksy/[Bugsy] Siegel property. It's also in 1941 that Nevada legalized off-track betting which made the race wire very profitable, and that's really what excited the interest of Lansky and Siegel. The hotel business followed."
The Flamingo can be considered an inception point for the Vegas mafia. The Lansky and Siegel property — which Siegel helped build and manage — was the first real luxury hotel in Las Vegas. But, the building and maintenance of the mob-owned property wasn't without its problems. Most notably, was the fact that Siegel and his girlfriend Virginia Hill were skimming money from the resort's budget.
"There was no doubt in Meyer's mind," Charles "Lucky" Luciano wrote in his memoir, "that Bugsy had skimmed this dough from his buildin' budget, and he was sure that Siegel was preparin' to skip as well as skim, in case the roof was gonna fall in on him."
The mafioso leadership grew increasingly tired of Siegel's skimming, and — despite the supposed intervention of his associates Lansky and "Lucky" Luciano, and the fact that the resort finally began to turn a profit — Siegel was murdered inside his Beverly Hills home on June 20, 1947. (It's believed that Lansky ordered the hit, but there's much debate to whether that's true or not.)
According to Green, things moved quickly after that:
The Thunderbird is built soon afterward and that's tied to Lansky. The Desert Inn is being started; the builder of it, Wilber Clark, runs out of money. In comes [mobster] Moe Dalitz and the Mayfield Road Gang from Cleveland, and you do have — at this point — a proliferation of mob ownership and investment. Throw in that in November of 1950, Estes Kefauver brought his Senate organized crime committee hearing here, and he talked about how terrible legal gambling was in Nevada because of the mob. The result of his hearing was that they were shutting down illegal operations around the country. Where were they going to go to run casinos? Well, Nevada was the logical place and Las Vegas was the most logical place in Nevada. So there's also this outside factor influencing things. But, certainly the success of the Flamingo, especially after Siegel is the victim of a hostile takeover — and when you're shot that may times it's certainly a hostile takeover — I think that contributed greatly to the mob's interest in the area.
The mob was able to infiltrate the budding Las Vegas complex by acquiring land at a cheap rate, specifically land that was on the road to Los Angeles. It also didn't hurt that the mob were experts at managing gambling rackets.
"These were professionals at running casinos, at gambling," Green explained. "They've been involved in these activities for a long time. It was not as if there was a group out here training them. We did not have a hotel college then. These were the guys with experience. That certainly helped them — they knew how to run these operations. The truth is, the mob here in the '50s would be, compared with the mob of Frank Cullotta's era, boring, because they didn't have burglary rings and killers running around. These were business people."
Another thing helping the propagation of the mob in Las Vegas was the ineptitude of the cities and counties in properly investigating the backgrounds of the casino and resort ownerships. When Nevada legalized gambling, the state regulated that the county would police their own turf, and Las Vegas was not properly equipped — at that time — to manage an operation of that magnitude.
"The state finally got involved in '45," Green said, "[but] the mob was already starting to move in and they did not have the investigative arm they needed to dig into these guys' backgrounds. By the time they got it, the mob was here. There was one reform governor, Grant Sawyer, who said something along the lines of, 'Well, we can't force people who are here to get out, unless they really do something, but we can keep others from coming in.' So, the fact that you don't really have proper of in-depth state action at that point helps them."
There was also a huge, undeniable reality: The mafia was making money for the state, hand over brass-knuckled fist. Regulation would change the flow of those funds (moving some of it underground through bribes, etc.) and many ascribed to the old saying, "don't mess with a good thing."
As Green said:
In the '40s and '50s, just about all the biggies got in here. I mentioned Lansky and the Cleveland group. There was a guy from Houston who'd been involved in illegal gambling. Benny Binion came here from Dallas, where he had been involved in various rackets. The Riviera supposedly included the patriarchies from New England, and Sam Giancana. You could go up and down the strip and find almost all of the casinos connected to organized crime groups from other cities, and if they weren't involved in organized crime, they were involved in illegal activities elsewhere because gambling was illegal. There was always a tension involved as to just how much Nevada could do about them, and when you consider they were the golden goose of the state's economy, do you kill that goose? You got good business on the part of the mob, with the exception of the fact that they have a tendency to skim a lot of money out of here, but they certainly knew how to run casinos and the state was not really in the position to crack down on them.
In Casino, Joe Pesci's character narrates a scene that shows the count room, where a mobster associate walks inside and takes a large satchel of money back to the mob bosses. That part — the skimming operation — was real.
"I think it's fair to say that the skimming was the golden egg," Green explained. "They could take that money and put it into so many other things. Yes, they made a profit, no question, running the casinos and that was the center of things. They probably could have made even more money, but they centered their profit on the casino itself. The skimming, then, can be put into all kinds of illegal and legal activities around the world. And if you think of the scene in The Godfather, there's the marvelous scene where Don Corleone is saying drugs are wrong. Well, there were some that felt that way, but for the most part they were going into anything they could make money at, and Las Vegas helped bankroll what they're doing elsewhere."
With the exception of Senator Estes Kefauver's Senate crime committee hearings in New York and Las Vegas, the mob was going relatively untouched in their running, managing, and skimming of the casinos on the back end. But, like many smooth running operations, things fall apart (indeed this seems to be the main theme of Casino). Greed, murder, and mismanagement would soon infiltrate the sturdy business dealings of the mob much in the same way the mob infiltrated Las Vegas.

The 'Casino' Era
So it took two weeks after we received the information, I got a guy and we went over there and the rest is history. I killed him.
As the '60s turned into the '70s, a new crop of gangsters were beginning to work their way up the ranks of the mafia's hierarchy. Frank "Lefty" Rosenthal, represented in Casino as Robert De Niro's Sam "Ace" Rothstein, was a gambling mastermind. Numbers, odds, and betting lines populated his mind that same way football routes germinate in the minds of offensive coordinators.
"'Lefty' was from Florida. 'Lefty' was a sharp guy. 'Lefty' was probably the best oddsmaker in the country," Frank Cullotta, a former associate of "Lefty" and mobster boss Tony Spilotro, told me. "Remember, this guy put the first race book up in the casinos. The first one. He had a dream that he could do this, and he did. And everyone else followed suit. Otherwise, all the sports books were off the Strip. He put them right in the casinos with all these TVs. He was a smart man. He knew all the athletes, and he'd know who was sick and who wasn't sick. He'd find out from the trainers who had a cold, who had a tooth ache, who had a sprained ankle and that means a lot when you're setting the line. He was pretty sharp."
Professor Green doesn't hold Rosenthal with the same regard, not by a long shot. "[Frank "Lefty"] Rosenthal [was] an overrated figure in our history," he said.
Rosenthal made his start in the Chicago mob, helping "The Outfit" make money through illegal sports-betting rackets. Eventually, "Lefty" moved to Florida, and continued his betting operations out of Miami. Several charges followed him, seeing arrests for illegal gambling and bookmaking rackets in both states, but his proficient skills in bookmaking and gambling led "The Outfit" to send him to Vegas. Acting as one of the mob's primary cash conduits, Rosenthal took over management of four casinos — the Hacienda, the Stardust, the Freemont, and the Marina — that were all funded by the Argent Corporation, a company owned by real estate mogul Allen Glick. The Glick-owned company was given loans by the Teamsters pension plan, which was under control of the mafia. This is the fashion in which the mob, or as Cullotta calls it, "The Outfit," solidified their presence and domination of the Strip.
"The outfit purchased the four casinos and we used Allen Glick — he was a real estate mogul out of San Diego and he had a clean name," Cullotta says. "So, you needed somebody in there like that. 'Lefty' Rosenthal had a criminal record and he couldn't be an owner in the casinos, so he had to remain a host or something like that."
"The Argent casinos were tied to three main mid-Western families: Chicago, Kansas City, and Milwaukee," Green told me. "It was symbiotic in that you had the Teamsters controlling certain things and you had the mob controlling certain things, and you different groups involved. Certainly Chicago was crucial. Jimmy Hoffa, as part of his rise to power, had made his deals with the Devil, and the deals included bringing in Alan Dorfman to run the pension fund, and Dorfman was the adopted son of a Capone buddy; he came through it through divine right, you might say. So, he was running the pension fund out of Chicago, and they loaned money to, yes, Argent, but also for the building of Caesar's Palace and Circus Circus. In the early 70s, Dorfman asked [ hotelier, Jay] Sarno to allow a friend of his to take over the gift shop, and the friend he sent under an assumed name was Tony Spilotro."
Anthony "Tony" Spilotro was another Chicago "made man" who moved up the ranks of the outfit. He, too, was sent by the Chicago mafia to Vegas to help control their interests in the casinos. In the film, Casino, Spilotro is loosely portrayed by Joe Pesci — in real-life, Tony was tied to at least two dozen murders.
Frank Cullotta grew up with Tony in Chicago.
"I met Tony [when] we were about 12-years old. Like most guys, we shined shoes," Cullotta said. "I became friends with Tony, and we started hanging together, and robbing together, and doing everything together. Tony always had this notion that he wanted to be a boss in the outfit. And he always said, 'When I get there I want you to be with me.' And I laughed and I said, 'I didn't want to be in no outfit.' I was content in what I was doing in far as making money. And he moved up the ladder and became a boss in the Chicago outfit. Tony was a good guy back in the days; he was a kind guy. He was a violent guy, but you had to do something wrong, I guess, to bring that out in him, and I never had that opportunity to get him that angry at me… at that time. But I wasn't afraid of anybody anyway."
Later, Cullotta moved to Vegas to help manage the mob pipeline with his childhood friend Tony.
"I arrived in Vegas in 1978," Cullotta told me. "I was ordered to go there by Joe Lombardo who was a boss in the outfit. Tony had asked me several times to move out to Vegas cause he wanted someone that he grew up with and watch his back more or less. I didn't want to move. So, one day, Joe Lombardo come up to me and tell me, 'You know you gotta move to Vegas. He's your best friend. You gotta go there. You're the only one he trusts.' That was the offer I got. I couldn't turn it down."
In Scorsese's vision of the Las Vegas mob era, Pesci and De Niro's characters are portrayed as childhood friends. The myth following the film is that Tony and "Lefty" were chums, growing up on the streets of Chicago together. Cullotta doesn't see it that way:
"I know Tony didn't grow up with this guy, but they say he's a childhood friend. That's bullsh*t. Tony probably met 'Lefty' somewhere around in the '60s, because I know in 1961, when I first met 'Lefty,' he was by Tony's house and he was gambling. They were playing gin. And Tony beat him out of a lot of f*cking money and if this was his good friend…I know Tony and he wouldn't gamble with good friends. Tony was close to ['Lefty'] but he didn't grow up with him like I did."
When Cullotta got to Vegas, he and Tony had a discussion as to what Frank would be handling while in Sin City.
"I told him, 'I'm gonna bring these guys here like you suggested but they gotta earn and as far as I know, we're not allowed to steal in this town,'" Cullotta says. "He said, 'Well, you got the "okay." Just make sure I get a percentage. I don't want to meet your crew. I don't want to know who they are. I'll tell you what I want them to do. I'll never give them any orders directly, they'll be coming through you. And anytime you got any monies to give me, you give me directly.' I said, 'What else I gotta do out here?' He said, 'I want you to stay in touch with four casinos and the casino managers. They'll know who you are right away. And you'll deal with these guys. If there's any cheaters in the casinos — that means employees — you'll come back and tell me and we'll take care of it.' That's what I did. Those were my functions."
Spilotro and Cullotta were talking about the impetus of the infamous "Hole in the Wall Gang" in which Cullotta and several associates from Chicago were known for going through the walls of homes, banks, and various estates in order to reap the rewards of a successful burglary. It's a similar series of events that's portrayed in Casino, except that in real-life, Spilotro rarely went on jobs with the gang. He was more of their silent leader.
"We didn't just go around burglarizing any house," Cullotta said. "We used to have information. We did it on tips. Information from insurance agents, people that worked in casinos — friends of friends that knew friends have money and, of course, we gave them 10-20% of whatever we made. That was basically our life. We didn't just rob every house for a TV set. We robbed drug dealers. We'd go to them and put the muscle on [them]. Take their dope from them, take their cash, which was pretty dangerous. When you're robbing a drug dealer, they're bad people to start with. So you know if you rob one, and they come looking for you, you probably have to kill them."
Murder was, in fact, a part of the gig in Las Vegas. Cullotta told the story like this:
This guy, Jerry Lisner — as you well know, I got immunity from prosecution on any murders or anything, so I can talk about this freely — was introduced to me by a guy by the name of Joey DeFranzo. All this took place in Las Vegas. As soon as Lisner knew who I was connected with, he immediately tried to attach himself to me. Anyway, this guy wound up being an informant. He was testifying in front of a federal grand jury in Washington D.C. and we didn't notice, but [his] attorney stopped in this place called the Villa, which was owned by Sam Giancana, and the place was ran by Joe Pignatelli. Sam gave it to him. The lawyer was talking about how he was defending a guy that was testifying on this guy Tony Spilotro and Frank Cullotta. Joe acted like he didn't know us, and he conned this information out of this lawyer. And that's how we knew this Jerry Lisner was testifying on us in front of a Grand Jury. [Tony] said, 'Well we gotta kill this guy.' So with that, he kept on telling me, 'Well, when you gonna do it?' I said 'I gotta put it together. Tony, you should know that's not something you run and do if you don't wanna get caught.' Of course, he knew that but he was desperate to get it done. So it took two weeks after we received the information, I got a guy and we went over there and the rest is history. I killed him."
As Tony, Cullotta, and the "Hole in the Wall Gang" cut a blood path through Vegas, "Lefty" was busy making the mob money and becoming famous. "Moe Dalitz and his generation had tried very hard to fly under the radar," Green said. "Frank Rosenthal ends up writing a 'Man About Town' column in one paper, a betting column in another, and has a TV show. Frank Cullotta once referred to hubris — they all got so sure of their own invulnerability that they were incredibly vulnerable."
Hubris wouldn't be the only downfall of the mafia in Las Vegas. The Federal government was already probing deeply into mob dealings in the city, and as they gathered information, their end game began to crystalize.

Snake Eyes
The only time it became violent is when someone didn't do what they were supposed to do, or if they were an informant, or they were stealing on you — then it would become violent. If you didn't do any of them things wrong, you had nothing to worry about. It was nice times. It was enjoyable times. You woke up and you were happy to wake up. Of course we had a lot of heat. The Feds would be all the time following you around. And then they created this strike force and all this bullsh*t and then it became worse. And then when they came out with that RICO, that's when everything got f*cked up.
Senator Estes Kefauver's Senate commission on organized crime served as a warning shot for the mob. In 1960, the Black Book was created to help keep gangsters off the casino premises.
"Grant Sawyer who'd been elected Governor in 1958, had promised tougher gaming control and he was delivering it," Professor Green told me. "His regulators came up with this idea to just ban certain people from the casinos. The first 12 people in the black book were Italian gangsters. Giancana was in it. Sawyer, who was about as liberal as you're going to get in a Nevada governor, said that he thought it was illegal. But, when it went into federal court, it was upheld. So, people have been added to it over the years and now [the people in the book] are somewhere in [the range] of the 40s, and today it tends to concentrate more on cheats, hackers, but there's still some mobsters in it. The idea was that certain people shouldn't be allowed on the premises. There's a moment in the '70s when Tony Spilotro was under consideration for it."
In 1960, Robert Kennedy published The Enemy Within, a work decrying the practices of the Teamsters and organized crime in America. Shortly thereafter, J.F.K. was elected president and he appointed his brother as Attorney General. Bobby Kennedy's focus was on dismembering the Teamsters, Jimmy Hoffa, and their organized crime connections. Part of that strategy was approving illegal wiretaps in the Las Vegas casinos. But, due to their illegality, all the wiretaps could do were gather information and leak it out to the public.
"It [the wiretaps] didn't do a lot to clear the mob out," Green says. "It did create embarrassment for the state, and it helped the state move to do more to get rid of the mob including the passage of the Corporate Gaming Act in 1969. The Corporate Gaming Act changing the law so that only the key stockholders and executives needed to be licensed. Before this, anyone owning part of a casino needed to be licensed. This changed the law made it possible for corporations to come in [and buy casinos]. [Grant] Sawyer opposed this, saying the mob would find a way around this, and he was right."
The biggest salvo against the mob was the RICO act. Passed in 1970, the RICO act "allows prosecution and civil penalties for certain acts (including illegal gambling, bribery, kidnapping, murder, and money laundering) performed as part of an ongoing criminal enterprise," and has been used to wrangle whole groups of criminal empires in one swoop.
According to Green:
The RICO act was an important step on that road because it led to indictments, it led to the organized crime strike force being able to go after the mob families, especially in the mid-West, and with the Teamsters Union. So, you combine the state changing its laws and doing more investigating, the federal government getting the means to go after the mob families with RICO, and that combination helps bring them down.
With the benefit of hindsight, it's clear that the 1969 Corporate Gaming Act was another turning point towards the mafia's downfall. Howard Hughes bought into the Desert Inn, and other corporations began investing in the city, buying some of the precious market out from under the mob.
"The corporations definitely helped," Green told me. "I think the corporations made the federal and state officials more aware of just how bad it was. An example: Kirk Kerkorian, who really is a key figure in the transition to corporation, he bought the Flamingo, and he reported profits beyond whatever the mob had reported. He wasn't skimming! And I think that's the kind of thing that helps bring attention. Hughes is great for the image… he wasn't a gangster. The idea of image has always been so important here in a variety of ways that the image presented of a billionaire clearing out the mob was important. Corporations were coming in once the law changed in the late '60s and Hilton, Ramada, Sheraton — there were various corporations that helped clean things up."
Frank Cullotta doesn't totally agree that it was Hughes and the influx of corporations that helped drive the mob out of Las Vegas.
"[Howard Hughes] didn't run nobody out of town," Cullotta said. "He was his own corporation. It didn't have anything to do with us. Matter of fact, I was told he did us a favor. He actually opened up the door more. The Feds were concentrating on him. He was a f*cking nut. He wasn't bothering us at all. If it was, I'm sure at the time we could have done something about it. All the money in the world can't protect you. When you got a big organization, guys are just dying to make their superiors proud of him. It's like the army: You can't wait to do something so you can get a medal."
It wasn't just the law and the corporations that were helping to clear out the mafia from Las Vegas. Internal strife would soon become another bullet point on the laundry list of missteps in the outfit's plans. Tony Spilotro's "Hole in the Wall Gang" were about to make a serious misjudgment, one that would cost them much more than the sledgehammers used to break down the walls of their targets. Frank Cullotta remembers the day well — when the Gang were caught.
"His name was Sal Romano. He was never a member of the 'Hole in the Wall Gang.' Let's gets the record straight," Cullotta says.
[Note: Cullotta is likely referencing the online reports and mentions of a Sal Romano being a member of the Gang.]
"I never liked him. He was from Chicago, he was a burglar," Cullotta said. "This guy was on the fringe of rolling [informing] at the time; he hadn't rolled yet."
He continued:
He got busted with a load of furs at O'Hara airport that he stole out here [Las Vegas], that he was bringing back to Chicago, and the local cops busted him. The Feds stepped in, maybe a month later, and pulled the case away from Chicago PD, and they never prosecuted him. Chicago PD came down and told me, two detectives who I know, about this whole incident, and they said, 'Do you not think it's strange that they haven't taken it to trial, and it's not showing on the records?' I said, 'Oh, absolutely. The guy's a f*cking rat.'

So, I told Tony, and Tony didn't want to believe it. And at that particular time, Sal wired Tony's house and put a burglar alarm in there, probably put all kinds of f*cking bugs in there, too. I still wouldn't take the guy on any scores with me, or with my crew. But one day, Ernie Devino, part of my 'Hole in the Wall Gang,' we had this big, enormous score we were going to do. We were gonna do it on the Fourth of July. The place had an alarm, which I could've shut off, but it was impossible to shut off because [the shutoff button] was on a main street. So, I had to find out if the vault in there had motion detectors because I knew we were going to go through the roof. So, Ernie Devino pulls this Sal in. I said, 'What the f*ck, are you crazy? I don't like this guy.' He said, 'Well, he can shut the alarm off.' I said, 'Ernie, I could have shut the alarm off. There's no sense in shutting the alarm off. We're going through the vault. What's the matter with you?' I was screaming at him. I told Tony that we had to pass on the score because this Sal knows. 'Ah, just keep him with you,' Tony said. 'Have Larry ride around with him.' Larry Neuman — we used to call him Lurch. He liked to kill people. But, he got away from Larry, he knew we were going in, and that's when the cops folded in on us — as soon as we made a hole in the roof. Sal Romano is the one that set it up. He had a wire on."
Unlike his compatriots, Cullotta decided to flip and testify against his friends. Frank claims that he did so because the mafia had put a contract on his head: The Jerry Lisner murder had come back to haunt him. Tony Spilotro apparently did not seek the proper authority from his bosses when sending Cullotta to kill the man, and now the criminal organization had grown upset at the situation.
Cullotta continued:
I asked [Tony], 'Did you get the okay from Chicago?' He said, 'Of course.' That's the way I was brought up — you got to get the okay. Come to find out, [Tony] didn't have an okay. They questioned him on it, over a taped conversation. He didn't know it was being taped. And one of the guys he was talking to said, 'Then you know what you gotta do. You gotta clean your dirty laundry.' That means get rid of me. He was saying I did it on my own; that I did it without his permission, which is bullish*t. I testified in court because they tried to kill me. There was a contract out on me. I've seen too many guys that said, 'It's not possible. It's not gonna happen to me,' and they got killed. I was too smart for that. I've had 46 friends that were all murdered one way or another from their own friends, and I decided no way am I gonna get whacked. So that's why I became a federal witness."
Cullotta pointed to Spilotro as the perpetrator of a double killing 20 years earlier — dubbed the M&M murders — but Tony was able to beat the charges. Because of his apparent treachery, Cullotta was placed under witness protection for at least two years — a contract remained on his head for over a decade. These days, though, Cullotta is sure that anyone who knew about the price on him is dead or in jail. "There's nobody left to enforce it. The only guy that's alive is in jail. He's got lung cancer, he's in a wheelchair," he says. "He'll never see the light of day. The contract is long gone. I don't have a worry in the world."
Meanwhile, "Lefty" had his own issues. On October 4, 1982, Rosenthal entered his vehicle outside of a restaurant and turned the ignition which triggered an explosive located underneath the car. The explosion did not go as planned, rocketing out of the rear of the vehicle instead of blowing up the interior. "Lefty" was burned and injured, but he survived. The theories surrounding the assassination attempt have revolved around a love triangle between "Lefty," Tony Spilotro, and Rosenthal's estranged wife Geri (sounds like Casino, right?). The other possibility is that the outfit was through with Rosenthal, after he had been expelled from his position at the Stardust.
As for Tony, in 1986, he was found in a grave in an Indiana cornfield, beaten to death along with his brother Michael. The murders were reconstructed on film in Casino.
Here's how Cullotta told it to Uproxx:
My belief is that Tony's brother was causing a lot of problems in Chicago. Tony was informed that he needed to come back to straighten these issues out that his brother was causing. Tony knew that when he was contacted that if he didn't, the chances of saving his brother's life was slim to none. But if he went back there, being that he was such a powerful guy, he may be able to talk these people out of killing him and his brother. The object of getting Tony back to Chicago was that if they killed [his brother] Michael, without Tony, then Tony would have started a f*cking war. It would have been the worse war you have ever seen. You think New York was killing people? Huh. There would have been bodies everywhere. They knew to get Tony with his brother at the same time. Tony realized it right away when he was going down those stairs in that basement. The FBI called me; they said, 'Tony's missing.' I said, 'Then he's dead.' They said, 'How do you know.' I said, 'He's f*cking dead. He ain't gonna run. Him and his brother ain't gonna run. He's dead.' They said they found him in a cornfield. They weren't killed in no cornfield. That's bulls*it. They were killed in the f*cking basement of somebody's house, in the suburb, probably around the airport, and I was right.
House of Cards
Between the corporations buying in, the RICO act allowing the Las Vegas organized crime strike force leeway in attacking the mob members, and the inner turmoil ripping the mob machinations apart at the seams, the house of cards eventually fell.
In 1986, the Chicago mafia's highest chiefs were all indicted for skimming from the casinos' profits. The final blow came in 1997, when a final investigation by authorities had scattered the last vestiges of the mafia machine.
Professor Green explained it thusly:
Back in the '70s, these [mobsters] were at discos, they were at restaurants, and by '97, the last remnants [of the mob] were at a used car dealership. I think that speaks to how far down they've gone. The last big moment, in terms of getting the mob out of the casinos on the strip — I think most people would be likely to point to the post-Casino Stardust, because a new ownership group came in after Glick, but it included a bunch of people who'd been there before Glick, and the skimming went on. Finally the state forced out that group, asked the Boyd Family to run it — the Boyds had been in the casino business forever and were clean — and eventually the Boyds bought it and Boyd gaming is now a major corporation. It's a difficult question. It's kind of like: When did the Civil War begin and end? It just kind of peters out in the end.
"The resources that they had. The publicity. The newspapers. We were fighting everybody within law enforcement," Cullotta said. "It's hard. It's hard to beat them all because they have more team players. They have more money. You're just eventually gonna get caught up in it. The biggest thieves are the ones in f*cking Washington as far as I'm concerned and they'd love to see guys like us off the street because they want control.
Frank Cullotta still traverses his old hangouts, the places where he and Tony and the "Hole in the Wall Gang" once frequented, where the booze and broads and money flowed freely. It was a nice time to be a mobster back then. Back before everything shifted, when the tectonic plates of the mafia careened off the face of Las Vegas. That era is over now, and there can never be a mafioso "wild west" again.
"I think there's thieves out here. I doubt there's organized crime, outfit or syndicate out here," Cullotta said at the end of our conversation. "I don't see that here. I don't feel it. I don't hear anyone talk about it. It's definitely not in the casinos. All the corporations are in the casinos now. There's no more organized crime in these casinos at all. I'm sure there's some guys that still do it, but they're not high-rollers. They're not big guys."
The "big guys" are all gone.