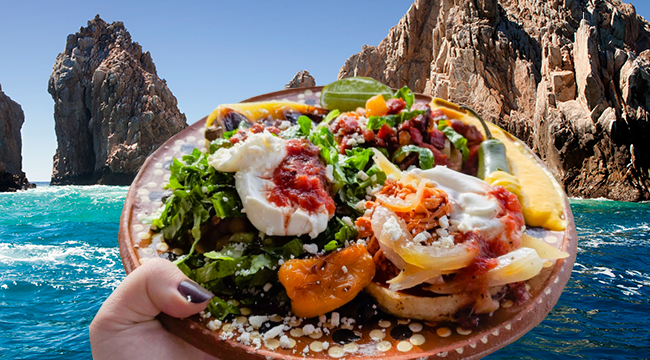 There was a brief time when I was almost certain that my life, however rich in travel, would never include a visit to a Mexican resort town. I was dating an aspiring chef who let it be known that he couldn't stand the prospect of sunning himself on a beach while munching bottomless baskets of chips and mild salsas, not when he could be bushwhacking through the interior jungle in search of Mayan ruins and authentic beverages like rompope. Okay, I thought. So I'll never go to Cancun or Cozumel or the Mayan Riviera. It seemed like a minor concession to make for love.
What I didn't know then is that this man—this naysayer of Mexican resort towns—would not be a permanent fixture in my life and that a year after he departed, I would be invited to Los Cabos, Mexico to cover the Extreme Sailing Series. I also didn't know that he would prove to be so totally wrong, not just in the way that exes usually are, but also about Cabo San Lucas. Because while many consider it a "resort town", it's truly a treat for anyone who loves action, adventure, and beautifully prepared food.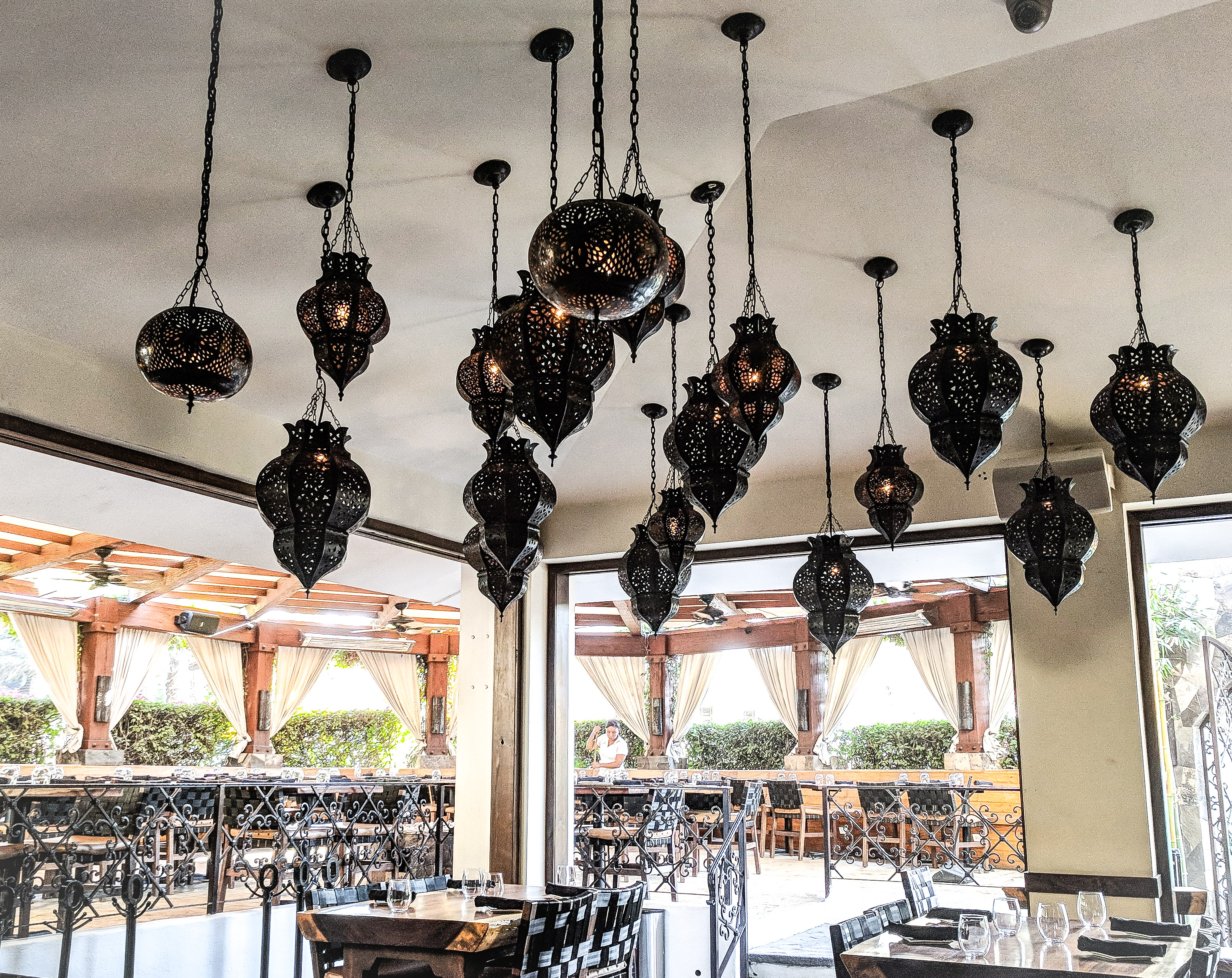 Not that I was immediately on board. After touching down on the Baja peninsula and fighting my way through an aggressive crowd of timeshare salespeople cleverly disguised as tour guides, chauffeurs, and concierges, I had my doubts that this was the trip for me. The instructions I had to find my driver and my travel companion, a fellow writer from Atlanta, seemed much simpler on paper than when I was trying to find a pair of strangers in the massive crowd that billowed out from around the airport bars. Everyone who landed in Los Cabos, it seemed, made a direct beeline out to ground transportation and stopped just short of the buses to pound their first frozen margarita.
Nevertheless, the driver, the writer and I did manage to find one another. We wound our way through the stark desert to the coast, where the Bahia Hotel was waiting. This boutique retreat is best described as a mix of old-school Mexican aesthetics with modern luxury minimalism. It's not a beach front property, though it's just a block from the waterfront and boasts an oceanfront restaurant within walking distance.
Walking into the hotel, I felt like I was in the middle of things. The Bahia Hotel has big doors that open to the romantic, meandering back streets, although it's never too loud, smelly, dusty or any of the other things you'd think a centraly located hotel would be. Pristine white curtains hang from dark wood beams and gently wave in the sea breezes. The air smells like flowers and woodsmoke, and just like that — I realized I was absolutely famished. As soon as I got my bags dropped off in my room, it was time to hit the Bahia's Bar Esquina for lunch.
I tucked into a wood-fired pizza topped with fresh jalapeños and deep red, savory cochinita pibil— a kind of robust Yucatan barbecued pork. Then, there was tender, tart ceviche in little plantain boats to contend with, not to mention a spicy, fruity cocktail involving mezcal, mango, and a dusting of serrano salt. This is when I began to realize that perhaps my ex was wrong. Just because you are smack dab in the middle of resort hotel central, doesn't mean you aren't going to get your heart and appetite racing faster than the dune buggies of Baja.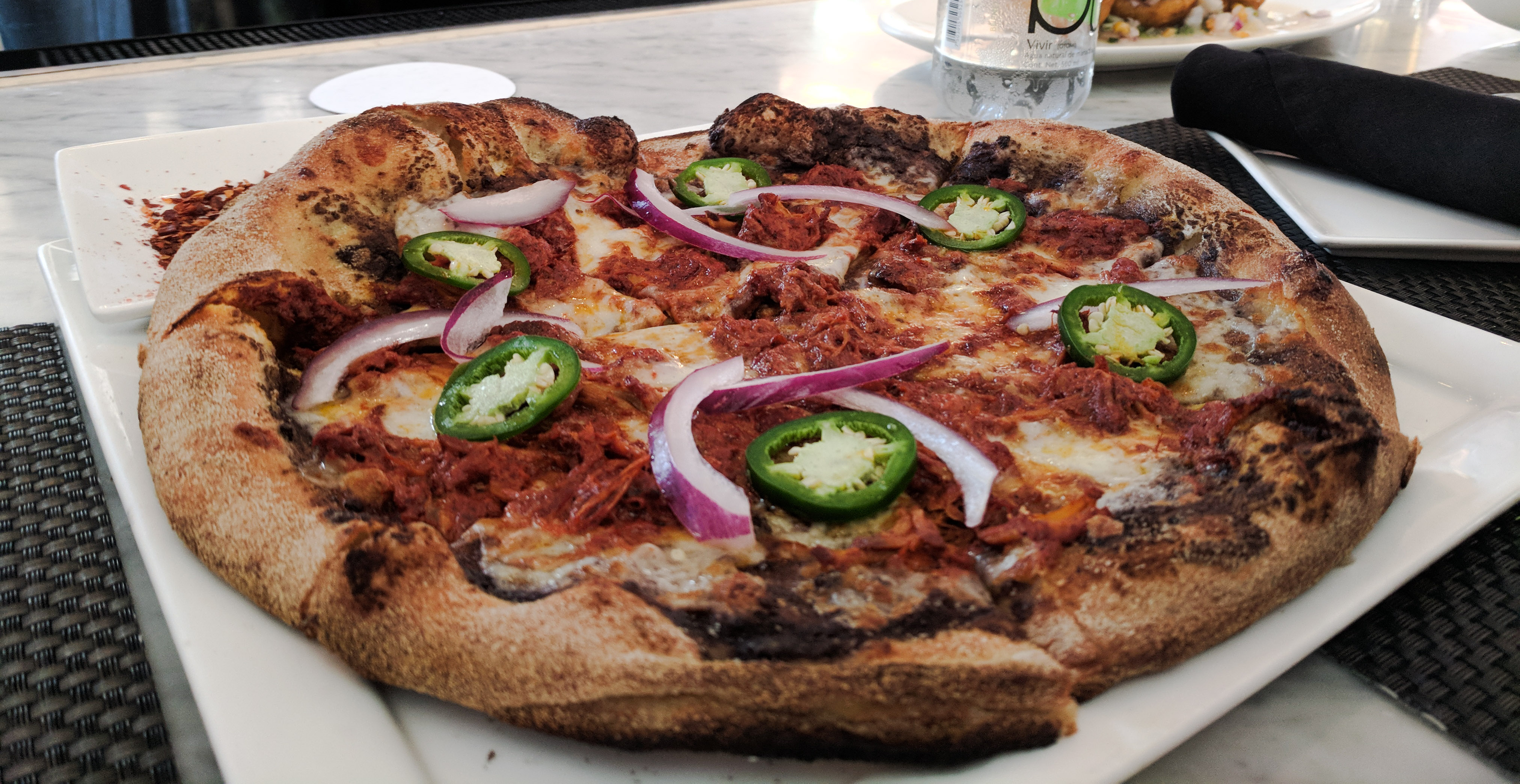 His theory — that you can't find flavor and authenticity in a resort town — was disproven over and over again. Our next stop was to check in at the Extreme Sailing VIP Lounge, hosted at the Breathless Hotel just around the rim of the beach. As we chatted with the sailors from the American team, fresh off the day's race, I sipped on a paloma made with the bar's seemingly endless supply of Maestro Dobel Diamante Tequila. Rumor had it that the Maestro himself had mysteriously disappeared earlier that day, only to reappear from a little time in the Los Cabos cárcel, though we never did find out if that rumor was true or exactly what happened.
As the sun dropped, it was time for everyone to mosey on over to the labyrinthian Pueblo Bonito resort for a major reception. We wandered through the resort past a tiled fountain that is home to an actual pair of black swans and another filled with the birds' inflatable, buoyant counterparts, bobbing there in the colored lighting as if waiting for Taylor Swift and her squad to arrive.
The itinerary said "cocktails and passed plates will be served," but nothing prepared me for the sheer, extravagant bounty. Waiters waded through the beautifully dressed crowd with trays of almost any drink you can think of poured into champagne flutes. Tequila, wine, bubbly, even vodka and blueberry Redbull. One whole side of the plaza was dedicated to the food— and seriously, such food.
A man who I can only assume was dressed as a missionary and one who seemed to be wearing the traditional clothes of the Cochimí Indians stood next to a buffet of mariscos, or Mexican seafood dishes. The array of shellfish, ceviche, and shrimp tumbled into heaps of salsas, chips, tamales, fried treats, plantains, braised meats and tortillas. Just beyond a stone pillar was another table, this one laden with sushi and sashimi. Another slight turn, and you were facing a tequila station. Shift to the right again, and there was the beach, where fire dancers were burning their way through a poi choreography by the black evening waves. When we waddled back towards the lobby late in the evening and passed the swans gliding effortlessly through the water, I swear they were just showing off.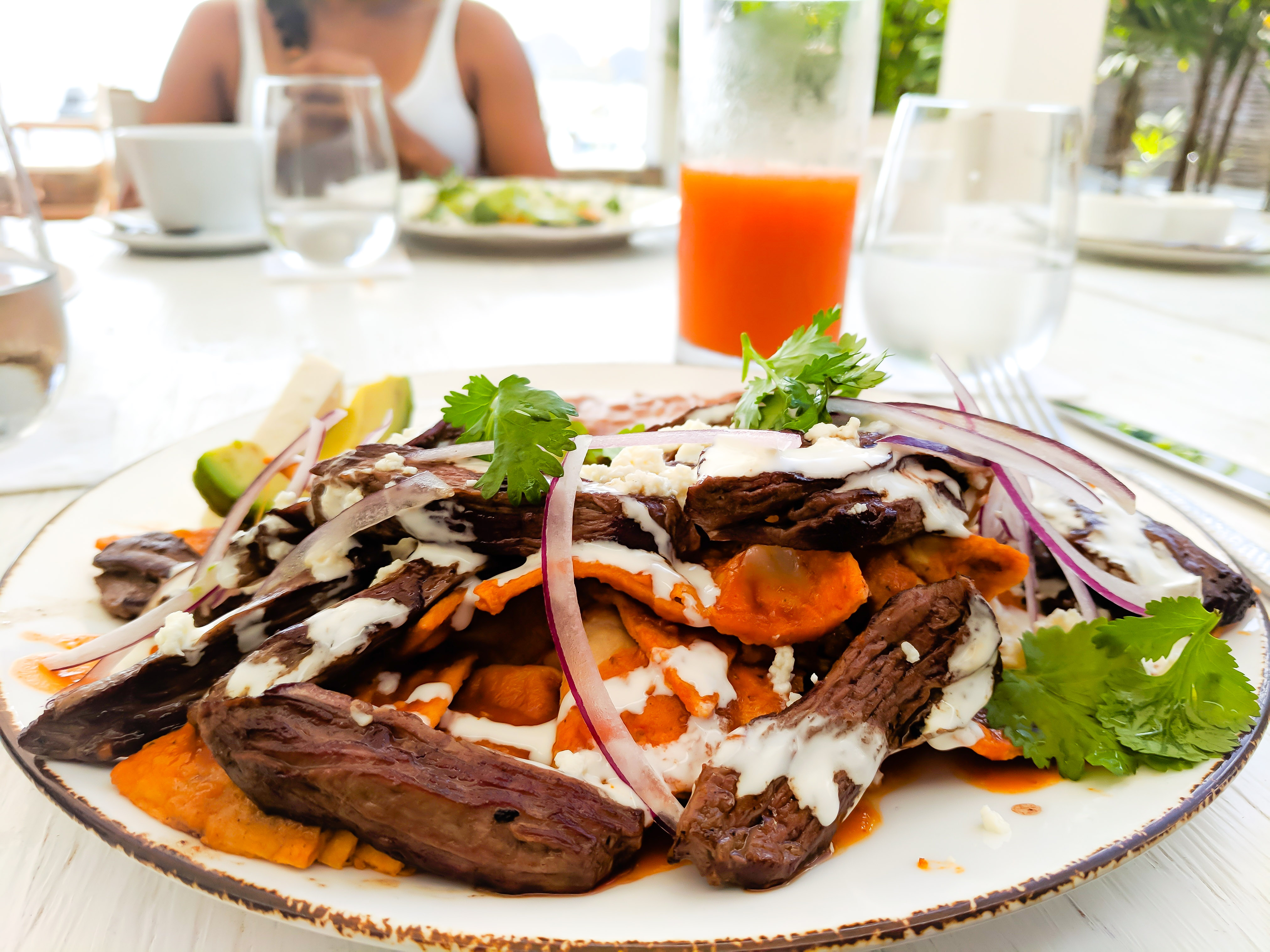 The next morning, in anticipation of working up an appetite that afternoon, we had breakfast at the Bahia's SUR Beach House restaurant overlooking Medano beach. I tried conchas for the first time – a kind of sweet Mexican bread that is the chef's abuela's own recipe, dipped into cups of dulche de leche and yuzu nata (both are sort of similar to the Brit's sweet clotted cream). Next up was the most beautiful plate of steak chilaquiles I've ever eaten, dressed in a smoky, savory, slightly tart sauce made with warm chiles morita, a pepper similar to chipotle.
I call that meal breakfast and not brunch, because we didn't indulge in any of the delicious-sounding cocktails. Instead, I had a fresh carrot juice (juego is a very big thing in Los Cabos) and a coffee, because in just a few short hours we were headed to the desert to get behind the wheel of a fleet of Polaris ATVs with Cabo Adventures. The sailing races weren't the only extreme thing on our itinerary that weekend. We were about to go off-roading through the dusty canyons that made Baja synonymous with dune buggies and epic racing.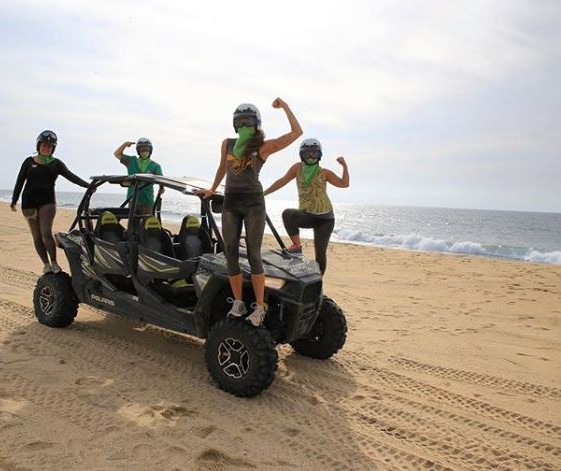 I'd never been in a quad before. The closest I've gotten to that kind of thrill riding was when my cousin's then-fiancé taught me to gently ride a dirt bike around the front yard of the family farm in upstate New York. Putting the pedal to the metal through tight, sandy tracks and thwacking past overhanging brush and baleful burros on our way to a secret waterfall was infinitely more exhilarating, and all this city girl needed to know that she's truly on vacation.
Waiting for us back at the ranch was another feast, this time a build-your-own sopes bar. Sopes are little open-faced sandwiches on thick corn cakes called tlacoyos piled with meat, vegetables, salsas, and other toppings. Each ingredient was warmed in a little clay pot with a glowing candle tucked into the base. I listened to the Pacific crashing as we chowed down, pausing only when the dangerously spicy habanero cheese cleared all the dust out of my nose and compelled me to chug big glasses of mint lemonade. It wasn't a long pause.
The key, however, was to not get completely stuffed full of delicious sopes. Because after an afternoon of intense adventure, we had more culinary wonders in our future. Our next stop was a tour of El Merkado, a whole warehouse of little eateries, cervecerias, and shops. If you've ever been to Chelsea Market in New York or North Market in Columbus or the Ferry Building in San Francisco, you get the idea. Except those hotspots aren't serving up the most perfect, crispy tlayudas (think the ancient Mayans' version of pizza) smothered in dried pork called cecina, grilled beef called tasajo, and Oaxaca's famous cheese. Nor do they boast margaritas made with a sweet, floral liqueur called damiana once prized by the Aztecs.
That was just the beginning, however. One of the best kept secrets of Los Cabos is a joint called CARBÓNCABRÓN, which translates to "charred bastard." Everything there is grilled over wood flames— even the cantaloupe and romaine lettuce. The place is dark and masculine and lined with racks of singed wood perfectly prepped for chef's kitchen. A handsome waiter named Ivan made sure we got a round of their signature black margaritas, made with activated charcoal. The wine list was formidable, and I was glad to have Ivan's expertise in breaking the multi-way tie between too many good options. Plate after plate kept coming— elote dusted with fluffy parmesan, obscenely fresh sea bass, crisp octopus, quivering bone marrow, all followed by very good tequila slightly chilled with a block of obsidian in lieu of an ice cube.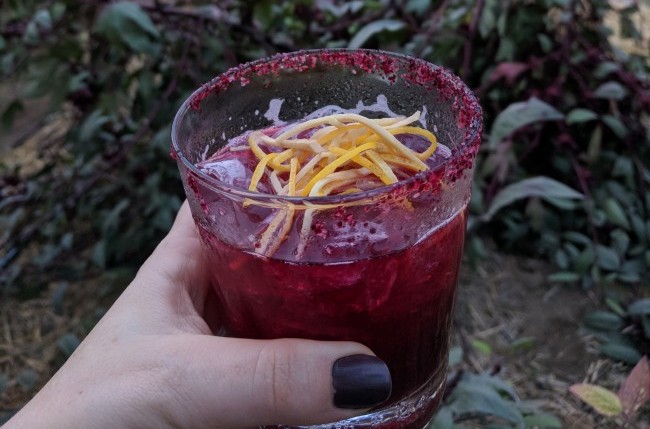 By day three, I realized I hadn't eaten a single bad meal. So much for my ex's predictions. The only thing he'd been right about was that everywhere you turn, someone is offering you a cold drink. And that night, after a zip-lining adventure, I fulfilled a dream I'd harbored since college— but had been convinced was unadventurous — to sprawl out on one of those magical bed-like cabanas you see at tropical resorts, drink in hand. Lined up poolside, they were the perfect place to draw the curtains and post up while the adrenaline drained from my body.
The next day there would be a hot stone massage, and a spectacularly tart, sea-kissed lunch of scallops and octopus and squid ink. We would take in the last of the weekend's sailing races that afternoon, and finish our trip with another transcendent meal at Sunset Mona Lisa, high above Los Cabos, where we drank crisp red wine until we were enveloped in starlight. But it was actually laying out by the pool at the Bahia the day before, talking shop with another writer over mojitos, that I was most glad to have given the resort life a try. After all, what balances a tart margarita better than a little sweet damiana? And what better way to cap off going outside your comfort zone than with a little post-adventure luxury.

Uproxx was hosted for this trip. You can find out more about our policy regarding hosting and press trips here.