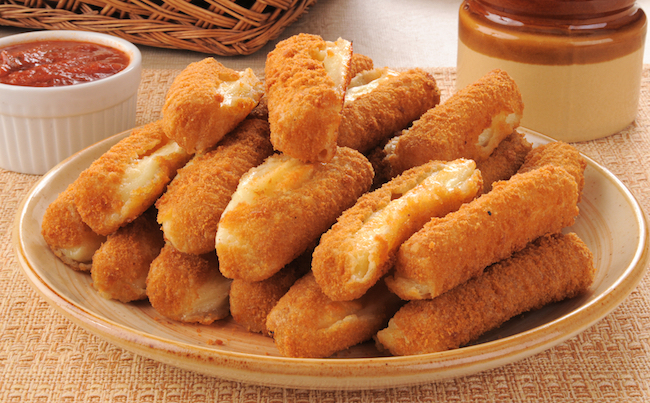 What happens when you take cheese away from good American citizens who want nothing more than to bite into an authentic McDonald's mozzarella stick? Well, those citizens get angry and take to Twitter. And once they find that the support they've gotten in the media is overwhelming, they use that good old American ingenuity to file a class-action lawsuit against the major fast food chain. Because cheese sticks aren't something you f*ck with around here.
Eater reports that the lawsuit, which was created by one brave California man who is very serious about this, is being filed on behalf of some 40 other people who have been wronged by the fast food giant, because they bought into its promises of cheese and were just given hollow breading instead (which, as many of us would argue, is still tasty). It is, of course, unlikely that the lead plaintiff, Chris Howe, or his compatriots will see money anytime soon.
Is the lawsuit frivolous? At first blush, sure, these are cheese sticks we're talking about, but Howe isn't just suing because the food isn't as good as it should be. He's suing because what McDonald's is doing might actually be illegal.
Per Howe's claim, something like 3.76 percent of the cheese portion of McDonald's mozzarella sticks is actually starch filler. Federal guidelines reportedly prohibit the use of starch in products that are labeled "mozzarella cheese." The lawsuit says McDonald's cut costs by using a filler and therefore had used unfair and fraudulent advertising in claiming the menu item actually contained mozzarella cheese.
It'd be pretty hard to argue that this suit is anything other than a cash grab on the back of a social media phenomenon… But, you know, $5 million is $5 million.
McDonald's, of course, denies that any mischief has been going on in its kitchens. The company is prepared to fight this battle and wants to assure the public that the cheese sticks are 100 percent mozzarella cheese.
Now Watch: Fast Food Feud: Wendy's And Burger King Have A Tweet-Off