Well, friends, you should probably just throw out our definitive fast food chicken sandwich ranking now. Because Popeyes just changed the game. Again. In a major way.
Lately, the fast food space has been in a weird place. Ever since McDonald's dropped its Travis Scott meal we've been treated — no, tortured — with cash grab after cash grab, a cavalcade of celebrity-branded meals that amount to little more than remixes of what the stock menu already offers. Even Burger King is wasting our time with this sh*t. A couple of months back they gave us a Nelly meal. Nelly. In 2021.
It's a cheap, lazy, but ultimately profitable way to get customers hyped for the same old food. So of course the fast food brands are *badap-ba-ba-da!* loving it. This isn't going to stop until we demand ideas that are a more imaginative.
Enter Hot Girl Meg and the Popeyes Megan Thee Stallion Hottie Sauce Chicken Sandwich, here to save us all. Thanks Meg — the food scene needed this.
When Popeyes dropped their chicken sandwich almost three years back, they single-handedly shifted the fast food landscape. Since that sandwich, almost every fast food brand has re-formulated their fried chicken recipes in an attempt to step up to the new GOAT. Leave it to Popeyes to be the only one who can improve upon the original. While its Megan Thee Stallion branded merch collection would lead you to believe this is just another celebrity cash grab, the flavors themselves prove that there was some actual effort put into this collaboration.
Not only did Megan Thee Stallion meet with the Popeyes culinary team to develop a brand new hot sauce for the collaboration — dubbed "Hottie Sauce" — they also approved Megan to become a Popeyes franchise restaurant owner. That shows Popeyes is putting a lot more faith in Megan Thee Stallion than just cashing in on her famous name and face.
For a limited time, the Megan Thee Stallion Hottie Sauce will be available at all Popeyes nationwide as both a dipping sauce and a new sauce topping for the Popeyes Chicken Sandwich, which means this marks the first official variation on the Popeyes Chicken Sandwich since its launch. There are now three Popeyes Chicken Sandwiches: Original, Spicy, And Hottie Sauce.
We sampled the new Hottie to see how it compares to the OG and if it's worth ditching your current favorite chicken sandwich for.
Megan Thee Stallion Hottie Sauce Chicken Sandwich
First things first, we have to talk about expectations. I understand why fast food companies take picture-perfect versions of their food for advertisement purposes, but I don't think they understand just how crushing it is for the customer to see the advertisement and then get… this. No matter how you cut it, this is a sad-looking sandwich, I don't care how delicious it smells! If In-N-Out, Shake Shack, and Chick-fil-A are all capable of making their food look just as delicious in real life as it looks advertised, I don't know why Popeyes can't at least try to make their sandwich look like it wasn't assembled in the dark.
The advertisement shows a plump sandwich with sauce pouring all over the sides, what I actually got doesn't give the fried filet as much coverage. Removing the bun proved me wrong, it's definitely a lot of sauce. A scary amount.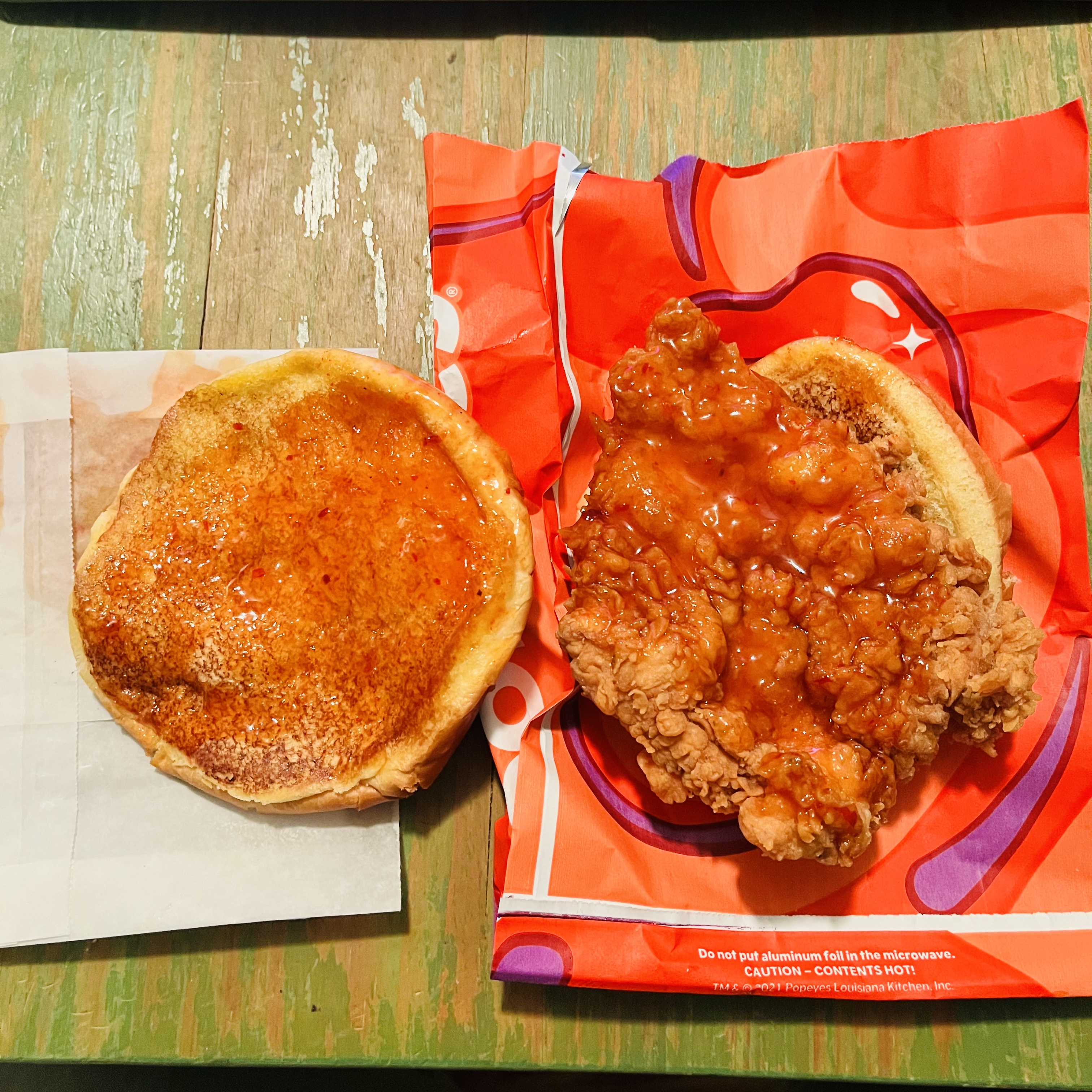 The Hottie sauce gives off a sort of a sweet and sour smell, if you were expecting buffalo or your average wing sauce, this isn't that. It's made from a blend of hot sauce, aged cayenne pepper, sugar, and honey and features a way sweeter taste to it than I expected. Tangy sweetness greets the palate and a very gentle dose of heat hovers between bites, but ultimately I wouldn't even categorize this as even mildly spicey.
That's not necessarily a bad thing. The Popeyes Chicken Sandwich has never been the spiciest sandwich (even the spicy version). Instead of battering the chicken in its spicy breading, Popeyes works solely with the mild batter for its chicken breast filet and the Hottie Sauce works to accentuate that chicken's already subtly sweet taste, but not in a way that makes it taste grossly candied. It makes the sandwich overall a little more decadent, but each bite is savory, delicious, and tender — with complementary flavors that actually taste like an improvement over the sandwich's stock sauce.
For as long as this version is available, I don't see why you'd opt for the original over this. Is it so overwhelming that you're not going to want to hit it up as a once-a-week meal? That's probably true. But it's also overall a better sandwich because the Hottie Sauce is Popeyes' best sauce, period. We just wish it was spicier.
The Bottom Line:
The Megan Thee Stallion Hottie Sauce Chicken Sandwich is an improvement on an already delicious fried chicken sandwich. This is Popeyes definitive chicken sandwich sauce and although it's only available for a limited time, something tells me this will end up a permanent menu fixture — it makes an already great sandwich even better.