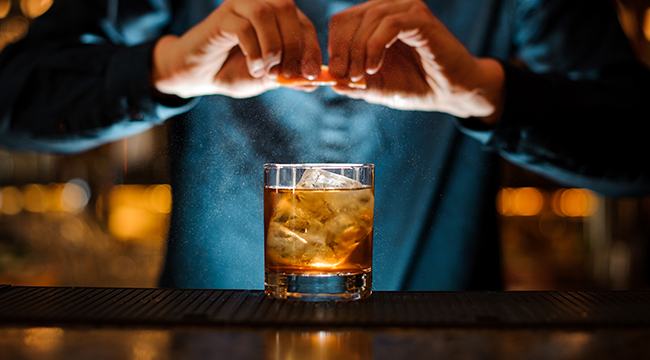 Let's face it, there are far too many whisk(e)y brands. Even the most ardent of whiskey aficionados will never imbibe a fraction of the varieties available in their lifetimes (unless they're fully willing to pickle their livers). From bourbon to Scotch to rye iterations made in Canada, Japan, and even Taiwan, the industry is flat out flooded with booze.
Mainstream brands still get plenty of love, of course. The Macallan, Jack Daniel's, and Woodford Reserve have been winning awards and crafting high-quality juice for decades (and sometimes even centuries). But with so many brands on the market, sometimes the hype machine misses the mark and brands or expressions that deserve love get nothing.
To rectify things a little, we asked some of our favorite bartenders to tell us their go-to underrated whisk(e)ys. Their answers ran the gamut of the whiskey world, as they chose bourbons, Scotches, ryes, and even Irish whiskeys.
Wild Turkey Bourbon
Phil Testa, beverage manager at The Rickey in New York City
Wild Turkey. Everyone sees this as a bottom shelf, gross whiskey but it's actually delicious. It has a traditional recipe and it's balanced, cheap, and mixes well as an old fashioned and a Manhattan. This is always in my home bar. It's a tip of the cap to the old school, which I think is important in the oversaturated whiskey market of today.
…Throwing in Heaven Hill too.

Teeling Single Pot Still
Darren Fabian, the national beverage manager for Moxie's Grill & Bar
Irish Whiskey is extremely underrated. Teeling Single Pot Still is floral and smooth because of the un-malted Barley.
Garrison Brothers Small Batch
Josh Cameron, head bartender at Boulton & Watt in New York City
Garrison Brothers are on the rise. I believe they will continue to grow. They make strong, honest bourbons (in Texas), their way. The company has integrity, and they embrace those who pour the juice.
Keep your eye out for these guys.
Compass Box Blended Scotch
Sarah LM Mengoni , bartender at Double Take in Los Angeles
Blended scotch. Though the people behind the bar serving the stuff know different, there's seems to be a misconception among a lot of the people I serve that single malt scotches are of higher quality. Compass Box makes a wide range of excellent scotches. Their Great King Street blends are delicious and sold at an accessible price point.
Maker's Mark Bourbon
Mariel Burns, head bartender at Trademark Taste + Grind in New York City
Although it's definitely a popular brand, I think Maker's Mark is underrated against some of the flashier distilleries out there. They don't make many varieties of whiskey, but they make consistently delicious and flavorful juice full on the palate with a soft finish. Maker's Mark is a solid choice whether you're having an Old Fashioned, a sour or neat.

1792 Bourbon
Chris Patino, co-owner of Raised By Wolves in San Diego
That's easy. Barton's 1792 Full Proof is the most underrated whiskey out there. I almost didn't want to mention it, because I like that it's accessible, and at a great price. 1792 Full Proof is so good that we bought an entire barrel for Raised by Wolves, which is available for purchase in the shop, as well as at the bar.
Rittenhouse Rye
Salvatore Tafuri, bar director at The Times Square EDITION in New York City
I think Rittenhouse is an amazing rye that's also very affordable. Most bartenders love to use it for Manhattans, but I personally think it could have a little bit more recognition from mainstream consumers.
Wild Turkey 101
Eva, head bartender at Officine Buona Forchetta in San Diego
I have to go with Wild Turkey 101 on this one. Great in every blend and its taste is never so strong that it covers the other flavors in a cocktail.
Old Grandad
Evan Danielson, beverage director at City Winery in Nashville
Going back Old Grand-Dad Straight Bourbon Whiskey, this time with the 114 proof expression. Best bang for your buck for sure.

Tullamore DEW
Laura Mitchell, bar lead at BEER PARK in Las Vegas
Tullamore Dew and Powers whiskeys. They're not the highest of brands, which can make them less memorable, but they go down smooth and are a great comparison to Jameson.
Writer's Pick: Craigellachie 13
Referred to as "the bad boy of Speyside" Craigellachie is a Scotch distillery you shouldn't sleep on. If you haven't tried it yet, Craigellachie 13 is the best bottle to start with. Aged in ex-bourbon barrels, this whisky is sweet, rich, complex and full of honey, caramel, and toasted nuts, with a subtle hint of smoky spice.