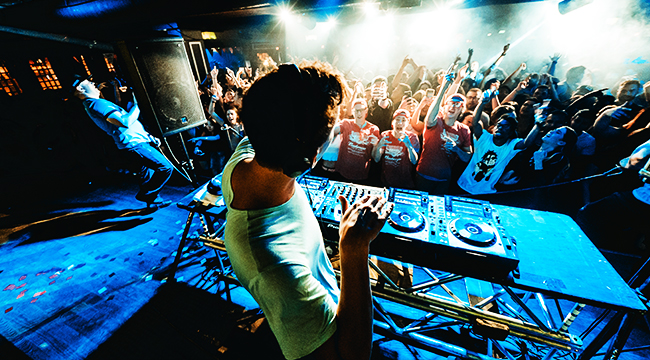 When people hear "Mykonos" they automatically associate it with big DJs and great beach parties. And that's cool. Mykonos is one of Europe's biggest party destinations and — though its famed scene only really blossomed over the past 15 years — it has rightfully claimed its crown. It's Greece's island for getting wild. A place where like-minded people gather because they know it's not only acceptable to drink all day and lose all inhibitions, but encouraged.
This is an island that embodies the free spirit and bohemian lifestyle. Of course, the degree and manner that you embrace those qualities is entirely up to you.
Stepping off the ferry in the old port of Mykonos my body was buzzing — like it was full of tiny little electrodes of excitement. I am not sure, despite how much I've partied in the past, I could have ever been fully prepared for what the next four days would bring. My boyfriend and I promptly rented a car and drove out to Ag. Sostis. We had heard about a restaurant that "serves the absolute best seafood on the island."
It had no electricity, only sat 30 people, and was hidden in the most beautiful private cove — located about a 15-20 minute drive from our hotel.
Walking up to Kiki's Tavern we were greeted by a friendly old Greek man — large in size and personality. He told us to make ourselves comfortable anywhere outside (aka sitting on rocks and chairs leaned against a stone wall) and to help ourselves to wine as we waited. The restaurant looked about as rustic as one imagines a remote Grecian cafe to be and the beauty of the cove instantly made me regret not wearing my swimsuit. At this point, my boyfriend ditched me hard (and rightfully so) to join the handful of other people cooling off in the crystal clear water of the cove.
I was left sitting on a rock. 45 minutes later, the midday sun started to really bring the heat and I helped myself to my 4th glass of rosé. As I walked back towards my rock, I slurred to myself, "I'm buzzzzzedddd." It was an auspicious start to the trip.
Once we sat, lunch at Kiki's was phenomenal. The grilled fish and octopus was just as good as legend be told and although I didn't get to swim, would happily go back again to, at the very least, claim my rock again and pound more free rosé.
After lunch, we decided to make a quick stop at a store to grab some beers and wine — before heading back to the hotel to ditch the car. While in Mykonos my boyfriend and I stayed at a hotel called San Giorgio. It was a boutique, clean, bohemian property located on the south side of the island smack in the middle of two famous party beaches, Paraga and Paradise. It is not only one of the coolest hotels on the island, but is also the sister property to the hottest beach club in Mykonos, Scorpios (even the fucking name is cool).
Staying at San Giorgio meant priority access to Scorpios and casual run-ins with the DJ's that would play there by the pool. Although our room did have a big patio, which was awesome to party on — we choose San Giorgio because of its inclusive communal philosophy, a real "ditch your pretentiousness at the door" sort of place (despite the fact you just saw your neighbor fly in on a helicopter.

It didn't take long for my boyfriend to catch up to me on the drunk tip and we spent the rest of the afternoon swimming, eating, chatting with the other guests, and drinking our way into the evening. Music from the nearby beach clubs echoed in the distance throughout the day — a steady, thumping reminder of what the night was to bring. By the time the sun started to set, both of us were ripe and ready for some fun. Although Mykonos is super casual and you will see people partying in shorts and a t-shirt, I enjoy putting myself together. Once I was ready, my boyfriend grabbed my hand tightly and led me down the path to Scorpios with the music getting louder as we approached.
The club was nothing like I'd ever seen. It was almost ancient-feeling — with its natural wood textures, clay pots and earthy aesthetic. Walking in, they had a large indoor area with a restaurant to one side, but the real party was happening outside. Beside the club's restaurant sat a large amphitheater-style space, with elevated seating on one side and the DJ booth on another, all surrounded by the rocky coastline. Smack in the middle of the space there was a raging fire pit which people would dance around. Drinking, chatting and completely letting loose. It's a place where as the night goes you start to feel entranced by the music and the crowd and start to completely let go.
Eager to join in, I grabbed my "who fucking knows what number" glass of rosé, kicked off my shoes, dug my feet into the sand and let the music take me.
I guess Cavo Paradiso is where the night starts to get a little blurry. Located a 15-minute walk in the other direction of our hotel, Cavo is where you party until the sun rises. It's definitely a place where people go when they don't want the night to end. Don't be surprised if you make friends with a random person here and end up spending the next couple nights meeting up with them again and partying.
Although this is just the tip of the iceberg when it comes to partying in Mykonos, truth be told, aside from the debauchery, it is a beautiful, rustic, still very underdeveloped, and family-friendly island. It's a place where "losing your inhibitions" can come in different levels, and where you can find that thing that makes travel so awesome — a connection. Like a ghost passing through you, you can feel the ethos of Mykonos if you wander anywhere outside of the largely populated areas. There is an energy there that I have never felt anywhere else in all my travels and for that alone, along with all the revelers, you should go.

This trip was hosted by Booking.com. For more on Uproxx's press trip policy, visit here.