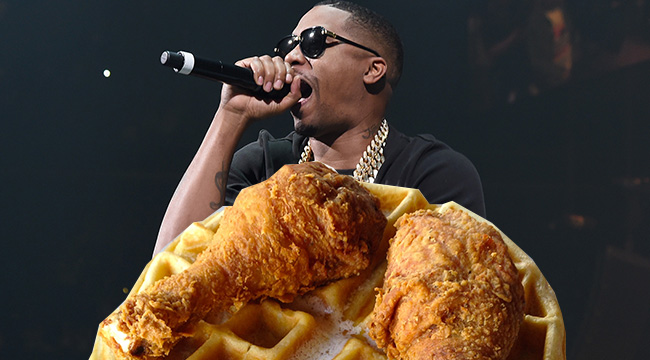 It ain't hard to tell that Roscoe's House of Chicken and Waffles is as much of a staple in Los Angeles as the Lakers, but the iconic chain has compeition coming their way. Nas is reportedly coming through the area with plans of cornering the comfort food market with his own joint.
Last year, the ageless rapper partnered up with Sweet Chick owner John Seymour with the purpose of bringing the New York-based chicken and waffles spot to areas across the country. Now that vision is being realized with news that Sweet Chick is heading to the West Coast, just three years after opening up shop in Williamsburg, Brooklyn.
The popular restaurant, which also boasts a location in the Lower East Side of Manhattan, is expected to officially open up for business on Fairfax next year, taking over the space currently occupied by Rosewood Tavern. Yes, this will means locals will lose their favorite spot, but Sweet Chick's chicken and waffles is the bomb.com, according to Yelp. Both locations score an overall four out of five stars with food lovers. So it must be good.
Sweet Chick expanding to California puts them in direct competition with chicken and waffles OG, Roscoe's. The chain beloved by everyone from Snoop Dogg to President Obama is also opening up a gang of spots, including one only a couple of miles from Sweet Chick's new Fairfax location. Pretty good bounce back for a company that filed for bankruptcy earlier this year.