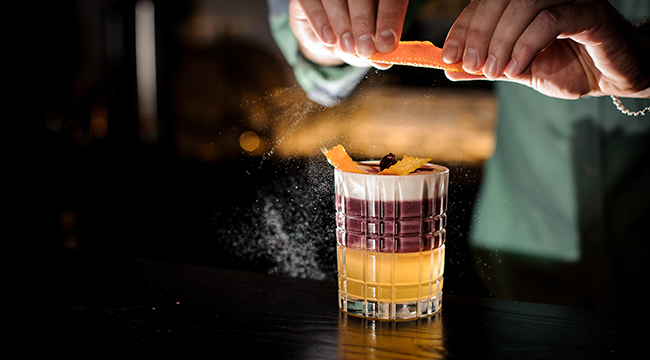 Scotland has Scotch and France has Cognac. The U.S. has bourbon. It's the one spirit that is truly American. It's up there with bald eagles, jorts, and walking on the moon as one of the most American things ever. It's pretty much the stars and stripes in a glass. And, since we have a lot of respect for our country, we have a lot of respect for its native spirit. So much respect that we created a holiday in its honor (National Bourbon Day). And, wouldn't you know it, that day just so happens to be today.
So, we've established that we'll all be drinking bourbon all day in celebration. We're pretty sure you don't even to hide a flask in your desk drawer. It's Bourbon day, you can yell! Just pour a round for all your coworkers, stand atop your ergonomic, lumbar-support desk chair and chant USA! USA! USA! while chugging the rest of the bottle (Protip: Remember to pack all your things up in a box ahead of time. That way — you don't have to make security just stand around while you're grabbing staplers and plants. Really will make the process go faster).
And as you savor (or chug) your Bourbon, you could go the simple route and grab a bottle of Woodford Reserve, Booker's, Blanton's, or Old Grand Dad and sip on that sweet sweet goodness on ice. Or, you can listen to some of our favorite bartenders and try it mixed into a cocktail. Check out their favorites below because whether you're lounging at a bar, relaxing on the porch, or watching constant replays of the Kentucky Derby, these are the bourbon drinks you should have in hand.
The Boulevardier – Sean Rawlinson, co-owner of Macchina in New York City
"The Boulevardier is basically the leaner and meaner, bastard brother of the Negroni, and a nice alternative to an Old-Fashioned or Manhattan. Like a Negroni, it's made with Campari and sweet vermouth, with bourbon substituted for gin. I would have put this cocktail, which dates back to the late 1920s, on the watch list for extinction… but we hope to spark its revival here at Macchina. This is actually one of the few classic Italian cocktails that features bourbon. To me, this is the perfect compromise, as I like a good Negroni, but ultimately prefer a brown, American base spirit. It's a drink that was essentially born in Italy, but sent to boarding school in the States."
Whiskey Sour – Devin Chapnick, lead bartender at Poka Lola in Denver
"Bourbon is one of those spirits that requires restraint when it comes to creating a cocktail. The landscape of bourbon is easily overwhelmed, and what makes it so special is its subtleties. That's why it works so well for Old Fashioneds. But with the right bourbon, and restraint, I feel the classic Whiskey Sour stands out as my favorite. Fresh juice and egg white can provide a stimulating environment for such delicate flavors that bourbon has to offer. By taking another step away from drinking straight spirit, the sour offers a different angle to appreciate the flavors you love anyway."
Mint Julep – Kyle Davidson, beverage director at Elske in Chicago
"My favorite bourbon cocktail is a mint julep, it is essentially an old fashioned that uses temperature and dilution instead of bitters to balance sweetness and is unmatched as a vehicle for making bourbon refreshing without taking away from its layered flavors. It's not a gimmick that it comes in a metal cup, it really does help make the drink what it is, and I also enjoy the ritual of having a certain vessel for a certain drink that gets used only when making a mint julep. Like most drinks it's been bastardized and actually made more complicated than it needs to be, as its just bourbon, sugar, and mint made very very cold over crushed ice, and a face full of mint for a garnish. "
Manhattan – John Bush, partner at Three Kings Restaurant Group in New York City
"A Bourbon Manhattan is my favorite drink. It was my grandfather's favorite drink that I would always make for him, and I now use it as a tester drink for any new bars I try out. If I walk into a new bar, I alway order a classic Bourbon Manhattan; If it's not up to par, I don't return to said bar!"
Gold Rush – Dominic Carullo, bar manager at Royal Boucherie in Philadelphia
"I usually like to keep my bourbon in a glass, with a few cubes at most. I generally prefer rye for mixing, as I personally think it has a better backbone to stand up to modifiers. That being said, the Gold Rush (created by TJ Siegal, Milk & Honey, NYC, 2001) is a drink recipe I keep in my back pocket at all times. It's delicious, refreshing, and wonderfully balanced. While it may be a bit sweet, I've yet to find someone who doesn't enjoy it!"
New York Sour – William Frost, bartender at Blue Harbour in Tampa
"The New York Sour (with egg whites of course!). It's an extremely delicious cocktail. The first sip, you get the velvety texture of the egg white and dryness of the red wine. The more you sip, the more bourbon and sour goodness comes through."
Paper Plane – Kyle Hilla, bartender at Bourbon & Banter in Dallas
"My favorite bourbon based cocktail is a Paper Plane. A classic Paper Plane is made with equal parts Amaro Nonino, Aperol, Bourbon & Lemon Juice. It is shaken and served in a coupe. The result is a refreshing acidic cocktail that can be drank during the day or night. We do a variation of a Paper Plane at Bourbon & Banter where we infuse the Aperol with a robust tea that gives the cocktail another depth of flavor."
Sazerac – Jason Shelly, bartender at Whiskey Ranch in Fort Worth, Texas
"Typically, I drink my bourbon neat. However, with the right bartender, I love a good Sazerac. I enjoy the balance between the anise flavor, the sweetness, and bitterness from the bitters. Especially when it's handcrafted with a homemade bitters and perhaps even smoked with good tobacco or cherrywood!"
Vieux Carre – Jenelle Engleson, beverage director at City Winery Nashville
"It's definitely a toss-up between classics like a Boulevardier, Old Fashioned or Vieux Carre. There's a certain nostalgia that comes with revisiting these classic cocktails—especially in Nashville, which is a whiskey-focused city—plus, why fix something that isn't broken?"
Whiskey Smash – Jessica Norris, beverage director at Del Frisco's Restaurant Group in Irving, Texas
"My favorite bourbon-based cocktail is a Whisky Smash because it's simple, super easy to make and perfect for every season. Fill up a cup with crushed ice like they do at the Derby and mix in sweetener and an herb with the vibrant personality of a younger whiskey that will not quickly ruin under the harsh glare of ice – and you're in business."
Highball – Camilo Tavera, lead bartender at Hakkasan at the Fontainebleau Miami
"The 'Highball'-The few ingredients used are simply mixed into a quite refreshing beverage. Club soda or, in some occasions, ginger ale, help express flavors of the desired bourbon. Add a citrus slice (grapefruit, lemon, orange) for aromatic overtones. I have always enjoyed effervescent beverages, refreshing and subtle with long-lasting flavor. I enjoy it for any occasion. Skip the straw. Just sip and enjoy."