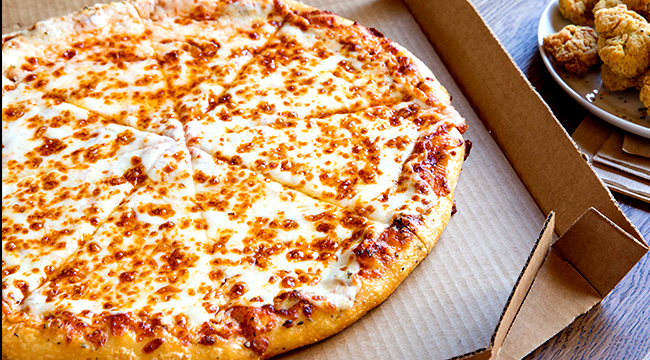 I'm lucky enough to have a pizza place nearby that sells pizza by the slice. I frequent said pizza place so often that I've noticed the employees sometimes have a look about their face's that says "does this guy eat anything else?" But recently, on an Elevenses run (yes this is a Lord of The Rings reference), the pepperoni slices on offer were lackluster. And if there is anything the employees of my corner pizza joint know, I'm a bit of a quality snob.
So I ordered a slice of cheese pizza which was fresh and looked rather perfect. And I was pleasantly surprised to find that cheese pizza is its own experience. And it's good (all pizza is good). Is it our first choice? No. Would we turn down a slice? What are you insane?
If you're desperately looking for an excuse to order cheese pizza what better excuse is there than in observance of National Cheese Pizza Day? We've rounded up all the deals celebrating National Cheese Pizza Day so come and celebrate arguably one of the best National Food Days in the history of capitalist-driven-sham holidays!
Brixx Wood Fired Pizza
Valid only today, south-eastern pizza chain Brixx is offering a buy-one-get-one-free offer, so bring a friend or ya know, don't! More pizza is always better than friends. Use the pepper flakes and parmesan cheese to give your new best friend a face!
Boston's Pizza Restaurant & Sport's Bar
https://www.instagram.com/p/BnJukdjHf6J/?taken-by=bostonspizzausa
Free pizza for a year and it doesn't even have to be cheese? What a way to celebrate! What is a good slice of pizza but a delivery system for bread and cheese anyway? All pizza is cheese pizza, unless ya know, you don't make it with cheese. Boston's is offering this deal to just one lucky winner, all they ask for in return is a follow, a share, and tagging two friends. We suggest you get your friends in on the deal as well, triple your chances to win!
Hot Box Pizza
Indianapolis favorite, Hot Box Pizza is serving up $8 large cheese pizzas today only. You can only order 5 pies max and the large pizza's measure 14 inches, that's 70 inches of cheese pizza!

Ledo Pizza
Ledo Pizza is offering one lucky winner a $50 gift card, you simply need to retweet their tweet in order to be entered to win. The winner will be announced at 10 p.m. eastern time, so expect several text messages from old friends and ex-lovers once the winner is announced.
Paragon Theaters
Nothing quite says 'cinema' like cheese pizza. I mean we certainly aren't going to complain about this buy-one-get-one cheese pizza offering. We are going to shut-up and watch Crazy Rich Asians with not one, but two cheese pizzas to ourselves. Today only, the Paragon Theaters movie chain is giving away cheese pizza, that's the way to celebrate.
For more locally based deals, check the social media accounts of your favorite pizza joints to see what they have to offer.
But we aren't done. We have a personal bone to pick with the following juggernauts of the pizza game.
I mean what the heck Dominos? This isn't a deal!
Little Ceasar's is telling us to celebrate but isn't giving us a reason why we should celebrate with them. So we won't.
Okay, again. Pizza Hut why are you going to play us like this? We keep seeing hands attached to these slices, and they certainly aren't our hands, which is no way to celebrate such a sacred holiday.
We expect more from you. National Cheese Pizza Day isn't just a day to say 'hey we have pizza,' you always have pizza! We want it for cheap.