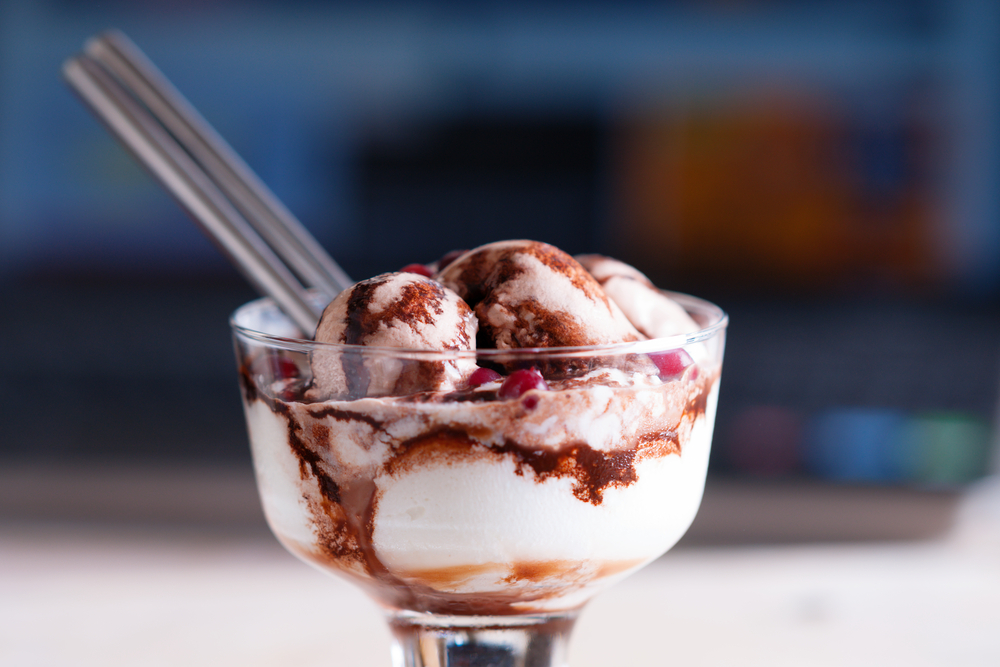 In the dessert hierarchy, it's hard to top ice cream. The creamy, cold, sweet treat is fully customizable to fit anyone's unique flavor specifications. You can go basic and have a scoop of vanilla or chocolate. Or you can jazz it up with some sprinkles, chopped nuts, caramel sauce, and whipped cream, all topped off with a maraschino cherry. There's also a whole universe of flavors (thanks in part to Ben & Jerry) from Rocky Road, To Chubby Hubby, to salted caramel, to a McFlurry that looks like the swirled corpse of Pikachu. Besides popsicles, ice cream is potentially the best dessert for summertime enjoyment. It's frosty, sweet, and the perfect end to a long day in the sun. It's so great, it deserves it's own holiday — which, lucky for you, is today (did you see that coming?).
Today, July 16, is National Ice Cream Day and there are deals to be had. A handful of places are even giving away free ice cream. Now that's the kind of holiday we love to celebrate.
Download the Baskin Robbins app to get special deals and discounts in celebration of National Ice Cream Day. Just signing up for the app gets you a free scoop of ice cream.
The chain, made famous by making ice cream cakes like "Fudgie the Whale", is celebrating the day by offering customers a buy one get one free deal on any size cone or cup of soft ice cream. It's also celebrating the aforementioned Fudgie's 40th birthday by making donations to the Save the Whales charity throughout the day.
Fans of Cold Stone can get two Creations ice cream orders for the price of one. All you have to do to get the deal is join the store's eClub.
Coolhaus is celebrating National Ice Cream Day by giving customers coupons for free ice cream with every purchase today. Now you'll have a reason to come back for more ice cream tomorrow.
Participating locations of Dippin' Dots will be giving away free mini cups to celebrate the holiday. But, be aware that this is only happening in a specific two-hour window and you need to check with your local store to find out when it is.
Visit any of this burger chain's locations to get an ice cream sundae for only $0.99. Even if you don't have time to get there today, this deal lasts until July 23rd. Check to see if your local Krystal is participating in this deal.
Stop by any McDonald's today and get a free cone of soft serve ice cream. All you need to do is redeem your free cone on the McDonald's app. The good times don't end with free cones though. As we previously reported, one lucky Mickey D's fan will get the "Golden Arches Cup" and will be rewarded with free ice cream for life.
Even our furry friends get to enjoy National Ice Cream Day at PetSmart. Visit participating PetSmart PetHotel locations to get a free Doggie Ice Cream Sundae for your pooch.
Stop by any Subzero location to get a free order of liquid nitrogen ice cream when you buy one at the regular price. This deal will only last from 2-6pm.
This is not specifically an Ice Cream Day deal, but visit any Wendy's restaurant through August 25th and get a small chocolate or vanilla frosty for only $0.50.
To celebrate the holiday, the famed grocery chain is offering two pints of Ben & Jerry's, frozen yogurt, and other frozen desserts for $6.
https://www.instagram.com/p/BWiUXYCFd9T/
The frozen yogurt chain is celebrating National Ice Cream day by giving customers a free 4 ounce order from noon until 5pm. All you need to do to get this deal is download 16 Handle's app and download the coupon.