I've spent the last five years on a quest to travel solo to all 63 of the major United States National Parks. In that time, I've visited 54 of the major parks and countless other NPS sites. Everyone always asks me about the awe-inspiring mountain landscapes of Yosemite, the Rocky Mountains, and the Grand Tetons. But what I really love to direct other travelers to are National Park beaches.
Yes, beaches. They aren't the first thing you might think about visiting on a National Park vacation, but there are so many amazing shorelines protected by the National Park Service deserving of your attention. That means little-to-no development and a true emphasis on nature — not something that many beaches in the country can still claim. Here are my nine favorites from what I've seen so far.
Redwoods National Park
There's more to the Redwoods than towering trees. In fact, my favorite place to visit while in the park is the beach!
I love to relax on Gold Bluffs Beach, a gray-sand beach and campground that is near the legendary Fern Canyon. You can also spend time exploring Enderts Beach which is accessible from a rugged ½ mile trail. Enderts isn't great for swimming but it is a popular spot for tide-pooling and taking in the scenery.
Dry Tortugas National Park
Dry Tortugas National Park is a series of islands 70 miles west of Key West, so there are ample beaches. I spent a day snorkeling at the swim beach outside the historic Fort Jefferson and lounging on the pristine sands. The beach feels otherworldly and like you are much further outside of the continental United States than you are. It is a bucket-list-worthy trip.
Dry Tortugas can only be accessed by boat or seaplane, making your trip even more interesting, and leaving the beach less crowded with a private island vibe.
Cape Lookout National Seashore
The National Park system is a lot more than just the 63 parks designated as "National Parks." There are over 400 NPS-managed sites, including historical sites, preserves, and National seashores. I've visited many National Seashores over the years and one always sticks out in my mind — Cape Lookout.
A three-mile ferry ride from Beaufort or Harkers Island North Carolina transports you to underdeveloped almost secret-feeling beaches. You can camp, fish, hike, rent cabins, or climb up the lighthouse. If you visit Shackleford Banks, the southernmost barrier island, you might encounter some of the 100 or so wild horses that inhabit the island. Or just enjoy a day relaxing on the sand.
Indiana Dunes National Park
Indiana Dunes is one of the newest parks in the NPS system to garner the designation of "National Park." On my visit, I was surprised that this landscape was just 35 miles or so from Chicago. In fact, you can see the skyline from parts of the shore. Admittedly, this park has a bit of a different and less remote feel — but it's an amazing option for a quick getaway from the city. The park boasts 15 miles of beaches on the shore of Lake Michigan ready for you to take a dip or lay in the sun.
West Beach is the most popular, and also the only beach with lifeguards. Through the summer months, there is a small extra fee for the summer amenities ($6 per car or $3 with your America the Beautiful pass).
Olympic National Park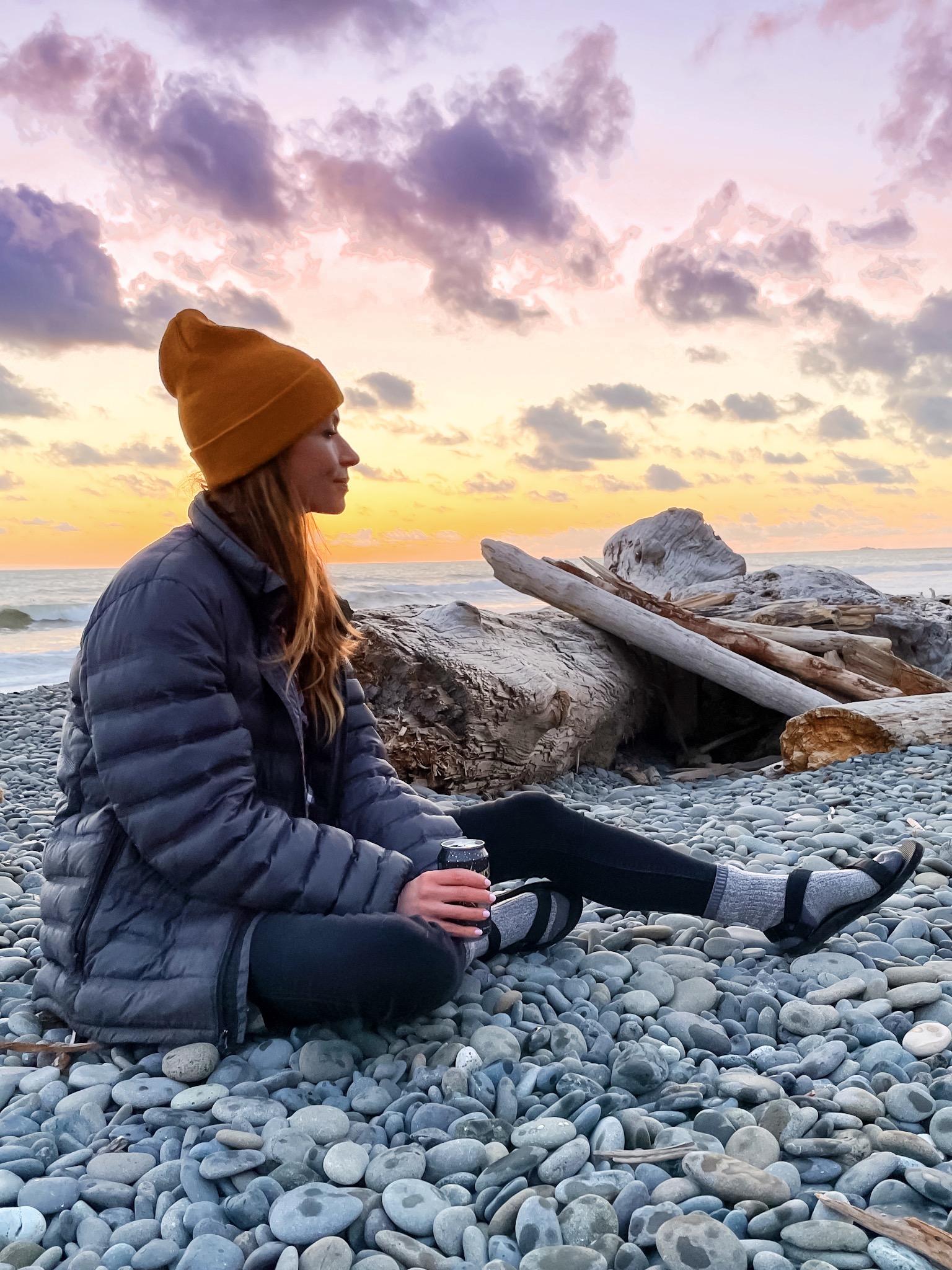 There is nothing quite like watching the sunset from a beach in Olympic National Park. While the vibe is decidedly less sun and sand, the moodiness and ruggedness offer a great respite from the summer heat and crowds elsewhere. Olympic is a peninsula, and home to 73 miles of undisturbed coastal wilderness. Come to hike, tide pool, beachcomb, and watch those amazing sunsets.
There are lonely beaches and access points all along the coast of Olympic. I'm partial to Rialto and Second Beach.
Assateague Island National Seashore
Assateague Island is another National Seashore that I fell in love with on my first visit. Like Cape Lookout, it is famously home to wild horses, sandy beaches, and opportunities to explore. A 37-mile long barrier island, it is a great place to camp, fish, crab, bike, or swim. Located between Virginia and Maryland, it is the perfect spot to watch the waves any time of year.
Cumberland Island National Seashore
Cumberland Island is a barrier island off the coast of southern Georgia, the island is full of history, wildlife, and beauty. Spend time on the undeveloped beaches, bike to a campsite, and learn about the rich history of the island. Maybe even catch a glimpse of a wild horse or loggerhead turtle.
Access Cumberland Island via a 45-minute ferry from the visitors center in St. Mary's Georgia.
Point Reyes
Just 38 miles outside of San Francisco is Point Reyes National Seashore. Popular for beaches, as well as hiking and wildlife spotting, Point Reyes has it all. Walk down the famous cypress tree tunnel before visiting one of the 12 beaches in Point Reyes.
Next on my list:
National Park of American Samoa
I haven't visited the National Park of American Samoa yet (less than 30,000 people per year do). But when I get the chance I know I'll be spending a lot of time on the beach. Distributed through three islands, the park is also a great place to snorkel, learn about Samoan culture, and hike through the rainforest.
I can't wait to visit the traveler beloved Ofu Lagoon, on Ofu Island.