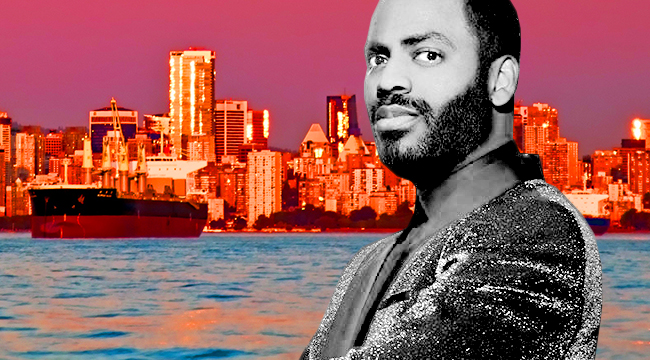 My Kinda Town is back, baby! This week, comedian Baron Vaughn fills us in on all the sights and flavors that make the city of Vancouver, British Colombia so widely beloved. Baron is perhaps best known for his role as Nwabudike "Bud" Bergstein on Grace and Frankie, but we have a feeling you're going to be hearing a lot more of Baron's particular brand of humor thanks to his new Comedy Central show The New Negroes with Baron Vaughn and Open Mike Eagle (premiering this Friday, April 19th).
The New Negroes with Baron Vaughn and Open Mike Eagle — starring Vaughn and Uproxx fav Open Mike Eagle — takes topical and socially aware comedy and mixes it with music and stand-up. This season's musical sketches are set to include the talents of musicians like Danny Brown and MF Doom. Established stand-ups like Insecure's Langston Kerman and comedian Shalewa Sharpe are also slated to appear.
In the lead up to Friday's premiere, Vaughn supplied us with expert food suggestions and shared his favorite walking spots in Vancouver, B.C.. His answers offer great insight into why so many visitors fall for the northern city.
Where is the best place to grab a drink?
Vancouver has its fair share of drinking spots from dives to swank, but there's only one place that has the most random and entertaining celebrity sightings: Gerard Lounge at the Sutton Place Hotel. I don't go for that reason though. I go for the sightings of people experiencing a sighting cuz I'm meta AF. I go to see people try to do the math of why Tom Cruise and Samuel L Jackson are in here next to that table full of other people that they'll have to remember to IMDB when they get home.
Delight and confusion go great with whiskey.

What is the best hangover breakfast?
The Wallflower. Exactly what you need if you're feeling woozy from the boozy: lots of choices that'll fill you up, and not loud. At least I remember it being relatively quiet. Could be that I was still dizzy.
The best place to catch a comedy show in the city?
It's been a while since I've done or seen comedy in Vancouver, but the Comedy Mix was my first experience. It's a club, but the way it's set up is perfect, and the audiences were great.
To be clear, there's a thriving independent comedy scene in Vancouver that is so indie I no longer know where they're doing it.
Best place in Vancouver to get your coffee fix?
Back when I briefly lived in the Couv, I had JUST started drinking coffee because it had been a long while since someone required me to be somewhere at 6 a.m. I was sure 6 a.m. was more of a philosophical concept rather than the start of a workday. So I drank coffee flavored diabetes shakes from the Starbucks downstairs.
Now I've learned a few things: 1) No one calls that city the Couv, and 2) 49th Parallel is the shit.
What is the best meal you've had in Vancouver?
Two of the greatest restaurants in the world are in Vancouver: Vij's and Tojo's. I think about both weekly. Hell, I dream about those damn places. Tojo's is a sushi restaurant and yes, it's expensive. And the actual person, Tojo, invented many rolls that are standard today like the California Roll. That said, it's my favorite sushi I've ever had.
It's hacky to even say that because this place is pretty famous.
And Vij's? Pffft. Indian restaurant. Absolutely incredible. They're in a bigger place than the one I originally went to which is good because they don't do reservations and they open at 5:30. I used to show up at 4:45 which was perfect because you HAD to be in that first 50. And the food? I'll just say have the lamb popsicles. When lamb is done right, and they do it right, you'll be like "LAMB! WISH I WAS YOUR LOVAHHHH."
It's that good.

What's your favorite memory from your time in Vancouver?
One time I walked into a store as if a voice inside had called to me. It was a store that was somewhere in-between Supreme and Popkiller. I was cooler for somehow knowing it was there. They sold clothes, shoes, figurines, cutesy versions of everyday things like a trowel that's also a bong (not real but someone make that).
And I saw a pair of shoes — low top dunks I believe — and they looked like a shiny new hardwood floor. Design was dope. Was this the call I heard? I asked the solitary employee for the price. "$3000. There are only 3 pairs of those in the world." Next thing I know I'm in a Spike Lee dolly shot getting DAFUQ outta there — didn't even have the chance to say "$3000 CANADIAN?!" I was just outside again running away from that expensive ass voice.
What is your favorite thing to do after a set in Vancouver?
Take a walk at the Burrard Street bridge
Walk it. There are three great bridges that have very different personalities and different views of the city when you walk them.
Do you have a favorite bridge?
It would have to be the Burrard Street bridge. Sure, Burrard is hard to say, but it has the best and clearest views of the English Bay and Kitsilano Beach. And when the sun rising or setting, it's pretty damn magical.
What is a stereotype about the city that isn't true?
That there are no black people there. Not true, there are about five. We sensed each other's presence when I first went there.
What is one thing someone must experience when they visit Vancouver?
https://www.instagram.com/p/BwSaJl7nywf/
Gastown transition into Hastings.
Where is the best place in Vancouver to grab a slice of pizza?
Don't.
Canada isn't known for its slices. Poutine is the equivalent of a slice. They have pizza — they probably like it as much as Americans. But they like poutine MORE. Americans don't like anything as much as Canadians like poutine.
Could you name a favorite place to grab poutine?
I can't because I was unaware of its existence until after I was already allergic to every single part of it. So, alas, I've never had the pleasure of biting into a gravy-soaked cheese curd IF THAT IS WHAT IT IS. The only thing I've gotten from that supposedly delicious dairy digit is a topical pun: Vladimir Poutine.

Describe Vancouver in one sentence
Some of my favorite weather and food in the world.