The Pimm's Cup is the ultimate summer highball. It's incredibly light and crazy refreshing. It's also very low alcohol and clocks in at around one light beer in ABVs-per-highball-glass. The best part about a Pimm's Cup is that you can make it in batches. In fact, these are better when you make them by the pitcher, making this the perfect summer batch cocktail to have in your arsenal.
Pimm's No. 1 is a gin-based spirit that's amped up with fruit juices, spices, herbs, and botanicals. It's made specifically for summer sipping and mixing with fizzy drinks and more fruit. The Pimm's Cup has a lot of variations but the original recipe of adding some Pimm's No. 1 to lemonade (Sprite or 7-Up) with orange, strawberry, cucumber, and mint is the classic way to go.
And that's what we're mixing up today. Let's get to it!
The Original Pimm's Cup No. 1
Ingredients:
1 cup Pimm's No. 1
2 cups Sprite or 7-Up
5-10 strawberries (depending on size)
1 orange
1/4 cucumber
Fresh mint
Ice
You can snag a bottle of Pimm's No. 1 for around $25 per bottle. One bottle will make about 2 1/2 pitchers give or take. As for the rest, it's pretty straightforward and completely adjustable. Want to put in blueberries and peaches? Go. For. It. Want to use ginger ale instead of Sprite? No one is stopping you.
In fact, if you want to get really fancy, use champagne instead of Sprite. It's dope, trust us.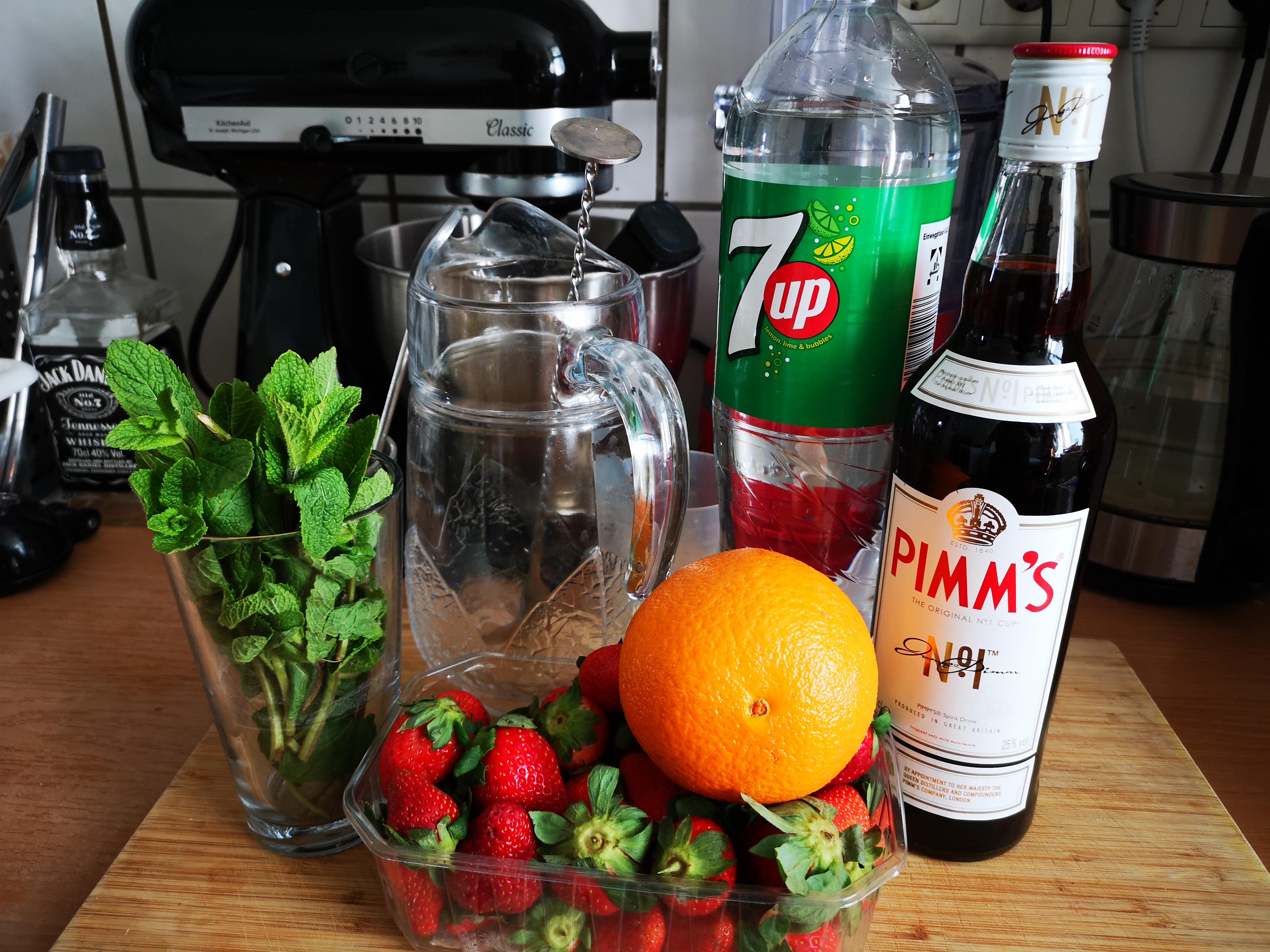 What You'll Need:
1/2-gallon pitcher
Cutting board
Kitchen knife
Measuring cup
Barspoon
Small tongs
Highball glasses
Method:
Prep by slicing the strawberries, slice the orange into wheels, and thinly slice the cucumber into small wheels (skin on).
Add ice to the pitcher and place the orange, cucumber, and strawberry slices around the pitcher in layers. Repeat until the pitcher is full.
Pour in Pimm's No. 1 and then the soda.
Give it a small stir with a barspoon.
Slap a large sprig of mint around the pitcher and the mint into the drink so it's completely submerged.
Serve the drink with ice, small tongs, and extra mint so people can add the fruit to their highball from the pitcher.
Bottom Line:
I can't understate how refreshing this drink is. I know this is cliched but this is summer in a goddamn glass. It's light, full of flavor, sweet, fruity, slightly savory, and straight gulp-able. The fruit gets a little boozy and offers you a nice fruit salad to snack on as you get tipsy in the hot summer sun, which is a nice bonus.
You can rest assured people will be lining up to kill off pitcher after pitcher of this summer classic until deep into September.