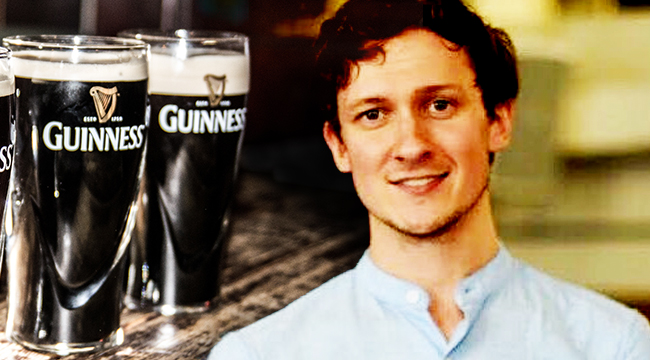 St. Patrick's Day is here. All things Irish are being celebrated from Dublin to New York to Los Angeles. Corned beef will be eaten and a lot of Guinness will be drunk (with some American stouts maybe getting added to in the mix).
This beer-centered holiday has a rich history of food, beer, and whiskey that makes for a great reason to party this weekend. To dive a little deeper into why St. Patrick's Day is such a fun celebration we reached out to Guinness and their certified beer sommelier, Aaron Ridgeway, to talk all things stout, Ireland, and St. Patrick's Day.
Ridgeway lives for beer and he's deeply excited about the varying styles they're producing at Guinness beyond the "dark stuff." We were lucky enough to get a chance to sit down with the beer somm to talk all things oysters, St. Paddy's, and Ireland for a few minutes. Enjoy and Sláinte!
Can you walk us through how you got into beer?
I look back now and think that I've been working there for nearly 10 years, it's incredible in a way. I started working for Guinness when I was 21 and I walked in, just as a summer job. I actually went to do the tour the day before my interview to know what I was talking about. So there's a pro tip for you, straight away, know what you're talking about.
That's kind of brilliant. What happened the next day?
I couldn't believe it when I walked into the Guinness Storehouse — which is the home of Guinness as you know — I couldn't believe what I was seeing. The scale of it all well…
I started off just selling tickets at the admissions booth and serving pints in the bar and giving guided tours. Over time my interest for beer and, I suppose, that flair in talking about it just developed and I started to become obsessed about understanding more of the processes inside, and the flavors, the different style.
You started at the door but now you're a beer somm. Can you walk us through what it takes to become a beer "sommelier?"
Sure. Guinness has been fantastic in supporting that role. It's an equivalent qualification to the Cicerone in America. It's the same kind of structure. You have a foundation. You learn how to judge beer. Then you have your sommelier exam. So there's actually four different tiers realistically in order to do it.
In the exam itself, you have to identify 15 different styles of beer. They can be anything as well as five different beers spiked with random flavors. So you've gotta train your palette, but you've also gotta be able to talk about beer.
It kind of feels like you're living the dream, man. So what is your day to day like right now?
Here in the states, my role is generally talking to people like yourselves which is most of the fun, to be honest with you. I'm supporting the U.S. team as much as I can in whatever initiatives they have going on. So, basically, that's all about spreading the good message of Guinness.
So, what's that message?
If you're celebrating with a Guinness in your hand you're doing it right. That's essentially what I'm here to tell people, to encourage that goodwill, but also try and get people onboard trying it perhaps for the first time over the St.Patrick's Day to celebrate.

So let's get into some nitty-gritty here because there's stout, and then there's Irish dry stout and then, of course, there's Imperial stout. The difference between Imperial stout is its age, but what's the difference between a "stout" and "Irish dry stout?"
It's a good question actually because people kind of look at beers and they're like, "Oh is stout a beer?" We get that question a lot back in Dublin. As you know yourself all stouts are beers, but not all beers are stouts.
So, historically speaking back in the early 1700s you would have started off with porters. Essentially lads who would lift goats to and from different stalls around the districts and markets of Billingsgate and Covent garden favored these darker colored beers for the fuller body and their flavor. They saw them as a tonic beer in a way and as a restorative for the "end of the afternoon."
So back in those days, Arthur Guinness began experimenting, as many other brewers did, with using roasted raw barley to develop a much drier, almost an astringent character which created that fuller body: That coffee, that roast flavor and literally a "stouter" flavor. So what started as a descriptive term for the beer eventually became a style in its own right and it's largely accepted that stouts were the strongest version of porters that you could get your hands on — both in flavor and usually in alcohol content.
Right.
Nowadays of course as you know, the rule book has been completely thrown out. You can brew whatever you want, and you can put whatever you want on the front of it. Although the BJCP has put some guidelines through it. Look, Arthur Guinness didn't invent stout, he's largely accepted as perfecting the style of an Irish dry stout, and the best example of that would be something like our Guinness extra stout.
If you've ever tried it you'll know that a bottle of Guinness is very highly carbonated and that carbonation pushes the bitterness of the hops and gives you a very dry, clean finish.
It's actually one of the earliest food pairings we have as well. In 1837 it was said to be paired with an evening of Guinness and oysters and there, as the story goes, ended hitherto the greatest day of my life. That was in 1837.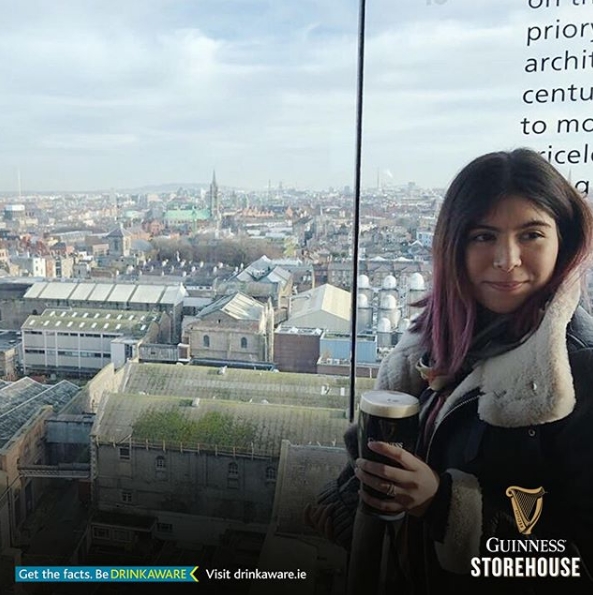 I can't argue with that. I love a good plate of oysters with a stout. Let's shift a bit. How did "nitro" come into play?
Great question as well. So the nitrogen system is something that was developed in the 1950s and it was launched officially as Guinness Draft in 1959. There was a mathematician at the time in London, Michael Ash, who developed the right pressure. He figured out the right kind of formula that you'd need in order to get nitrogen to dissolve inside the cask. This is also when Guinness was experimenting using metal barrels.
When you're dispensing the beer with nitrogen gas, the side effect of that is when hits a plate in the nozzle, called a restrictor (four to five tiny holes at a specific diameter), it breaks the nitrogen out of the liquid. So what you get in the glass is that beautiful surge effect that you see whenever you get a Guinness poured.
So that's essentially what's happening. Guinness is kegged with nitrogen and then at the point of serving it, it's broken out of solution to give you a creamy head on top of the pint.
It fascinates me because it's created this movement where people are nitro-ing IPAs, people are nitro-ing coffee, and it kind of all stems back to that 1950s moment. So what's being brewed at the Guinness Storehouse right now that isn't a stout?
So in Dublin, we have beers you can only get at the bar in Dublin. Likewise, there are brews in Baltimore at our brewery that you can only get in Baltimore.
Right now, in Dublin, we have things like a Hibiscus IPA. We've got a gooseberry and ginger sour. We've got a kiwi sour. We've got a nitro oatmeal stout. We have a couple of guest beers as well. We love supporting some of the smaller, independent breweries in Ireland if we can. It's a lot of fun to build those relationships.
That's great. Do you have anything special for St. Patrick's Day?
Oh, actually for St.Patrick's Day, we have our celebratory Paddy's IPA. A very fitting name as you might imagine, and over in Baltimore, they've produced an Irish Tea Ale. So they've actually used Irish breakfast tea in the recipe to give it an authentic feel, if you like.
Is it Barry's tea?
That's the debate now, is it Lyons or Barry's?
So it's gonna be a fun weekend. St.Patrick's Day is obviously a huge holiday in Ireland and in the U.S. Coming from Ireland, what sort of differences do you see in the celebration between Dublin and say Baltimore or Dublin and New York or Chicago?
It's bigger, that's the first one. In Dublin, we have a parade, and we have a load of people who come into Dublin specifically for the St. Patrick's festival.
In New York, it's so multicultural, There are so many tourists already in New York but a lot of local people actually take part in the celebrations and they really get involved.
Back home in Ireland, it's more of a family weekend. So everyone will head over to their mother and father's and have dinner together and just enjoy it that way. They'll stay out of the city center altogether. In America, it depends on where you are around the country too. So, In Chicago, I think they dye the river green every year, don't they?
They do.
We tried that once.
Speaking of dyeing things green, as an Irishman, what's your opinion of dyeing beer green?
How do I answer this diplomatically? I've seen green beer. I've yet to partake in the consumption of said green beer as well. Honestly, as part of the celebrations, you do you.
For me beer is something that's supposed to be enjoyed, it's supposed to be part of the occasion, it's supposed to be part of the celebration. Personally speaking, I'm all about the pursuit of the perfect pint, when it comes to Guinness drafts, so I'm not gonna be doing anything to my pint, but all the power to you.

I feel you there, the perfect pint of Guinness is hard to deny. So the last question, for you what's a perfect St. Patrick's Day like? How do you celebrate?

I'd start off with a solid Irish breakfast if you can. That's sausage, back bacon, some pudding as well (black and white pudding). You got some hash browns on the plate too. There's nothing that will set you up for the day more than that. And, then, of course, a nice pint of Guinness to wash it all down.