The high season of travel is here. The next few months are going to see some of the highest prices of the year. However, all is not lost. You can still find great cheap flights and summer travel deals if you know where to look.
Counter-high-season sales are starting to pop up all over the industry. Case in point, there are flights to Europe for around $100 each way alongside flights to Asia for under $200 one-way. Hotels are offering steep summer discounts to get you to stay with them when you hit the road. And last minute summer packages with travel companies are always going to be the best play, as those companies strain to fill the last few slots.
We've compiled some of the best deals right now below. These are the cheapest flights, sweetest hotel rates, and steepest travel package discounts online this week.
TOP THREE DEALS OF THE WEEK:
FLY TO DUBLIN FOR $100 EACH WAY WITH NORWEGIAN
Our top deal of the week is a killer price on a trip to Ireland. Starting in October, you'll be able to snag one-way flights to Dublin, Ireland from the East Coast for as little as $100 with Norwegian. That comes with a carry-on and in-flight entertainment but no food. So grab a snack and carry it on to save cash.
FLY TO OSAKA JAPAN FOR $166 EACH WAY WITH AIRASIA
The second best deal this week is a cheap flight from Honolulu to Osaka, Japan. AirAsia is running non-stop flights this summer for as little as $166 each way. That's an incredibly cheap flight. Plus, once you're in East Asia, you can book more AirAsia flights around the region for as little as $15 each way.
SAVE UP TO 45% OFF HOTELS WITH HOTELS.COM THIS SUMMER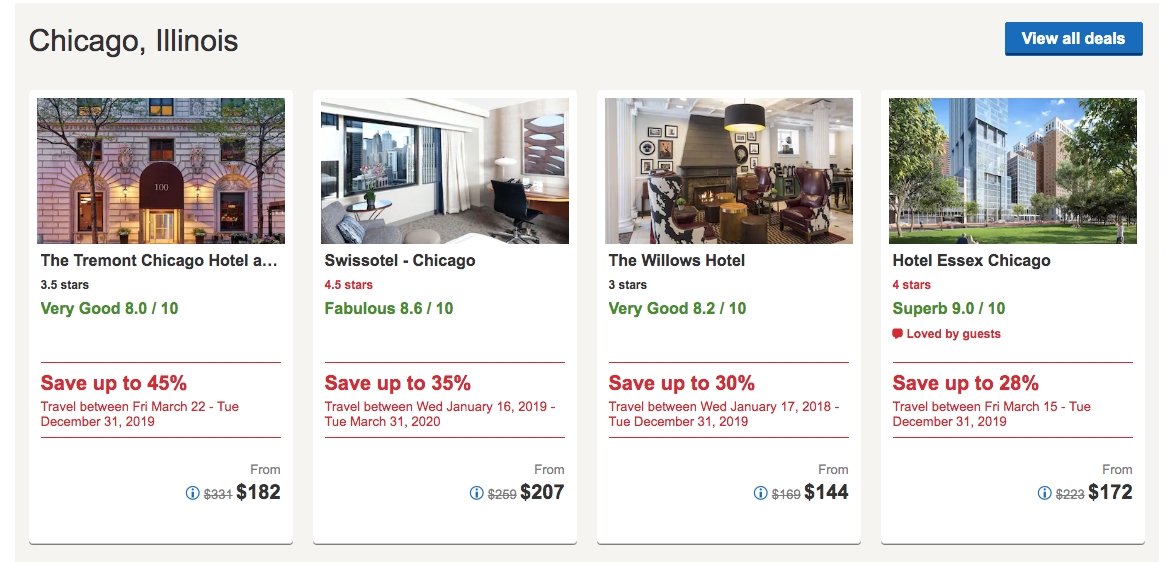 Hotel booking site Hotels.com is running great deals all summer. Simply browse their hotel deals and find the perfect accommodation option with the best discount between now and the 4th of July. It's really that easy to save anywhere from 15 to 45 percent off room rates this summer.
BEST FLIGHTS OF THE WEEK:
ROUNDTRIPS FROM MIAMI TO NEW YORK (and vice versa) FOR $110
The earlier you can book a flight, the better. Flights for winter travel this year are dirt cheap right now. For instance, roundtrip flights from Miami to New York (or vice versa) are only $110. You will need to pay extra for a carry-on bag, though.
ROUNDTRIPS FROM SAN FRANCISCO TO MEXICO CITY FOR $261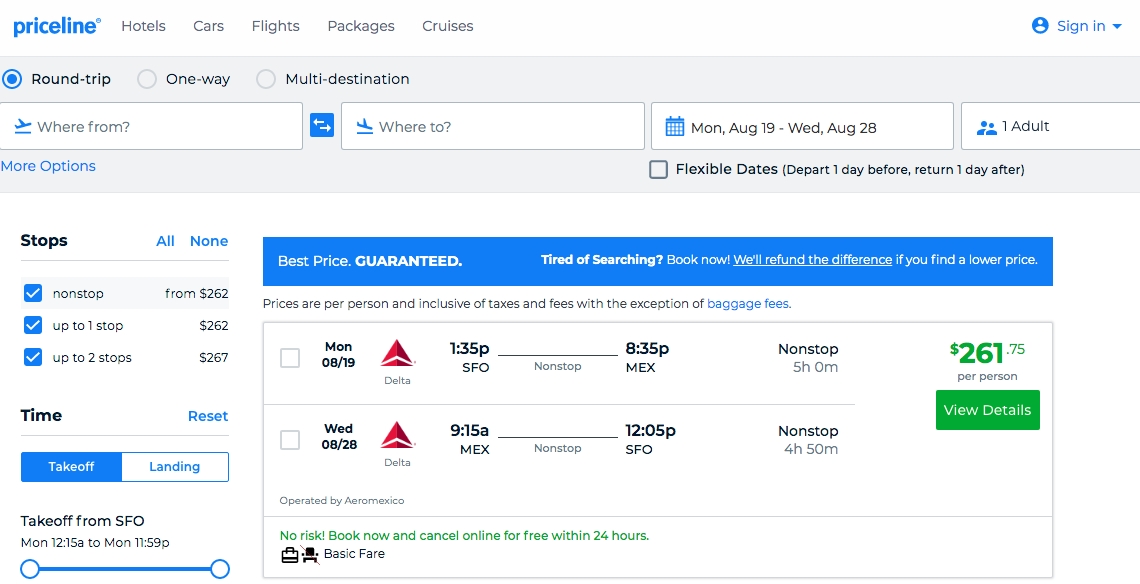 You can still find great deals for the summer too. Flights from the West Coast — San Francisco in this case — to Mexico City in August are running $261 roundtrip. This is an international Delta flight which allows you a carry-on and a drink.
ROUNDTRIPS FROM EAST COAST TO AMSTERDAM FOR $370
Fall flights to Europe are very cheap right now. You can score a roundtrip from the East Coast to Europe's party capital, Amsterdam, for around $370. Granted, that's on Norwegian. So, you'll get one carry-on and no food. But if you pack light, that won't be a problem.
BEST TRAVEL PACKAGES OF THE WEEK:
BUY ONE GET ONE FREE WITH AMTRAK IN A SHARED BEDROOM
Traveling by train across America is the perfect summer antidote to long airport security lines and being smashed between two other travelers in economy class on a flight. Amtrak is making traveling America easier, cheaper, and a lot more comfortable. They're currently offering a buy-one-get-one-free sale on their roomettes and bedrooms. That means you and a friend can travel all over America for the price of one ticket.
Amtrak roomettes are small cabins where seats fold into chairs. The bedrooms are full on suites often with their own bathroom and shower. You also get three free meals with any ticket booked in either the roomette or bedroom, meaning you don't have to tack on extra money every day. You'll need to book between today and June 10th and travel between August 1st and March 31st of next year.
SAVE UP TO 25% ON CONTIKI LAST MINUTE DEALS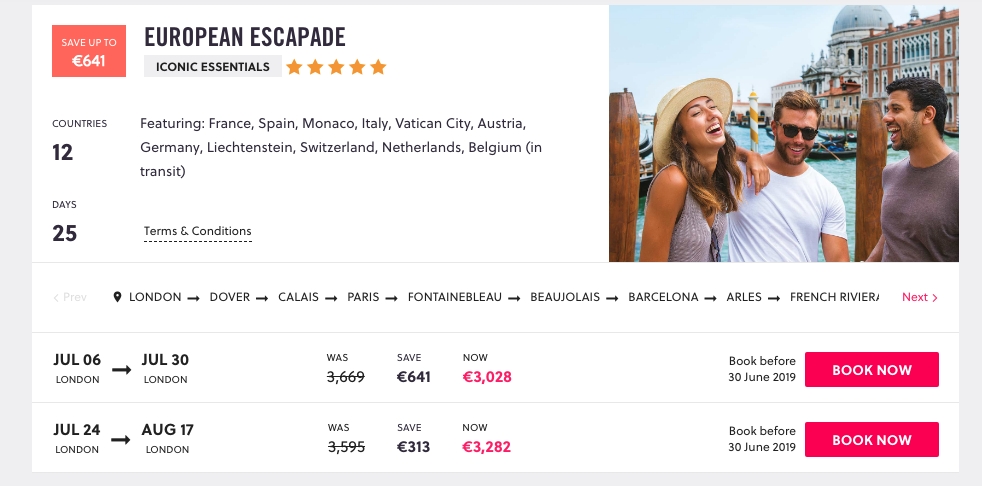 If you're itching to get away this summer but still haven't pulled a trigger on a place, maybe it's time to consider a last-minute deal with Contiki. The youth-focused travel company curates some of the best trips around the world where fun and local immersion are equally important parts of the traveler's experience.
Right now, you can book a long list of trips all over the world for anywhere from ten to 25 percent off. That's a steep saving of up to $600 or $700 — enough savings to cover a roundtrip flight.
20% OFF TRAVEL PACKAGES WITH G ADVENTURES' SPRING SALE
G Adventures tailors trips to the adventurous, wellness, luxury, and environmentally conscious travelers of the world. Their trips have a hyper-focus on promoting local communities — especially Indigenous communities — around the world and making sure your tourist dollars go directly into their pockets.
They're currently wrapping up their Spring Sale which will net you a 20 percent discount on trips all around the world. You'll need to book before June 10th to take advantage of this one and travel before December 15th this year.
20% OFF ANTARCTICA PACKAGES WITH INTREPID TRAVEL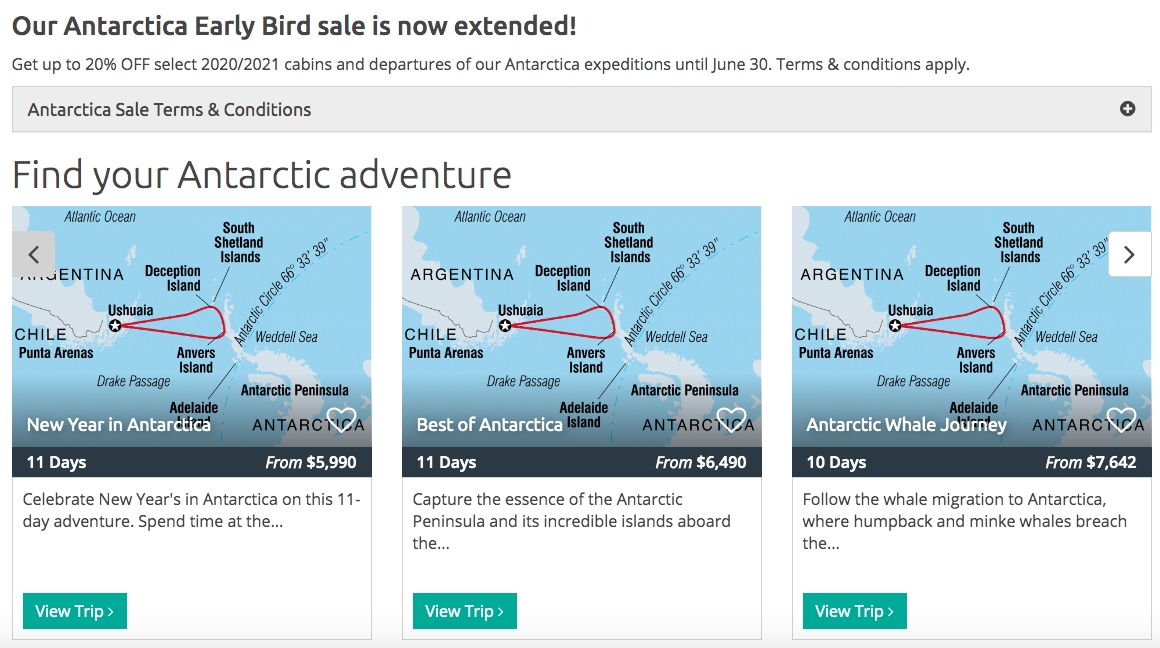 Taking a trip to Antarctica is a big decision. The seventh continent is the epitome of over the hills and far away. It's a massive time and monetary commitment. Smart travelers will make sure they book this sort of trip when there's a sale on to ease the sting of the price tag.
Intrepid Travel just extended their Early Bird sale on 2020/2021 voyages to the icy continent. 20 percent might not feel like massive savings. But we're talking 20 percent off $6,000. That's $1,200 in your pocket.
BEST HOTEL DEALS OF THE WEEK:
SAVE UP TO 20% AT HOTEL LE MARAIS NEW ORLEANS
Taking a party trip to New Orleans in the summer is never a bad idea. The food, the music scene, all the booze, sexy good times all await you in NOLA.
This summer you can score a 20 percent discount at the plush Hotel Le Marais in a likely haunted mansion right on Bourbon Street. Room rates start at $139 per night before the 20 percent off if you book 30 days in advance. You'll also get free WiFi and breakfast.
SAVE 25% AT ST. REGIS BANGKOK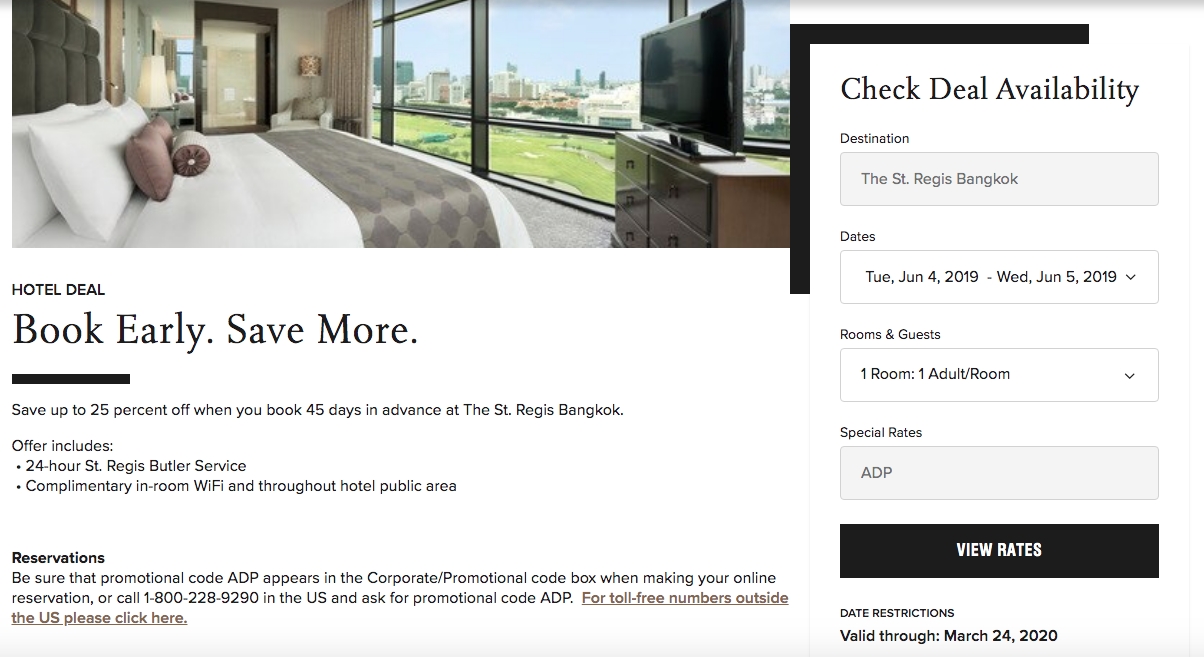 St. Regis runs some of the highest end luxe properties in the world. So, when they have a sale, you have to pounce. Right now, The St. Regis Bangkok is offering a 25 percent discount if you book in advance by 45 days or more. That's about a $100 savings in your pocket per night. And trust us, $100 goes a long way towards great food and partying in the Thai capital.
BUY A TENt PASS WITH UNDER CANVAS FOR SUMMER GLAMPING NEAR AMERICA'S NATIONAL PARKS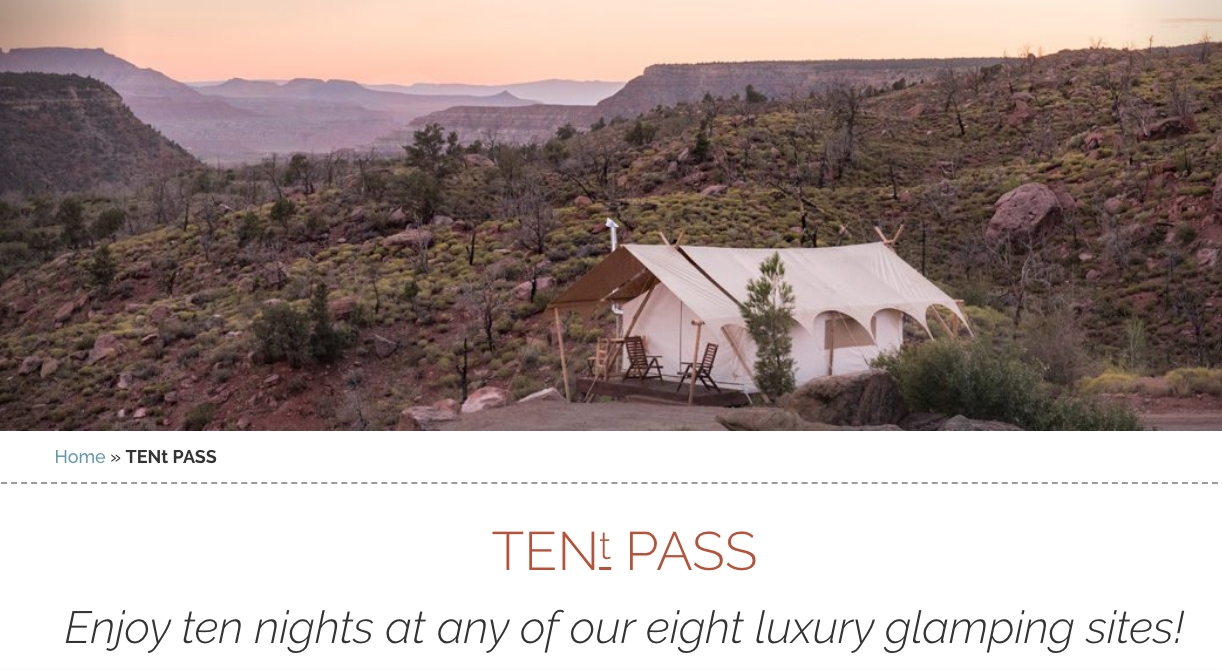 Under Canvas' tents are a unique and luxurious way to see some of America's most iconic national parks. The well-fitted tents come with in-tent wood stoves, king size beds, and top-notch bathroom facilities.
This summer, Under Canvas is offering a TENt Pass for $2,999. That'll get you ten nights in a tent for the price of six. Then you can use those nights at any of Under Canvas' eight locations. You can rent ten tents for one night with your crew or rent single tents ten times as you road trip from national park to national park. The package also includes WiFi, morning coffee service to your tent, and free breakfast (where available).
BEST WILD SPLURGE OF THE WEEK:
SPEND 48 DAYS IN THE ARCTIC WITH ABERCROMBIE & KENT'S GRAND ARCTIC VOYAGE
Okay, this is a bit crazy. First, you'll need to be able to work remotely or not work at all for 48 straight days. That's already a pretty big barrier. Also, you're gonna need $55,785. Hey, we don't call these "wild splurges" accidentally.
That 55-grand gets you 48 nights on Abercrombie & Kent's Grand Arctic Voyage. You'll be on a luxury small-vessel cruise that'll take you from the Arctic reaches of Norway to Greenland, around Iceland, back around the whole of Greenland, and then through Canada's Northwest Passage towards Alaska. You'll spend time searching for polar bears, drinking in Reykjavik pubs, eating with Indigenous communities, and experiencing some of the most remote corners of the planet.
Can you put a price tag on that experience? Apparently. And it's more than 50k.