Oh how the dreams of young people have changed in 15 years. Back in 2001, two young Gen Xers might have looked at one another between Southpark episodes and declared, "We should open our own bar!" Odds are, nothing would ever come of it, because running a bar is hard work, and often a total money pit. Bars are fun though, so logically, having a job where you hang out in one seems like it would be fun too.
In 2016, the dream has changed. Fewer young people are having dreams of opening their own bar (The hours! The headaches!), and are instead focusing their dreams on opening their own craft brewery. For so many bold dreamers it feels more creative, more inventive, and more unique than bar ownership.
This week, we spoke with Michael Pallen — a man who lives the craft brew dream every day. Mike is the founder and head brewer at Mikerphone Brewing, which in 2015 was named one of the best new craft breweries by BeerAdvocate, and Best New Brewer of Illinois by RateBeer. He was kind enough to sit down and answer some questions for us on how he got started, where he sees the craft beer industry headed, and offer some tips on how you, too, can open your own brewery.

How did you get started as a brewer, and what advice would you give to someone who wants to do the same, either as an at-home brewer or on a larger scale?
When I was younger, my dad worked as a steam fitter for Miller Brewing, so I was exposed to the process at a very young age. Then in college, I took a botany class that offered up the opportunity to brew a beer and get graded on it, and I was immediately hooked. But home-brewing is not cheap and it requires a lot of space, so it wasn't until shortly after my wife and I purchased a home that I converted a portion of our basement into a brewery and started brewing as much as possible.
The advice I would give to someone starting out in this industry is to be patient. It took me over five years to be comfortable enough to take Mikerphone Brewing to the professional level. Create the brand, develop your beers, and throw yourself out there as a volunteer. It's also important to get people to try your stuff, especially those who aren't afraid to tell you that it sucks. Then, when you are ready, run your thoughts and plans by everyone. There are thousands of people who are in this industry who can give you pointers.
Finally, be prepared to clean, clean, clean.
It seems to me that people within the industry tend to look out for each other. The folks that have been doing it a while seem willing to help out someone who is just starting out, whether it be advice, use of equipment, etc. Am I right in that assumption?
In my experience, absolutely. [Pipeworks Brewing Company in Chicago] opened up their doors to me and let me volunteer, shadow, and learn. To this day, they hook me up with equipment or yeast when needed. Right now, craft beer sales make up right around 10 percent of the market. If we continue to band together, we can keep trudging forward towards 20, 30, 50 percent, who knows?
There's been a shift of sorts in how people drink beer, specifically in the craft market. People are drinking it like they would a glass of wine, and really want to understand what went into the process of making it and what's in it. However, a lot of people – myself included – don't always know what to look for. What are some of the keys to understanding and more deeply appreciating beer?
I think the beauty of craft beer is that we've turned something that's been around for years and was pretty one-dimensional, into a multidimensional experience. What do you like to eat? What smells do you enjoy? What reminds you of your childhood? How adventurous are you? All of these questions can be answered with beer.
How so?
Honestly, there are so many wonderful ingredients you can add to beer these days instead of the normal ingredients of the past. Have a craving for a s'more? There is a beer that tastes just like that. Want a beer that reminds you of your grandma's lemon pie? There is a beer that will do that, too. People are spending countless hours crafting brews that try new things, pairing two ingredients to create a masterpiece, letting liquids mature in wooden casks for years, all while putting their thumbprint on it.
If you want to appreciate it, go visit a local brewery, spend five minutes talking to a brewer, and you'll see how much passion and love goes into it. If you're scared to jump in or feel intimidated, don't. We're here to guide you and help you out. We want to drink beers with you and hope you enjoy them.
What are some beers you'd recommend for a wannabe beer-enthusiast?
Every person has a different palette, so it is hard to narrow down the millions of beers available. But these days, every city and neighborhood has a beer fest, which can be a great opportunity to try several samples of beer without having to shell out big bucks.
Here are a four beers I would suggest to try for beginners:
Lizard King by Pipeworks: There is a reason this beer made it on the Best New Beers List of 2015. It smells great, tastes great, and is less filling than some of their other beers.
Super Pils by 5 Rabbit: It's a very flavorful German Pilsener that sticks true to the traditional style.
GoneAway by Half Acre: A must-try for anyone who likes IPA's.
God Damn Pigeon Porter by Spiteful Brewing: If you want to try a darker, more malty and roasty beer, start here.
When should a person use a snifter, when should they use a goblet, and is there any situation when they should ever use a champagne flute?
I am not one of those guys that needs the proper glassware to enjoy a beer. I will say, though, a sexy sommelier goblet makes a beer look more attractive than one in a boring pint glass. Aroma is a large part of the overall perception of a beer, and you'll get that with a goblet. But to me, what is more important than the glass is the temperature at which you enjoy the beer. I know that we have all been trained to drink beer as cold as the mountains, but I would tell you to throw that concept out the window. As beers warm, their more complex flavors and aromas develop. Stouts and Double IPA's should be enjoyed at 55 to 60 degrees.
How about a glass that would best fit any situation? For instance, I don't necessarily want to fill my cabinet with a collection of eight different types of glasses, so what's the one must-have that I could use no matter what I'm drinking?
A Mikerphone Sommelier Goblet. It's elegant and makes every beer look damn good!
Good plug. Speaking of, each of the beers you craft have all been given names that are musically-themed — the first beer brewed by Mikerphone is called Misty Mountain Hop. How did that come about, and do you have a list of future beer names all set and ready to go?
I've always loved music. In college, I was a rep for a band from Massachusetts called Guster, where I helped in promotion and sales. Then I landed a job at a digital music agency, where I worked in licensing and entertainment relations and got an opportunity work with a lot of popular bands.
Any we would recognize?
Oh sure. Motion City Soundtrack, fun., Taylor Swift, Smashing Pumpkins, Katy Perry…
No kidding. Motion City Soundtrack?.
Ha, yes. Music was always my first passion, but beer quickly became a second passion. And when it came time to come up with a name for my beer, Mikerphone just worked. I have a book of names that I eventually want to do, but sometimes I'll be listening to a song and an idea will come to me.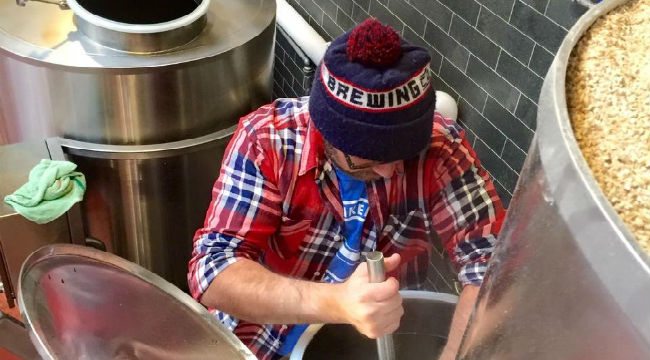 I'm not sure if you saw Budweiser's commercial during the Super Bowl, but you clearly have their attention. At the same time, there's so many breweries now, I wonder if the scales have begun to tip so far in the other direction. I liken it to baseball cards in the 1990s; in a short period of time there became so many different options, they eventually ruined a perfectly good thing. Do you ever worry about a possible over-saturation within your marketplace? Where do you see the industry headed?
I did see the commercial, and I frankly did not care. The ads have become a joke to me. They try and target us, but it all backfires. The hashtags they use, #notsipped, #thehardway, come on now. Spend a day inside a small nanobrewery and you will see how truly hard it can be to brew when you have no computers and no buttons. Trust me, I have countless sleepless nights thinking about the beers in the tanks or what people think of it, but I'm not turning back now.
I've always found this next question to be somewhat annoying, but for a beer entrepreneur in an industry that's seen so much change in the last decade, it has to be asked. Where do you see Mikerphone Brewing in five years?
It took Mikerphone Brewing five years to get here, and I will not rush the next five. These beers are a reflection of me and I want to be able to watch them develop each step of the way. Being a sour beer nut, I do hope that in five years I have several beers that have been aging in wood barrels, and they are ready to be introduced to the world.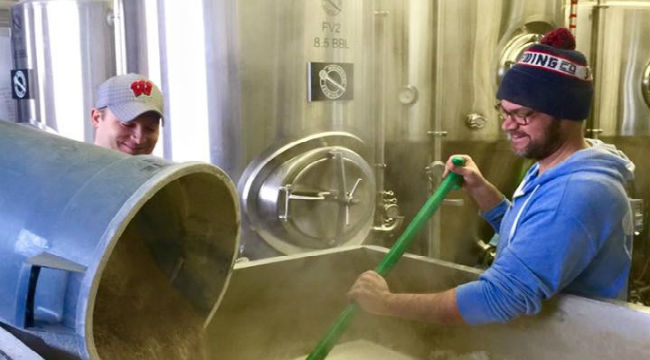 Final question, which harkens back to my first one: an Uproxx reader has a passion for beer and wants to start his or her own brewery. What is the first thing they should do in order to make that happen?
Create a great name. Secure the website, Facebook, and Instagram. Then, make goals. You have to be patient and not afraid of failure. Not every creation is going to taste good. Most importantly, be ready to clean, clean, clean.
Yeah, you mentioned that earlier.
You're gonna clean a lot.
Thanks for your time. Your answers make me want to go out and drink right now. Is it too early?
It's never too early.