This week on Top Chef, the winner of Last Chance Kitchen returned for what Bravo claims is this season's second-to-last episode. Should we believe them? In a season that has given us three separate Last Chance Kitchen winners, I'm convinced they're going to drag this out for at least four more episodes. Not that I'd complain. This culinary drama is all I live for anymore. Besides, what else do they need to make room for, The Real Hendersons Of Simi Valley? I swear every show on this network is just a play on the last name of some obnoxious family who's the seventh-degree spinoff of a Housewives show. The War of the Roses had a less complicated genealogy.
Anyway, since this episode introduced the final Last Chance Kitchen winner (*allegedly*), that meant the loser of this show would get arguably the rawest deal, getting kicked off just before the finale (or in part one of the two-part finale… I dunno… semantics) without a second chance to redeem themselves. First Fati and now this? We want culinary justice!
And what did the show have in store for this most consequential of 'sodes? The first challenge was, naturally, a sasparilla pairing challenge. You know, that old test of classical French technique. In a nearly unforgivable oversight, the producers apparently couldn't even secure Sam Elliott to guest judge.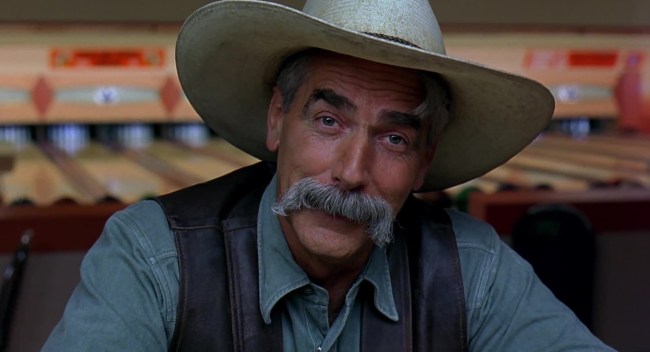 Buncha horseshit.
Instead, the show brought on Wylie Dufresne, formerly of WD-50, currently of Du's Donuts and world-famous pioneer of molecular gastronomy. Good old Wylie, he's going to hold onto that prog rock haircut if it kills him.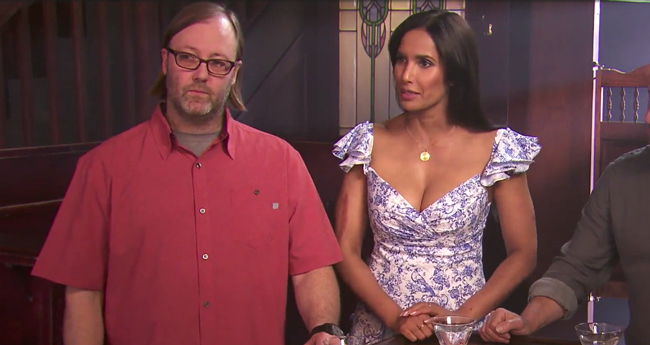 I've never eaten at his restaurants but I've seen him on a million cooking shows, and I don't really have anything to base this on, but I always sort of assume Wylie Dufresne is like the Rush of food. You know, he never sold that many records, but everyone who bought that record opened up a comic book store. I like to imagine Wylie Dufresne in his prep kitchen, squinting at some vinegar pearl or powdered yak oil in satisfaction while fog machines blanket the room and giant moog crescendo builds for 17 minutes NEENER NEENER NEENER/NEENER NEENER NEENER, NEENER NEENER NEENER NEENER NEENER NEENER…