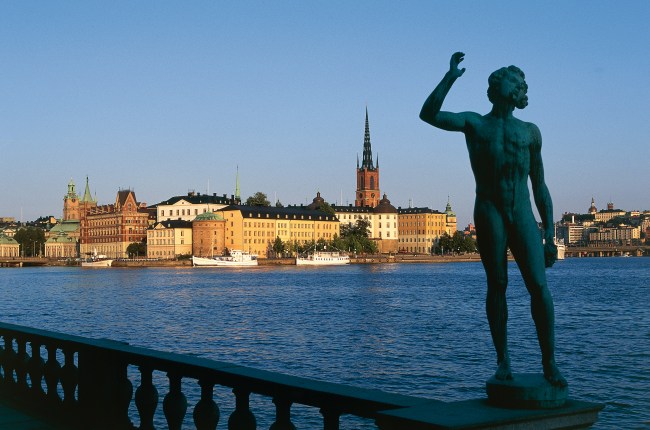 In 1766, Sweden became the first country in the world to abolish censorship, because they're cool like that. On the 250th anniversary of that monumental achievement, the Swedish Tourist Association introduced a phone number for the entire country. Swedes, uncensored, because they rightly believe that Swedish people themselves are the best advertisement for why you should visit the country. And you can talk to them about ANYTHING.
All the Swedes have to do is download an app to their phone, and they can take calls from international visitors (according to the website, the majority of people calling Sweden so far are us curious Americans) and then you can chat about anything you want. It's completely anonymous on both sides, free for them, and the cost of an international phone call for you.
Once you're connected, you can talk to the Swedes about literally anything you want. Do they like their democratic socialist government? How cold does it get? Do they really eat Swedish meatballs? Who would win in a house music fight: Avicii or Swedish House Mafia?
What I wanted to find out (as someone who has never been to Sweden, but is greatly interested in traveling to their country) is what their favorite places to visit were. So that's what I did! I loaded up $25 to my Skype account and called the number: +46 771 793 336. And while sitting in my pajamas in the comfort of my home in the good ol' United States of America, I got to have one of the most fascinating experiences of my life, talking to five different Swedes.

CALL 1: EVA
The first person I connected with was Eva. She was chipper and polite. She told me she lived on the East Coast of Sweden, "facing Finland" with a view of the Baltic Sea–around four to five hours away from Stockholm.
When asked about her favorite place to visit, she began raving about the Storsjöyran Festival in the city of Östersund. The music festival takes place the last weekend of every July and has been up and running since the 1960s. It celebrates the spirit of the unofficial republic of Jämtland, which was an independent nation before Norway, and eventually Sweden, seized control of the land. They pride themselves on having their own dialects, customs, and cuisine as being a little bit different from the rest of Sweden.
The music festival brings in a variety of musicians to play. This year, they'll be featuring international acts (like Van Morrison) national acts (like Otto Knows) and even local acts (like Joy).