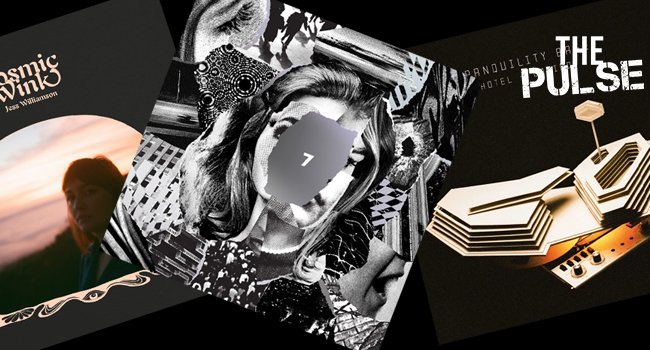 The Pulse is the Uproxx Music guide to the best new albums, mixtapes, and other music releases that matter this week. Find our complete list of the records coming out in May here.
They may have received a lot of "British Strokes" comparisons early on in their career, but now, on their sixth album, it's clear that Arctic Monkeys have transcended that label. Their new record is an adventurous step forward for a band that managed to not get lost in the early-2000s indie rock shuffle, even with song titles like "The World's First Ever Monster Truck Front Flip." Meanwhile, Beach House further cements their place on the dream pop pantheon, Wale and Tee Grizzley anchor this week's hip-hop releases, and Reggie Watts is a lot of fun when he finds the time to give music his full attention.
Arctic Monkeys — Tranquility Base Hotel & Casino
It's been five years since AM dropped in 2013, and at some point between then and now, Arctic Monkeys decided to get weird. Their new album features out-there song titles like "The Ultracheese" and "The World's First Ever Monster Truck Front Flip," and while that might suggest an incoherent mess of an album, that's not the case. It definitely strays from the direction of AM, but its foray into a more piano-centric sound is anything but misguided.
Read our review of Tranquility Base Hotel & Casino here.
Beach House — 7
Beach House is sort of like the AC/DC of dream pop: They've found a formula that works and they're sticking to it, because they're the best at what they do. 7 is a record that will please the fans who already love what they're familiar with, but that doesn't mean the album is entirely treading worn territory. The aesthetic is similar, yes, but songs like "Dive" and "Dark Spring" still sound fresh.
Wale — Self-Promotion
Wale's fallen in love with the surprise EP: He dropped It's Complicated out of nowhere in March, and now he's back with another unexpected release, Self Promotion. The four-track effort features socially conscious songs like "Cassius (Excellency)" and the Collin Kaepernick-referencing "Salary Kaep," as well as the summery "Body Body Body (Freestyle)."
Jess Williamson — Cosmic Wink
On her Mexican Summer debut, Williamson treads the well-worn territory of folk, but brings with her extraterrestrial energy and an ethereal aesthetic that separates her from the pack. She's also a master of melody, if the chorus of "I See The White" is any indication. While straightforward songwriting is in her wheelhouse, she's also capable of complex layering and building a profound sense of progression, such as on "Mama Proud."
Sigur Rós — Liminal
The Icelandic ambient masters have never been ones to be conventional, so their latest project takes their propensity to build worlds of sound and extends that philosophy into a release format: The world can seem endless, and that's how they describe their new playlist, which they say "will be built over linear time into a never-finished project of ceaseless invention." Since Sigur Ros is a band you never really want to hear the end of once you're in it, this is a good thing.
Tee Grizzley — Activated
Tee Grizzley got a big co-sign from LeBron James last year thanks to his hit "First Day Out," which he shared after being released from Jackson State Prison. Grizzley didn't let that momentum go to waste, and on his new record, he sounds like a confident hip-hop songwriter and rapper with the support of other big guns in his corner: Lil Yachty, Lil Pump, Chris Brown, Lil Durk, and Yeezy are all featured on the record.
Ashley Campbell — The Lonely One
Earlier in her career, Campbell was more into acting, and she even performed with the Groundlings, and LA comedy troupe that's revered in comedy circles. Eventually, though, she learned the banjo, and her genealogy kicked in (her father is country music legend Glen Campbell). She's not strictly a traditionalist, though: Album opener "A New Year" is ethereal and anthemic in ways that a lot of country music isn't, and like her father before her, it sounds like she's already an example of some of the finest talent her genre has to offer.
Ament — Heaven/Hell
Jeff Ament is out to prove that he's more than just Pearl Jam (and Mother Love Bone… and Temple Of The Dog), and he's added more evidence to his case with his third solo album. The first look at the record was "Safe In The Car," which features vocals from Angel Olsen and is a Black Keys-like garage rock track, except for when it gets orchestral in the chorus. It's definitely an interesting start to a re-invigorated solo career: Ament's previous album, While My Heart Beats, came out in 2012.
Wajatta — Casual High Technology
Late last year, comedian and underrated Renaissance man Reggie Watts teamed up with Austrian producer John Tejada to release "Runnin,'" their debut collaborative single as Wajatta. The track combines Watts' superlative vocals and improvisational skills with Tejada's crisp production, and now they've released a full album that features more of the same. Watts has delved into serious music-making on multiple occasions before, but this is perhaps his most exciting effort yet.
Playboi Carti — Die Lit
While you were sleeping, Playboi Carti decided to go ahead and release a surprise album with absolutely zero notice. The 19-track effort is the Atlanta rapper's debut album, but it's clear he's already a force in hip-hop based on the impressive list of collaborators he got to jump on the record: Nicki Minaj, Young Thug, Lil Uzi Vert, Skepta, Travis Scott, Chief Keef, and Bryson Tiller all make appearances.