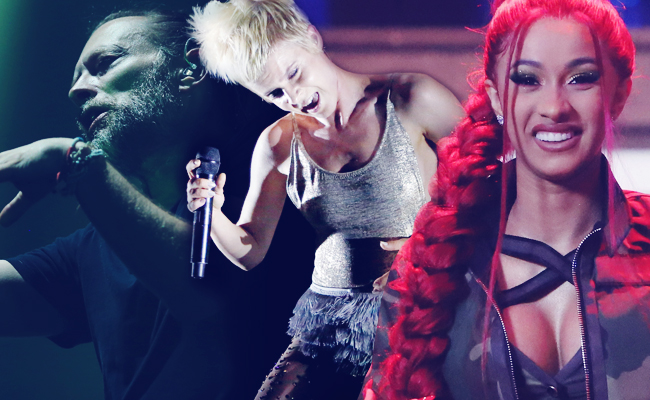 Keeping up with new music can be exhausting, even impossible. From the weekly album releases to standalone singles dropping on a daily basis, the amount of music is so vast it's easy for something to slip through the cracks. Even following along with the Uproxx recommendations on daily basis can be a lot to ask, so every Monday we're offering up this rundown of the best music released in the last week.
This week sees the release of Robyn's first solo album in eight years, the debut from indie rock supergroup Boygenius, and Thom Yorke's first foray into film scoring. Yeah, it was a pretty great week for music. Check out the highlights below.
Robyn — Honey
After eight years with nothing but a collaborative EP with Royksopp to show for it, Robyn is back to win our pop-loving hearts. Honey is an album that she says is less interested in melody and more interest in "songs that didn't have a beginning and an end, and things that were hypnotic." In Uproxx's review of the record, Sasha Geffen notes that Honey "deepens her knack for packaging untidy emotions into sparkling pop songs."
Boygenius — Boygenius
What happens when three of indie rock's most talented rising songwriters join forces? A record that manages to capitalize on all their strengths and still form something cohesive and essential. These aren't six castoff songs that weren't good enough for their respective solo projects. No, Boygenius is among the strongest material that Lucy Dacus, Julien Baker, and Phoebe Bridgers have yet to release. The record's only downside is that listeners will wish there was more of it.
Thom Yorke — Suspiria
Thom Yorke's first ever film score and soundtrack finds the singular artist pouring his whole self into the project. It took a year for him to complete and spans traditional songwriting from the Radiohead frontman to more foreboding, spine-tingling atmosphere pieces. Supposedly Yorke has also recently completed another solo album, so expect this phase of his career to continue well into next year. The good thing for fans is its resulting in inspired, captivating music.
Ty Dolla Sign And Jeremih — Mihty
This must be the week for exciting collaborative records because Ty Dolla Sign and Jeremih also have their anticipated album out today. Uproxx's own Aaron Williams notes that the project has almost impossibly high expectations coming from two of R&B's biggest hitmakers, but if anyone can live up to it it is these guys.
Nao — Saturn
The two years since British singer-songwriter Nao offered up her great debut, For All We Know, have been relatively quiet. But the R&B rising star has returned just like the planet in the album title. The album uses this concept as a jumping off point, where something big happens in a person's late-20s or early-30s that changes their life forever. If this is that life-changing moment for Nao, the world is in for a special album.
Julia Holter — Aviary
Los Angeles musician Julia Holter skirts the line between songwriter and composer in her consistently great catalog. Her latest, Aviary, is described by Holter as "the cacophony of the mind in a melting world," resulting in often warm and adventurous pieces that never take the easy or expected turns.
Mick Jenkins — Pieces Of A Man
Chicago's lyrics-first rapper has been bubbling up in the hype machine for years now, still waiting to break through into the greater musical consciousness. As Aaron Williams notes, Jenkins' "insightful, introspective rhymes and evocative beats" have served him since first gaining notice on 2014′ The Water[s], and Pieces Of A Man takes that to the next logical conclusion.
Antarctigo Vespucci — Love In The Time Of E-Mail
It's not quite the supergroup that Boygenius is, but don't discount what can happen when a couple of the best punk songwriters going right now join forces. In his interview with the band's members Chris Farren and Jeff Rosenstock, our own Steven Hyden called Anarctigo Vespucci "a fuzzed-out power-pop outfit that's sweeter than Rosenstock's anthemic and politically incisive solo work and noisier than Farren's usual melodic fare." Check out the new album and see if you can find a way to disagree.
Cardi B — "Money"
If you thought one hit album was gonna satisfy Cardi B this year, you were wrong. "Money" finds the beloved hip-hop figure picking off where she left off, complete with tongue-rolls, a trap delivery, and a menacing beat. There are few rappers more captivating than Cardi when they have the mic, but "Money" is still bold when put against her previous output. 2018 is Cardi's year, and we're all just living it.
Jessica Pratt — "This Time Around"
Los Angeles-based songwriter Jessica Pratt has been enthralling fans of gentle folk songwriting for the better part of a decade, so it's surprising to hear that her upcoming Mexican Summer release will be her first album completely recorded in a proper studio. That shift doesn't exactly shine through on her first single from the collection, "This Time Around," which still sounds as homespun and intimate as her past beloved work. But keeping her own voice and identity intact as the resources increase might be a feat in of itself.