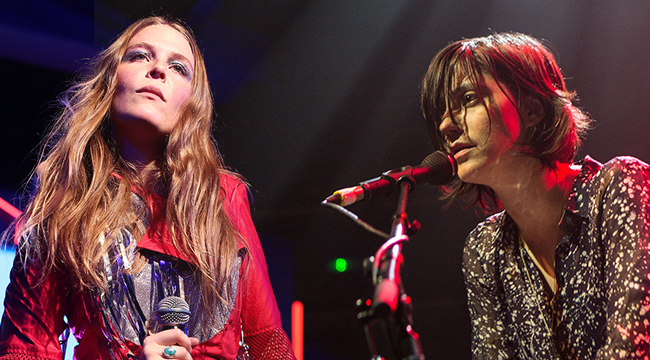 Keeping up with new music can be exhausting, even impossible. From the weekly album releases to standalone singles dropping on a daily basis, the amount of music is so vast it's easy for something to slip through the cracks. Even following along with the Uproxx recommendations on daily basis can be a lot to ask, so every Monday we're offering up this rundown of the best music released in the last week.
This week was our first huge album release week of the year. Sharon Van Etten, James Blake, Maggie Rogers, Future and Steve Gunn all offered up collections that could be talked about all year, while Ariana Grande finally revealed the massive "7 Rings" and Weyes Blood established herself further as one of the most vital voices in indie. Yeah, it was a pretty great week for new music. Check out the highlights below.
Sharon Van Etten — Remind Me Tomorrow
There are many calling Sharon Van Etten's new album her career best, which is hard to say for sure considering her past quartet of crushing, brilliant releases. But if anything, the enthusiasm only speaks to her ability to keep pushing herself into exciting new places. As our own Steven Hyden wrote, "Van Etten is still fearless in her songs… in which she writes for the first time about unconditional, as opposed to romantic, love."
James Blake — Assume Form
Since James Blake burst on the scene with bass-y AF piano ballads, he's become something of an in-demand collaborator in the hip-hop world. So, it is fitting that for the first time on one of his own records, he's incorporated the idea of features into his own work like never before. Metro Boomin, Travis Scott, Rosalia, Moses Sumney, and Andre 3000 are all invited to the endeavor.
Future — The Wizrd
One of the most prolific musicians of our time continues to make the most of his moment. The Atlanta rapper has done everything in his power to make this one feel like an event, including a documentary and big budget music videos. As our own Aaron Williams notes, "singles "Jump On A Jet" and "Crushed Up" reveal more of his playful, spaced-out sound, and he admitted in a recent interview that he wants to close the book on the previous heartbreak-riddled chapter of his life, even going so far as to say that he worries his new sound and lifestyle may not appeal to his most hardcore fans."
Maggie Rogers — Heard It In A Past Life
It's wild to think that this is only Maggie Rogers debut album, after she's already slayed at music festivals, won over Pharrell, and been featured on Saturday Night Live. But here we are, with one of the most anticipated debuts in recent memory, that still manages to live up to the hype. Writing for Uproxx, Zan Romanoff said, "Her music is a container for one of the most ephemeral experiences in the world: The point of revelation, the split-second when change is actually happening, and you can feel it on your skin and in your marrow."
Steve Gunn — The Unseen In Between
"I think this album is much more introspective than my past ones," Steve Gunn told our own Steven Hyden about his latest album, The Unseen In Between, "And it's sort of addressing things that aren't usually talked about, kind of deep-rooted feelings of anxiety or demons." And the result may be a changing narrative, where Gunn becomes less known for his guitar wizardry and more for his songwriting prowess. It's his most balanced album to date, and one that deserves the increased attention it has received.
The Killers — "Land Of The Free"
The Killers have never been an overtly political band, but these are not ordinary times. So, in response to police violence, mass shootings, and Trump's border wall, the Las Vegas band offered up this direct track, complete with a Spike Lee-directed video. It's the kind of move that feels more meaningful because the band had shied away from such statements before, and are using their fame and influence to speak to issues that matter deeply to them.
Maren Morris — "Girl"
Last year, Maren Morris teamed with Zedd for "The Middle," the kind of pop song that catapults everyone involved to another level of cultural awareness. On her first release since, Morris finds a middle ground between her lane of pop country and a grown-up radio sound that could land her a whole new set of fans. As our own Chloe Gilke wrote, "It's a soothing balm of a song, perfect to blast on repeat whenever you have a bad day or just need reassurance that somebody else has felt this way, too."
Weyes Blood — "Andromeda"
After releasing one of the best albums in recent years, 2016's Front Row Seat To Earth, Natalie Mering is back with a new label (Sub Pop) and a new set of songs. "Andromeda" channels some of the best '70s songwriters for an intersteller jam, balancing booming and delicate vocal qualities for a song that transcends space and time.
Ariana Grande — "7 Rings"
Ariana has said she wants to be able to release music like Drake and the other boys, a steady stream of singles offered up as they are ready. On "7 Rings," which takes its cues from Julie Andrews, Grande proves she wants to be able to sing about the same stuff as the boys, too. It's a charmingly braggadocious take from a woman, that we usually only get from men, proving on another level that Ariana doesn't want to be put into a box. She wants to be the box.
DJ Mustard Feat. Migos — "Pure Water"
Culture III might not be on the immediate horizon, but that doesn't mean Migos are on vacation. The trio turned up (both literally and figuratively) on this latest from club-anthem producer DJ Mustard, of which our own Aaron Williams says "the three Atlanta trap superstars can't help but to evoke a breezy, summery vibe, buoyed along by Mustard's thumping kicks and syncopated snare snaps."
Some artists covered here are Warner Music artists. Uproxx is an independent subsidiary of Warner Music Group.