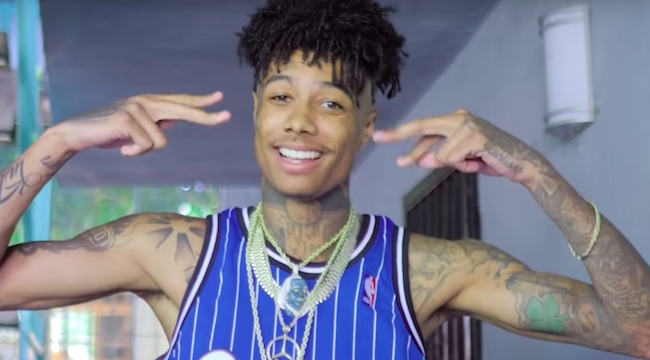 Talk about a self-fulfilling prophecy. Every rapper wants to be known as the "next big thing," but very few have the cocksure swagger to title their introductory single "Next Big Thing" and mean it. Even fewer have the talent to back up that audacity and actually make it happen. Consider LA rapper Blueface among their number. The Mid City-certified gangsta rapper has already drawn the attention of Drake and his go-to producer Boi-1da, who reached out for a collaboration via Instagram, granting him their coveted blessing and making him a hot topic of discussion.
Many of the concerned parties wanted to know just who Blueface is. The clearest explanation is: Blueface is Johnathan Porter, a 21-year-old gangsta rapper from LA who rose to prominence behind raunchy, snappy turn-up anthems like "Dreadlocs" (4.3 million views on Youtube), "Thotiana" (2.3 million) "Respect My Crypn" (5.4 million), and yes, "Next Big Thing" (2.7 million). Another question some confused commentators had is, "What's the big deal with Blueface?" Simply put, throughout his admittedly short foray into hip-hop, he has dripped charm and charisma, like a distillation of LA's legacy of pimped-out, set tripping rappers, turned up to ten and sprinkled with a dash of palpable, street pedigreed authenticity. He proudly reps his set, School Yard Crip, and makes no apology for his waterfall flow, which makes him engaging and intriguing in equal measure to a subliminal thread of menace that runs through his work.
That flow, the one that seems like he's trying to get to the end of a sentence as quickly as humanly possible without any regard for the tempo of the drums in the beat, is a feature, not a bug. West coast rappers, especially ones from LA have always had a knack for making off-kilter flows work by sheer magnetism of personality and wacky one-liners that display cartoonish levels of pimp philosophy and witty, knowing humor. When every rapper was obsessed with landing perfectly on the two and the four, Snoop Dogg found a pocket behind the beat and practically set up a one-room studio in it. DJ Quik always raced slightly ahead of it, cramming in as many words as he could before the snare hit. Quik's onetime protege, Suga Free, practically made escaping the confines of a traditional bar structure an artform, the Houdini of hip-hop. And let's not forget YG. Blueface carries on that tradition proudly, saying what he has to say and leaving listeners to scramble to catch up.
It's paid off in a big way. With more and more fans looking into his body of work thanks to Drizzy, it's only a matter of time before the true gatekeepers come calling. A label deal, radio placements, and streaming supremacy are all at his door, but there's one thing standing in the way: Like other young, viral-famous hood prospects before him, Blueface may prove to be a little too authentic for his own good. He was believed involved in a recent shooting in Newhall, California after a reported dispute over a robbery. He was released on a $50,000 bond, already a sizable chunk of his potential rap revenue. But if Blueface can find a way to keep it all in the music and off the streets, the rambunctious, ratchet rapper has a bright future ahead of him. Hopefully, he picks up his phone whenever Drake makes that call.