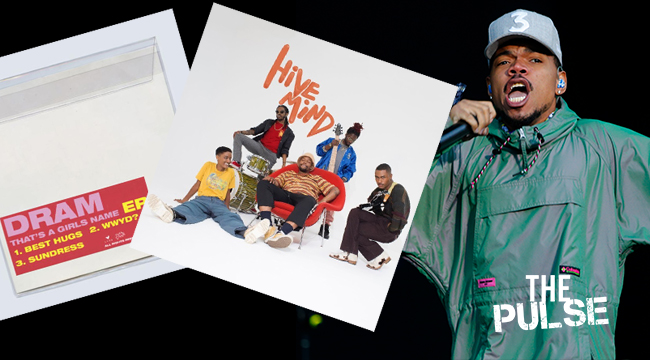 The Pulse is the Uproxx Music guide to the best new albums, mixtapes, and other music releases that matter this week. Find our complete list of the records coming out in July here.
The rumors that Chance The Rapper would be dropping an album this week were exaggerated, but not greatly so: An album didn't come, but he did effectively release an EP by sharing four singles on the same day. Other hip-hop figures took up the task of releasing legitimate records, though, including Buddy, The Internet, and DRAM. The indie world was also represented, thanks to releases from Wild Pink, Meg Myers, and Ty Segall.
Chance The Rapper — "65th & Ingleside," "Wala Cam," "Workout," and "I Might Need Security"
Chance The Rapper makes summers better, so it's a good thing that he's back with a batch of tunes fit for the season, all four of which live in the optimistic hip-hop groove that Chance has done so well for years now.
The Internet — Hive Mind
A lot of things have happened for the group and its members since their previous album Ego Death, so they return into the fold with a newfound maturity that results in a confidence that permeates this soulful and funky record.
DRAM — That's A Girls Name
Over the course of three songs, DRAM (real name Shelley Massenburg-Smith) shows off his versatility on the easy listening "Best Hugs," the jazzy R&B of "WWYD?," and the funky "Sundress."
Meg Myers — Take Me To The Disco
Myers is an absolutely haunting vocalist who complements that fact with a dramatic ethereal sound, perhaps best demonstrated on the introductory title track and its poignant and evocative hook.
Read our interview with Meg here.
Buddy — Harlan & Alondra
The up-and-coming Compton rapper shows off his impressive flow throughout his latest, which features guest spots from valuable endorsers including Snoop Dogg, Khalid, Ty Dolla Sign, and ASAP Ferg.
Read our interview with Buddy here.
Wild Pink — Yolk In The Fur
Frontman John Ross's ambient interests shine through on more atmospheric tracks like album opener "Burger Hill," but Yolk In The Fur is very often an upbeat alt-country record, such as on the bright single "Lake Erie."
Read our interview with Wild Pink here.
Ty Segall And White Fence — Joy
Segall is maybe the hardest-working person in indie rock, considering he's released at least an album per year, whether solo or with a collaborator, since 2008. Joy is his first record with White Fence since 2012, and the 15-track effort is a fun half hour of '60s-inspired rock and roll.
Popcaan — Forever
Dancehall is having a real moment right now, so this new release from one of the modern greats of the genre couldn't come at a better time. Popcaan is known widely for his high-profile collaborations, but he proves on Forever that he's perfectly capable of making bodies move on his own merits.
World's Fair — New Lows
The world hasn't heard from World's Fair since 2013's Bastards Of The Party, but after five years, the Queens collective is back in full force with an album led by singles like the high energy "Dundas Street West" and the more patient "Win4."