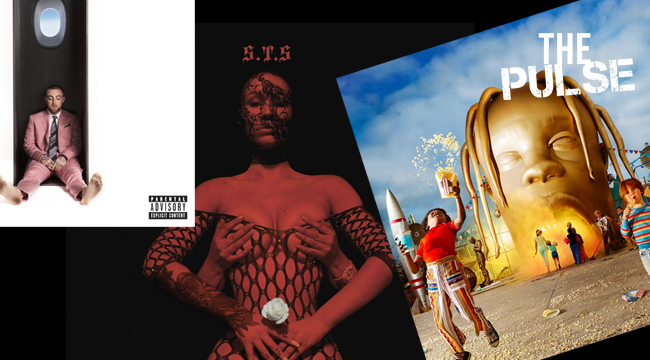 The Pulse is the Uproxx Music guide to the best new albums, mixtapes, and other music releases that matter this week. Find our complete list of the records coming out in August here.
When rock and pop are away, hip-hop will play: There are a couple notable representatives from the indie world with new albums out this week, but for the most part, it's all about rap. Out in the world now are fresh releases from some hip-hop heavy hitters, like Travis Scott, Mac Miller, Trippie Redd, YG, and Iggy Azalea, each of them with something different to prove. Don't sleep on this week's indie, though, since Houndmouth and Amanda Shires are both worth a play before or after you've exhausted yourself on a wealth of hip-hop.
Travis Scott — Astroworld
Scott is a trap icon, of course, and on his latest, he brings banging beats right from the very start on album opener, "Stargazing." Scott has a new audience this time around — having joined the Kardashian-Jenner clan since his last record — and with a sound that's both atmospheric and immediate, he ought to appeal to it just fine.
Mac Miller — Swimming
A lot has happened in Miller's life recently, including his drunk driving arrest and break-up with Ariana Grande, and after it all, he came out the other end with a new album. Swimming is understandably not as focused on love as The Divine Feminine, but it's just as lovable.
Iggy Azalea — Survive The Summer
After some delays, Azalea's new EP has arrived, and it sees the Australian rapper going hard on some dark instrumentals. The concise release (six tracks all under three minutes) also features guest appearances from Tyga and Wiz Khalifa.
Houndmouth — Golden Age
Houndmouth has been a buzz-worthy band for most of this decade now, and on their latest, they really stretch their creative wings, such as on the Pink Floyd sound collage experimentation of album opener "Never Forget" and the disco-inspired title track.
YG — Stay Dangerous
YG has a hit on his hands with "Big Bank," thanks in part to features from 2 Chainz, Big Sean, and Nicki Minaj. Aside from a bunch of DJ Mustard production, the album has a ton of other guests as well, including ASAP Rocky, Ty Dolla Sign, Quavo, and others.
Amanda Shires — To The Sunset
The multi-instrumentalist has been involved in the country community in one way or another for years now, but like Kacey Musgraves, her latest album sees her confidently straying outside of the genre, such as on rock ballad album opener "Parking Lot Pirouette" and the electronic-influenced "Leave It Alone."
Read our interview with Shires here.