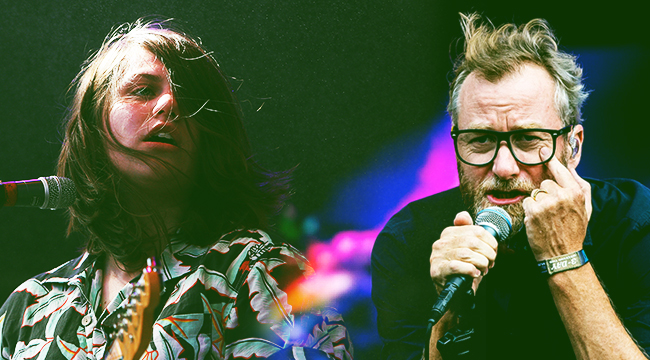 Indie music has grown to include so much. It's not just music that is released on independent labels, but speaks to an aesthetic that deviates from the norm and follows its own weirdo heart. It can come in the form of rock music, pop, or folk. In a sense, it says as much about the people that are drawn to it as it does about the people that make it.
Every week, Uproxx is rounding up the very best of the indie releases from the past seven days. This week saw The National return with the most ambitious album of their career, Alex Lahey delivering a pop-punk gem, and Ryan Pollie sharing his self-titled statement of healing. There's just so much good stuff to sift through.
While we're at it, if you want more music recommendations curated by Steven Hyden delivered directly to your inbox every week, sign up for the Indie Mixtape newsletter.
The National — I Am Easy To Find
If you do the math, The National's catalogue of eight albums in eighteen years means that the Cincinnati/New York indie legends have produced an album every, like, 2.25 years. For their latest, the band wanted to try something new, releasing the new music in conjunction with a short film from director Mike Mills (20th Century Women), resulting in a product that felt more like an all-encompassing art project than just another album rollout. Writing about the album for Uproxx, Philip Cosores said that The National exists "as a more fluid concept than a traditional quintet, on a record that's impressive ambition is matched by its execution."
Alex Lahey — The Best Of Luck Club
It's always kind of mind-blowing when an artist plays all the instruments on their records. Remember when you found out that Prince played all 27 instruments on his debut album?! That's exactly what Alex Lahey has done with her latest, crafting a record chock full of hooks for days that feels nothing short of world-conquering, according to Steven Hyden's review for Uproxx.
Ryan Pollie — Ryan Pollie
Ryan Polle's first release under his own name was completed while undergoing chemotherapy, the process of creation becoming a source of light in an otherwise very dark time. I know, that sounds heavy — and it certainly is! But the album is full of life, a document of a man who made it through the worst and came out on the other side with a sense of enlightenment. It can be described as, according to Polle himself, "Very Ryan, happy sad, honest, vulnerable."
Interpol — A Fine Mess
The New York trio known as Interpol endured the bursting bubble of the early 2000's New York City rock and roll scene to remain one of the genre's most enduring bands nearly two decades later, as Steven Hyden wrote for Uproxx in a review of the band's 2018 full-length effort Marauder. Now, less than a year later, the band has returned with a new EP that shows they aren't running out of steam anytime soon.
The Head And The Heart — Living Mirage
Remember when we were talking about how many albums The National has released? The Head And The Heart are on track to beat their track record, with four full-length albums in the can in a span of just ten years. Their latest finds the quartet embracing pop structures, employing hooks and vocal melodies to create eleven tracks with each more engulfing than the last. Don't be surprised if you hear a song like "See You Through My Eyes" on the radio soon.
The Black Keys — "Go"
After five long years, the Ohio Blues Brothers™ are set to return in June with their new album, fittingly titled Let's Rock. "Go" is the latest offering from the anticipated record, another rollicking number that is nicely complemented with a short film/music video that shows the estranged duo heading to a remote hippie commune to try to repair their broken relationship. Regardless of whether the band's animosity toward one another is fact or fiction (it's fiction), the song is another promising cut from the new album that shows The Black Keys getting back to basics.
The Raconteurs — "Help Me Stranger"
If you thought The Black Keys were gone for a while, they have nothing on The Raconteurs, who haven't released new music since 2008's Consolers Of The Lonely. That's all about to change in June, when the Jack White-led quartet returns with their hotly-anticipated new record, Help Me Stranger. In the weeks leading up to the release, the band has shared its title track, adding another strong entry to the new catalog that also includes recently-released tracks "Sunday Driver" and "Now That You're Gone."
Hatchie — "Obsessed"
Fresh on the heels of a massive North American tour with Girlpool, this Australian dream-pop rocker is getting ready for the release of her debut full-length album Keepsake. Complete with a new wave guitar riff and atmospheric vocal melodies dripping with reverb, "Obsessed" feels like equal parts Sky Ferreira and Slowdive. Sign me up!
Stef Chura — "Sweet Sweet Midnight (ft. Car Seat Headrest)"
With her sophomore effort Midnight around the corner, Stef Chura has churned out some truly impressive singles over the last few months. "Sweet Sweet Midnight" features a vocal interlude from Will Toledo of Car Seat Headrest, who produced and engineered the track, as well as the remainder of the record. We're liking what we've heard so far and "Sweet Sweet Midnight" further sets the table for what's sure to be an intriguing and unique offering to come.
Prince Daddy And The Hyena — "Prototype Of The Ultimate Lifeform"
This New York band got ambitious for their second full-length effort: a three-act concept record exploring the fall out after an acid trip, manic self-destruction, bottoming-out and recovering, and then slipping again(!!). "Prototype Of The Ultimate Lifeform" is the first taste of the record's second act, following the riff-filled and rocking "Lauren (Track 2)". If you have a taste for punk rock operas — of which there are only a select handful — Cosmic Thrill Seekers is a project you definitely don't want to miss.
Some artists covered here are Warner Music artists. Uproxx is an independent subsidiary of Warner Music Group.