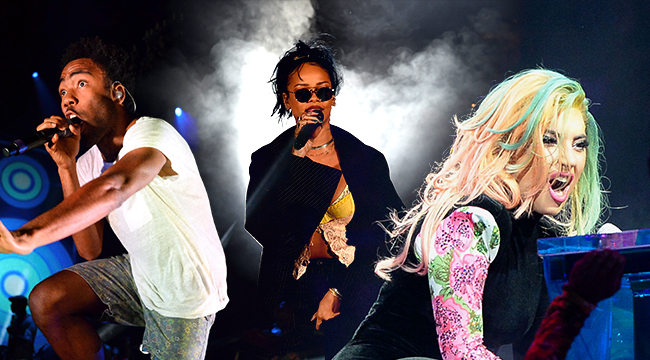 Rihanna has elected to grace the Recording Academy's annual statuette giveaway with her presence. Thank goodness. The Grammys are always better with RiRi in tow. Anyone that says otherwise should be drowned in lava. (That's a bit harsh, but you get the idea.)
The Recording Academy confirmed via tweet that the combo of Rihanna, DJ Khaled, and Bryson Tiller have been added to an already stuffed and star-powered Grammy performer lineup. With their forces combined, the trio will be tackling their Santana-indebted hit single "Wild Thoughts." (Let the Santana guest appearance speculation begin!) As is his brand, DJ Khaled was thrilled to share the news with his legions of social media followers and well-wishers.
"#FANLUV! IT'S GO TIME! I'm performing #WILDTHOUGHTS at the #GRAMMYS !!!! with the ICON @rihanna AND @brysontiller !!" wrote the "I Got the Keys" hitmaker with liberal emoji use. "@RecordingAcad! I'M so #GRATEFUL for this opportunity!! #FANLUV the key is – DONT STOP !!! I NEVER GAVE UP!!"

The odds of Joel Embiid appearing on Rihanna's arm at the event are limited.
The odds of the following artists performing during this Sunday's show are great according to many past announcements. In fact, they're all locked in. Here's the list in no particular order so no one fights about placement.
Kendrick Lamar (who is set to open the show)
Sam Smith
U2
SZA
Lady Gaga
Childish Gambino (who is making his Grammy debut)
Little Big Town
Kesha
Cardi B and Bruno Mars
Luis Fonsi and Daddy Yankee
Alessia Cara, Khalid, and Logic
Elton John and Miley Cyrus
Maren Morris and Eric Church
Logic, Alessia Cara, and Khalid
Pink
Sting
Chris Stapleton
The 60th Annual Grammy Awards is slated to take place on January 28, 2018 at Manhattan's famed Madison Square Garden after an extended decade-plus run in Los Angeles. You've seen the show before. You and I both know there's probably a few surprise performances in the works as well. That's just how the Grammys does things.
This post has been updated from a version that originally ran on January 20.