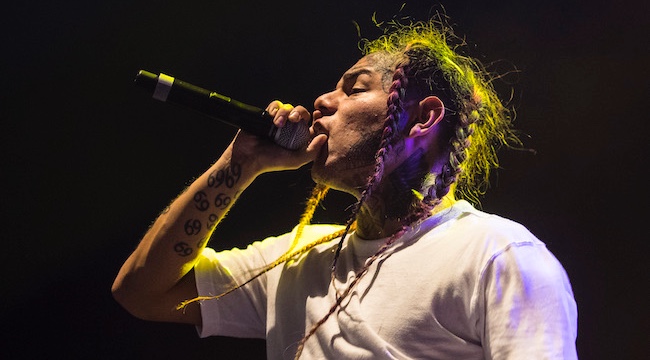 Tekashi 69's situation continues to look worse with every new bit of information that comes out about his impending trial. After TMZ reported the existence of wiretap transcripts from within Tekashi's former inner circle, The Blast has now obtained further transcripts in which Tekashi's ex-associates not only seem to lay claim to some of the violent acts they are accused of committing, but also reveal exactly how they felt about their colorful-haired ward, who eventually fired his team made of up New York Bloods, possibly in the hopes of distancing himself from the mayhem he'd indulged for so long in the pursuit of fame.
The recordings discuss the August 14 shooting at Tekashi and 50 Cent's video shoot for "Get The Strap," in which Tekashi's former compatriot Jamel Jones, aka Mel Murda, discusses one of his and another alleged gang member's "homies" who "flipped the clip at the video shoot." Another recording reveals that Jones felt that Tekashi's recent Breakfast Club interview revealing that he'd fired former manager Kifano "Shotti" Jordan had embarrassed Jordan and the Nine Trey gang, saying "Just tell that n—- that he not a gang member no more. He kicked out the whip." Jordan replied that the rapper "was never a gang member." They also made the veiled threat to "feed him" which played into reports that Tekashi's life was possibly in danger at the time of his arrest.
Unfortunately for Tekashi, his own claims and actions in the lead-up to his arrest may make him just as culpable for the gang's activity under the racketeering charges that they are all accused with, meaning that even if Shotti and Mel no longer consider him a gang member, the courts still just might. The company he kept may regret their association, but with his burgeoning rap stardom on the line, he probably regrets it even more.