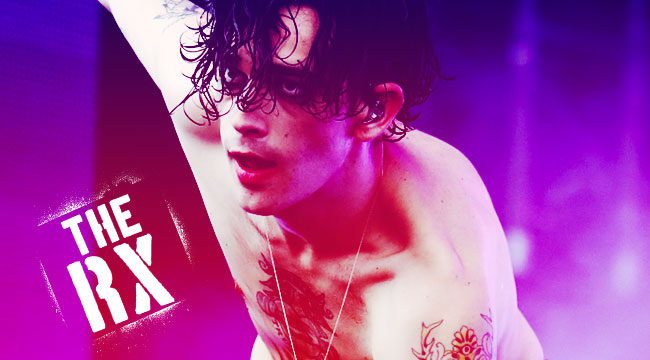 The RX is Uproxx Music's stamp of approval for the best albums, songs, and music stories throughout the year. Inclusion in this category is the highest distinction we can bestow, and signals the most important music being released throughout the year. The RX is the music you need, right now.
Has there been a rock band in recent memory as divisive as The 1975? It's not a rhetorical question. The last time a group of guys using guitars to do something other than simply shred drew equal hullabaloo and consternation was a full decade ago, when Vampire Weekend broke big from the halls of Columbia with their indelible self-titled debut album. There was something about Vampire Weekend that really got under peoples' skin — the supposed prep-school affectations, the blend of arch humor and observational sensitivity, the sneakily ahead-of-its-time decision to grab any sound available that wasn't three chords and the truth. And that outrage was simultaneously a little absurd and a little understandable, the latter feeling owing itself to the fact that there simply wasn't that much to get mad about in the humdrum empire-era days of indie culture circa the late 2000s.
It goes without saying (especially ten years later) that Vampire Weekend's divisiveness didn't hurt their appeal one bit; they're still one of the most popular indie bands in North America despite not having been active in nearly a half-decade, and when their long-awaited fourth album does arrive next year, the resounding commercial reaction will be as if they never left. The 1975 have found themselves in a similar place over the course of their career, too; since frontman Matty Healy and co. released their self-titled debut LP in 2013, they've amassed a massive global following that has grown with every year since, with younger audiences going absolutely nuts for their hybridic sound while other listeners — some critics, some normal people — were largely found scratching their heads.
During the NYC tour stop at the Barclays Center arena behind 2016's mostly brilliant I Like It When You Sleep, For You Are So Beautiful Yet So Unaware Of It, the applause in between songs was loud enough to permanently damage hearing; that record also found a new group of critics getting on board with the band's spiky and outrageous genre-blend — but plenty of skeptics remained unconvinced. Still, it seemed like the tide was primed to turn wholly to The 1975's side this year, as the band launched a remarkable run of singles that led up to their fourth album, A Brief Inquiry Into Online Relationships, which sees release this week.
After the clever, diaristic, vacuum-compressed pop-punk of "Give Yourself A Try," there was "Love It If We Made It," a towering generational anthem that took the best parts of Billy Joel's "We Didn't Start the Fire" and INXS' "Mediate" and doused them in kerosene, leaving listeners with a gorgeous and passionate fire to set their own anxieties ablaze in. "TOOTIMETOOTIMETOOTIME" represented something of a global-pop breakthrough for the band, a delicious Afro-pop-inspired synth loop accompanying Healy's musings on faithfulness in the age of Facetime; "Sincerity Is Scary" applied a jazzy, lighter touch to the holistic gospel-pop of I Like It When You Sleep's "If I Believe You," while "It's Not Living (If It's Not With You)" bathed The 1975 in the soft-rock lighting that so often fits them like a knit cap, an ode to longing that doubled as a direct addressing of Healy's struggles with heroin addiction (which he successfully completed a rehab stint for last year). The appeal of these singles were, on their face, obvious to anyone with a pair of ears, reaching people in the affirmative who felt left out in the cold by the band's previous material. But does the other two-thirds of the album deliver similarly?
The answer is more complicated than any "Yes" or "No" could afford, but I'm not sure it even matters at this point. Undoubtedly the finest rock album of the year made by a bunch of guys who sound positively sick of rock music (and there's been a few of those this year), A Brief Inquiry Into Online Relationships is The 1975 at their most broadly appealing and their most daring. The risks taken by Healy and drummer George Daniel — the pair of whom wrote and produced the album in its entirety — are provocative and bold, with music that's equally tender and somewhat imposing; the ballads often sound strangely old-fashioned for a band so presumably consumed with the new, while the album's presumptive centerpiece, "The Man Who Married A Robot," is a robotic monologue delivered over a piano motif that unfolds a tale of a man's personal friendship with the internet. There's nothing these guys won't try — if only for one song — and if that essential quality that The 1975 possess is what's kept you at arms' length from them, A Brief Inquiry Into Online Relationships won't change much. That said, if you're willing to give in to what the 1975 have to offer, they are more than willing to give back.
Despite clocking in at almost 20 minutes shorter than the gargantuan I Love It When You Sleep, the new album somehow feels bigger and more expansive than its predecessor, hopping from sound to sound with incredible ease. "How to Draw/Petrichor" continues the band's flirtations with electronic and dance music, as watery and processed vocals give way to a Kid A-esque IDM beat that doubles as one of the album's most pleasing surprises, the aching penultimate track "I Couldn't Be More in Love" recalls George Michael's own bold explorations of cathartic tenderness, and album closer "I Always Wanna Die (Sometimes)" brings everything to a slamming end with goosebump-raising rushes of Oasis-y shoegaze guitars. Above all, the influence of Glasgow pop-rock outfit the Blue Nile — a group whose influence over indie has risen sharply in the last several years despite remaining inactive for more than a decade — looms large, with symphonic strings and solitudinous rainy-street atmospherics drenching the album's quieter moments.
Lyrically, A Brief Inquiry Into Online Relationships hops around between a few distinct topics — the crushing anxiety caused by modernity, Healy's struggle with addiction, the role that being constantly logged-on plays in our personal and romantic lives — but more than anything else, a sense of radiant empathy courses through the album like a charging river. Amidst asides about getting older and the feelings that accompany aging, "Give Yourself A Try" finds Healy taking a moment to reflect on the suicide of a 16-year-old fan before breaking into the titular chorus, which comes across as a soothing balm directed at a generation obsessed with litigating its own failures. "Why would you believe / You could control how you're perceived / When at your best you're intermediately versed in your own feelings?" he asks would-be influencers on "Sincerity Is Scary" — a line of questioning that could come off as cruel coming from anyone else, but reads as a query of genuine concern when coming from his soft-spoken voice.
Despite being around for nearly half a year now, "Love It If We Made It" still stands as the eye-catching monument of A Brief Inquiry Into Online Relationships' lovely sculpture garden. It's practically the millennial Parthenon — something future generations will try to destroy, but will always remain in some form regardless — and the fact that a song that directly quotes Trump and eulogizes Lil Peep within the same four-minute span is so potent and nourishing is simply outrageous. "Modernity has failed us / But I'd love it if we made it," Healy exhorts near the song's end, and it's the "But" that hits closest to home lyrically, underlining what makes his and The 1975's generational vision feel so absolutely radical in today's pop landscape: everything hurts, but maybe someday it won't.
A Brief Inquiry Into Online Relationships is out Friday on Dirty Hit / Polydor / Interscope. Get it here.