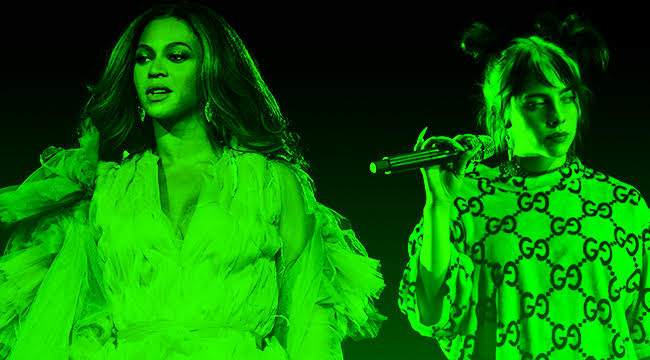 This was a stellar week for collabs and remixes. "Old Town Road" is holding strong at no. 1 on the Billboard Hot 100, but Billie Eilish and Justin Bieber's "Bad Guy" proves that Billy Ray Cyrus isn't the only one who can swing a killer guest verse. Lykke Li's "Two Nights" was one of my favorite pop songs of last year, and she enlisted Ty Dolla Sign and Skrillex for a thumping, dance-ready remix of the song. I have to admit I was a little skeptical what good would come out of an Ed Sheeran song called "South Of The Border," but he smartly lets Camila Cabello and Cardi B steal the spotlight.
Every week, Uproxx will round out the best new pop releases of the last seven days. Listen up.
Beyonce — "Spirit"
"Spirit" is an original song from Disney's live-action remake of The Lion King, and it's also Beyonce's first new music following her Netflix special Homecoming. For "Spirit," Bey collaborated with Hans Zimmer (who did the original score for The Lion King) and South African producer and composer Lebo M. The all-star team gives the song a gorgeous instrumental texture, but Bey's own artistry and voice take the song to new heights. "Spirit" will be eligible for the Academy Award for Best Original Song, and those engravers should start getting to work right away.
Banks — "Contaminated"
Banks' latest single, "Contaminated," is an airy, delicate examination of toxic relationships. She wishes she could pull away, but the circle is endless — you give and give and keep giving, feeding the beast as you grow weak. "And I wish I could change it / And we're always gonna be / Contaminated," Banks sings over popping drums and stalking synths on the chorus. Banks' third studio album, III, was released on Friday.
Billie Eilish — "Bad Guy" Feat. Justin Bieber
Before she sold-out arenas, inspired a generation's worth of fashion trends, and gave the pop world a hell of a scare, Billie Eilish was another teenage Justin Bieber fan. Her skulking, snapping villain's anthem "Bad Guy" has been near the top of the Billboard charts all summer. Eilish has her own hordes of screaming fans now, but her new remix of "Bad Guy" tips a hat to teen idols past. Her own brilliant second verse is swapped out for a standard whisper-voiced turn from Bieber, and he stays on the rest of the song to interject "so icy" at random intervals. Getting your childhood idol to appear on a remix of one of your songs and outshining him so completely? The ultimate badass, "Bad Guy" move.
Lykke Li — "Two Nights Part II" Feat. Skrillex And Ty Dolla Sign
Singer-songwriter Lykke Li has a new EP, Still Sad Still Sexy on the way soon. It's a re-imagining of her 2018 album So Sad So Sexy with new remixes and features. "Two Nights Part II" switches the contemplative moodiness of the original for a pounding club beat and features from Skrillex and Ty Dolla Sign. It's a testament to how brilliant the song is that it sounds equally great as brooding bedroom pop and a dance anthem.
Ed Sheeran — "South Of The Border" Feat. Camila Cabello And Cardi B
Camila Cabello has been queen of features this summer. Following up "Señorita" with Shawn Mendes and "Find U Again" with Mark Ronson, Cabello is one of the many featured artists on Ed Sheeran's new LP, No. 6 Collaborations Project. On "South Of The Border," Cabello and Sheeran trade flirtatious verses over a bouncy, "Shape Of You"-esque beat and sweetly strummed guitar riff. With a title like "South Of The Border," it could've been too heavy on the innuendos or leaned toward tokenistic, but Sheeran gives Cabello and Cardi B all the best verses and lets them make the rules.
Sabrina Carpenter — "I'm Fakin"
On "I'm Fakin," Sabrina Carpenter sings about a hot-and-cold roller-coaster romance. One minute the turmoil is too much and she's ready to call it quits, but she can never actually stay away for too long. "Every time I tell you that we're done, I'm fakin," she sings on the cathartic chorus. Carpenter's new album Singular Act II is out July 19, so we don't have long to wait to hear more of Carpenter's perfect pop.
Yuna — "Likes" Feat. Kyle
Yuna is one of the most exciting voices in pop, and her album Rouge is a stunning display of her genre-busting innovation. "Likes" is a bittersweet reflection on validation in the digital age. "Likes" on Instagram and Twitter are an instant hit of dopamine, confirmation that people think you're cute, funny, talented, or some combination of those. As a Malaysian, Muslim woman, Yuna has to contend doubly with society's expectations from her. To the Western masses, she might be the weird girl who wears long sleeves and doesn't smoke or drink, but she's an outsider among Easterners for singing on a stage and "showing her neck in public." A perfect balance of hyper-specific and universal, "Likes" is a stunning reflection on social media and human connection. Also, it's a bop.
Becky G — "Dollar" Feat. Myke Towers
Becky G's new Spanish-language single "Dollar" is a playful entreaty to turn declarations of love into, well, dollars. "If I had a dollar each time / That you tell me that you love me / I would be having tea with Queen Isabel," Becky sings. It's bouncy, fun, and immediately catchy — a sister song to Maren Morris' "Rich" and an equally iconic middle finger to lazy boyfriends. Becky G has been incredibly prolific this year, dropping half a dozen singles over the last few months. Whatever she's got in the works next is sure to be great.
Some artists covered here are Warner Music artists. Uproxx is an independent subsidiary of Warner Music Group.