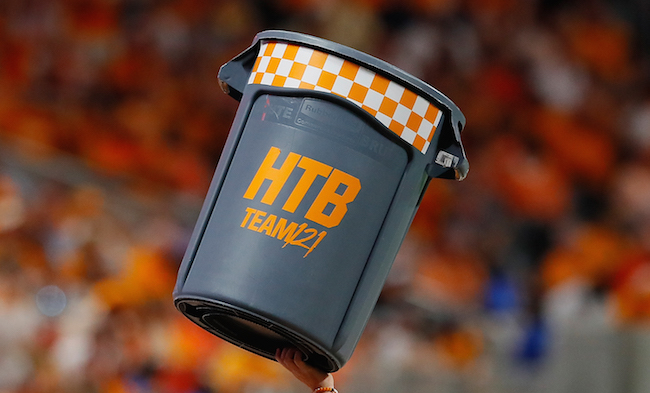 This has been the longest week in college football history. The sport's coaching carousel is turning at an incredibly fast rate, and the best part is that we still have another weekend of games and bowl assignments coming within the next few days. Plus there are still some coaching vacancies that have not been filled! It's all very fun and stupid.
When college football decides to get silly, it is capable of going to a level that no other sport can achieve. That has been on display over the last seven days, as things like Chip Kelly going to UCLA and Dan Mullen taking the Florida job both feel like they happened a million years ago because so many other crazy things have happened in the meantime.
Let's take a look back on the dumbest things that have happened this week, ranking them from "really dumb" to "Tennessee."

5. Bret Bielema Getting Fired As He Was Walking Off The Field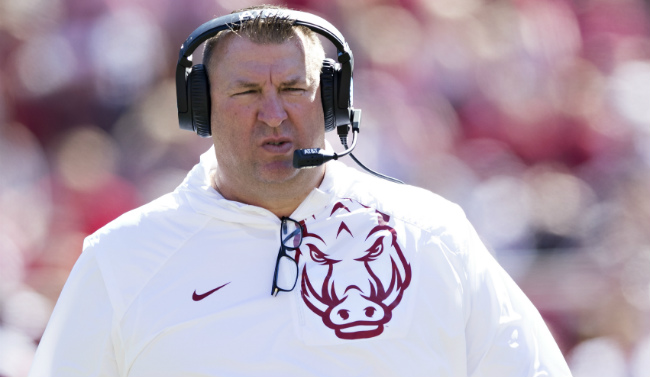 Ok, this is technically longer than a week, but last Friday afternoon, Arkansas lost to Missouri, 48-45. It seemed like it was the nail in the coffin for Bielema's time with the Razorbacks, as the team fell to 4-8 on the season with a 1-7 mark in conference play and had never exceeded "perfectly fine" at any point during his tenure in Fayetteville. He was also on something of a hot seat, but it wasn't until after the game ended that we learned just how hot that seat was.
Right as the clock hit zero, the school issued a press release saying Bielema had been fired. The dude was canned as he was walking off of the field. They still do not have a head coach. This isn't terribly surprising, as they fired the last coach they had as he was heading to the locker room after a loss.
It is far more likely that the school is taking its time in a search — it does not have an athletic director and one of the rumored targets for the head coaching gig, Auburn coach Gus Malzahn, is competing for an SEC title this weekend — but the Razorbacks' search has kind of flown under the radar with everything else that has happened this week.

4. The Jimbo Fisher Saga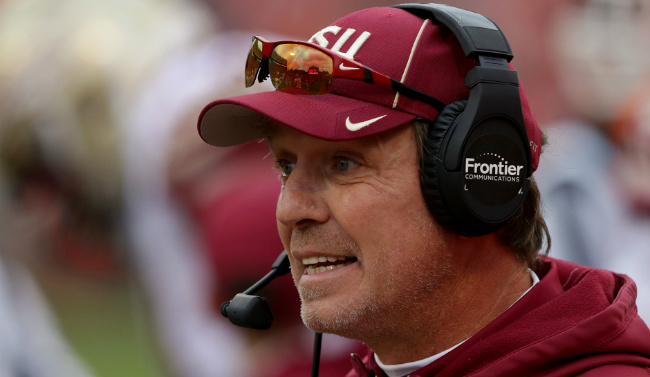 Fisher is a very good coach with a proven track record who has won fewer than 10 games exactly two times during his eight-year tenure in Tallahassee. He went 9-4 in 2011 (his second year at the helm) and went 5-6 this year. He won three straight conference titles, won a national title within the last five years, and has consistently recruited well. Assuming the 2017 campaign wasn't a sign of things to come — and considering the team lost its starting quarterback in its first game that is probably a fair assumption — Fisher should have had a job for life in Tallahassee.
Instead, Fisher is headed to Texas A&M on a 10-year, $75 million (!!!) deal. A coach jumping from one Power 5 program to another like this occurs every now and then, but as Ralph Russo from the Associated Press pointed out, a national championship-winning coach doing this never ever ever happens.
Like any good coaching search, there were fans of both schools pouring over flight tracker. This came to a head on Thursday night, when it was reported that a plane owned by a Texas A&M booster was flying from Tallahassee to College Station in the middle of the night.
Then on Friday, right before official news broke of his new — I am sorry for repeating this but it's insane — 10-year, $75 million deal, the world learned Jimbo was leaving because someone took a picture of the Christmas tree at his house thrown out on the lawn for the trash to pick up.
The Aggies job is an interesting one — the school will pour any amount of cash into the program that a coach wants, but expectations are sky high and it is in a division with Alabama, Auburn, and LSU. Winning there isn't hard, but winning at a level that would appease those with a vested interest in the program might be. If Fisher can't bring them to that level, it's fair to question if anyone can.

3. Arizona State Hires Herm Edwards, Maybe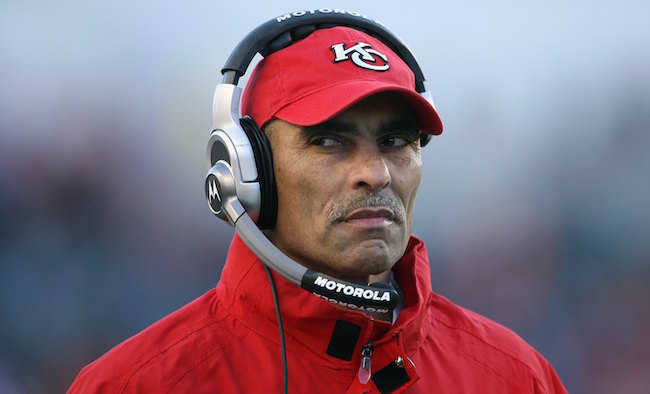 Any other year, this is Nos. 1-5, because oh my god it's so dumb. Edwards has not been a head coach since 2008. In the eight years he was a head coach in the NFL, he accrued a 54-74 record and only had four seasons with a winning record. If, like, the Indianapolis Colts or some other NFL team that might make a coaching change hired him this offseason, it would be a strange move.
Instead, a college football program decided to try and hire Edwards, who has two more years of college football coaching experience as you (probably) and I (definitely) do. And not just any college football program, but a program in Arizona State that fired a coach with a 44-30 record in five years even though they're not considered a powerhouse in the loaded Pac-12 South.
This would be a weird hire under most circumstances, but I ask you to consider two things:
Todd Graham's entire staff is still in Tempe. Yes, Arizona State fired Graham but kept his staff. And they plan on going up to all of those coaches and saying "Todd's gone, we got you one lightly-used Herm Edwards instead."
Arizona State's AD, Ray Anderson, used to be an agent for NFL coaches. One of his clients was Herm Edwards.
So basically, an athletic director who used to be an agent is using his new position to hook one of his old clients up. That client is Herm Edwards, who is getting the job as long as Arizona State's president gives it the thumbs up. This would be absolutely hilarious if it wasn't such a brazen move.

2. Tennessee Hires Greg Schiano
Schiano was a very good coach at Rutgers (he consistently won more than six games while he was there, which qualifies as a "good coach at Rutgers") whose NFL head coaching stint went completely off the rails. He is now the defensive coordinator and associate head coach at Ohio State, where he has coached up one of the best defenses in America and turned himself into a candidate for a job somewhere.
Tennessee decided that Schiano was the person who should take the reigns in Knoxville after the Butch Jones era came to an end. From a football perspective, this was a weird fit — Schiano's personality is rather similar to Jones', which breaks the cardinal coaching sin of "don't hire the guy you just fired." There's the issue of his Bucs' tenure, which was an unmitigated disaster. There was also the problem of Schiano's name popped up in connection to the Jerry Sandusky scandal at Penn State. While people who have covered the scandal have questioned whether there is any validity to this, it is a third rail that no school will ever attempt to touch unless they want a massive backlash from fans.
That backlash ended up happening in Knoxville. Upon word of Schiano's hiring becoming public, Tennessee fans were apoplectic to the point that the school announced on Sunday night it had moved on to hire someone else. On that note…

1. Literally Every Single Thing Tennessee Has Done Since Then
Tennessee still does not have a football coach. This is because every time it tries to hire one, said coach remembers the last week and goes "wait I don't want to walk into that situation under any circumstance." (Ok, it's more complex than that, but for real, imagine having a head coaching job somewhere else and going "Yes, it would be fun to coach Tennessee right now.")
The following names have been linked to the Volunteers' job at one point or another post-Schiano: Purdue coach Jeff Brohm, N.C. State coach Dave Doeren, former Texas A&M coach Kevin Sumlin, and Washington State coach Mike Leach. Brohm and Doeren both turned Tennessee down after getting offers. Sumlin never formally got an offer. Leach interviewed for the job on Thursday and things were reportedly going really well.
And then the school decided it would be a good idea, mid-search and right as it looked like Leach was about to get the job, to fire first-year athletic director John Currie. Apparently, everyone in Tennessee's administration spent the week reading Shakespeare, because that is the only way the following could have went down the way it did:
So basically, powerful people at Tennessee — including the school's former football coach who stepped down in 2008 because the fan base was bitterly divided about his future with the university — decided to undermine an athletic director who had egg on his face and was in his eighth month on the job. This all happened because said former football coach wanted to be its athletic director and got the job.
And if all this isn't bad enough, another former coach in the always-controversial Lane Kiffin is having a blast trolling the hell out of the school on social media. Everything involving Tennessee this week has been absolutely remarkable, and seeing as how the school hasn't a hired a coach yet, it could conceivably get even crazier.