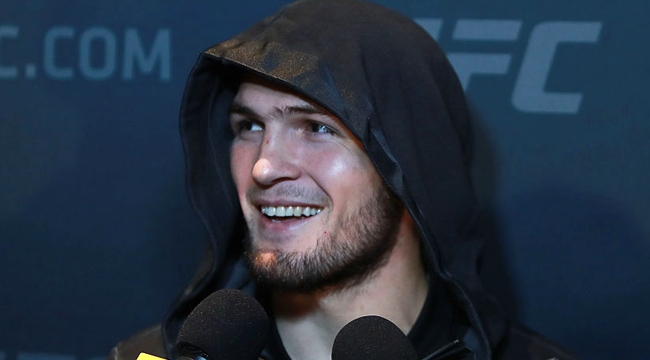 The fallout of Conor McGregor's incomprehensible attack on Khabib Nurmagomedov's bus at UFC 223's media day is still being felt. McGregor is directly responsible for the cancellation of three fights on the card after Ray Borg and Michael Chiesa were pulled due to injuries sustained in the attack on the bus. The third fight, of course, is the cancellation of Alex Caceres vs. Artem Lobov, who is at the root of all of this.
But Khabib doesn't seem to care. He is healthy, and he knows he wasn't in danger. He calmly explained to MMA Fighting that this was all posturing by the Irishman and his team.
"I am laughing inside. You broke window? Why? Come inside. You know UFC don't let you come inside. If you real gangster why don't you come inside?

"This is big history gangster place. Brooklyn. You want to talk to me? Send me location. We have to talk? I am gonna come, no problem. I grew up like this. I don't grow up throwing chairs at window. This is not my bus."
Khabib has a point. McGregor came seemingly to make a big show. But people got hurt, the card is weaker, and now McGregor is potentially out of action if the UFC decides to suspend him. Additionally, as we explained here, it was Khabib's cornering of Lobov that led to this in the first place.
Still, Khabib doesn't want McGregor to go to jail or get in trouble (even though he's probably looking at multiple lawsuits).
"To be honest, I don't want him to go to jail. We have to fight. If we have to fight, let's fight. Send me location. Please, we have to fix this. Me and you. One-on-one. You want 10-on-10? OK.

"I give his whole team slap and no one say anything. He come with media, with cameras when I'm alone. Of course I want to go outside but they don't let me leave the bus. He knows this. They don't do nothing. I'm here."
Khabib vs Conor is the fight to make even if Holloway wins at UFC 223 on Saturday, but this 10 v 10 idea sounds like it could definitely move some PPVs…
(Via MMA Fighting)