And there we have it. Our lineup is set. Super Bowl 50 will be between the Denver Broncos and the Carolina Panthers. But let's not talk about the winners. Not yet. We have two weeks to talk about them. Let's talk about the losers.
First up, the most depressing loser: The Arizona Cardinals. Last season was a sad "what if" year for Bruce Arians and his Red Menace. After an incredible start, the Cardinals suddenly lost their starting QB, their backup QB, and found themselves playing a 7-8-1 Panthers team in the playoffs with Ryan "Human Dumpster" Lindley under center. It was a whimper ending that left us all wondering what if Carson stayed healthy? Well, this season, we got that answer.
The Cardinals set the end zone on fire all year. Arizona was an offensive juggernaut and remained in contention for the number one seed all the way up til the end, even against the Panthers. Larry Fitzgerald had a year that reminded us why we all loved him in the first place. The victory over the Packers in the divisional round might have been the best game of the year. But the team looked different from Week 17 onward. If it was the loss of the Honey Badger or Carson Palmer's finger injury that caused it, who knows. The thrashing from the Panthers wasn't how the Cardinals season deserved to end, but we should appreciate that it got that far.
As for the Patriots? Hahahahahahahahahaha. Thank goodness we won't be subjected to another Patriots Super Bowl appearance for at least another year. The only negative about this result is that Roger Goodell is happy about it. The Patriots make for fun Super Bowls, but at this point they've been there or close so often and good for so long, almost anything, even a blowout, is preferable.
So, what cartoons do we have to celebrate these losses? Let's do it.
If the Broncos win, I will draw John Elway bucking and kicking Tom Brady with his back legs (Elway is a horse).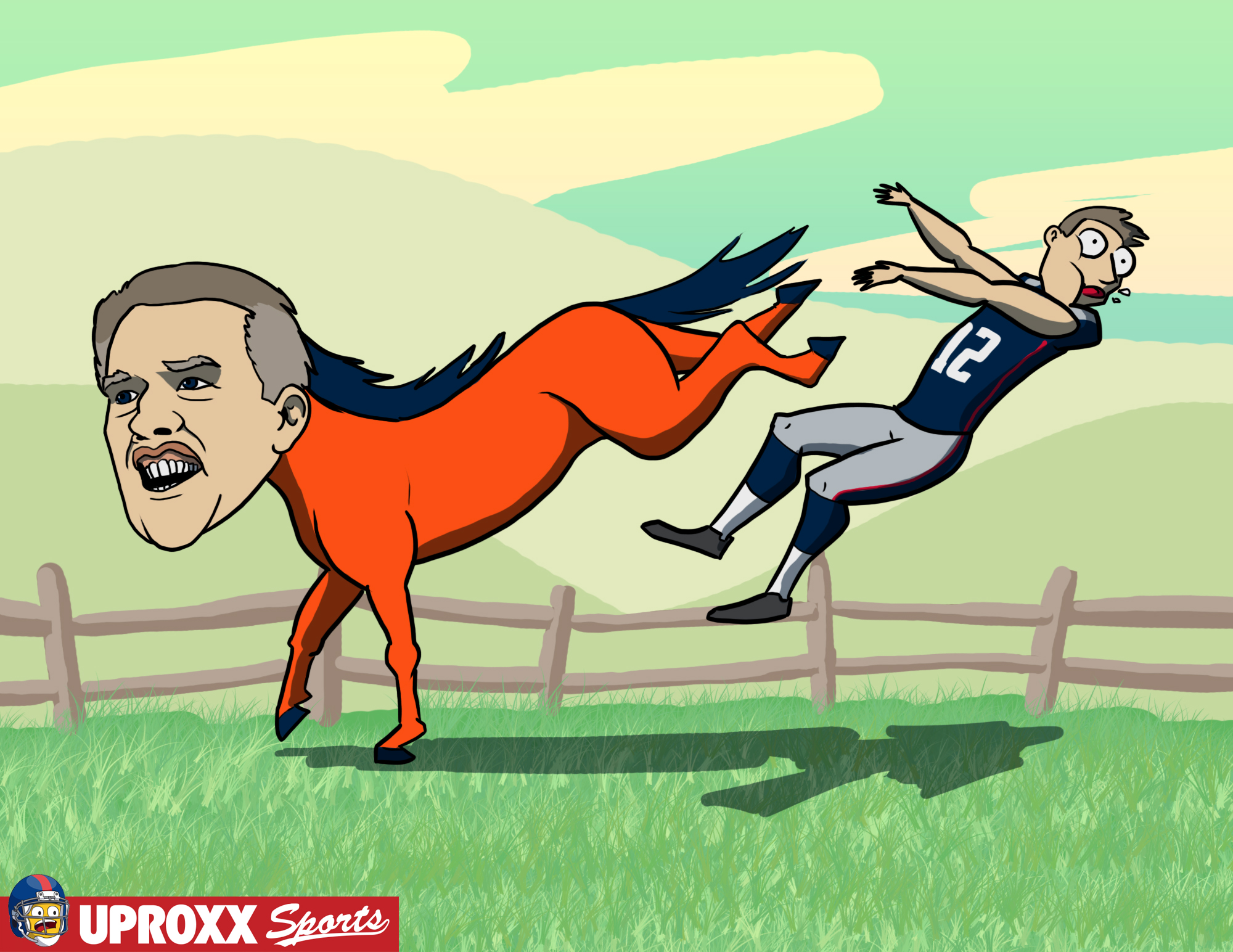 If the Panthers win, I will draw Cam Newton walking on water, but the water is the tears of crusty old people who hate him.
And of course, all the previous cartoons in one place:
WEEK 1 | WEEK 2 | WEEK 3 | WEEK 4 | WEEK 5 | WEEK 6  | WEEK 7 | WEEK 8 | WEEK 9 | WEEK 10 | WEEK 11 | WEEK 12 | WEEK 13 | WEEK 14 | WEEK 15 |  WEEK 16 |  WEEK 17 | Wild Card Week | Divisional Round
So, with the Super Bowl not until next Sunday, what to do for next week? Well, we do still have a football game this weekend. Wait, that's not right. More like a "football related substance." It's called the Pro Bowl, and it's a goddamn joke.
The Pro Bowl should be removed. It is a worthless hunk of wasted airtime. The fact that enough people still watch it for it to be viable is laughably embarrassing for us as a species. The Pro Bowl is the worst all-star game in all of sports. The worst. It's not at all indicative of the sport it represents whatsoever. Let's go through this point by point, in a way a joke like the Pro Bowl doesn't even deserve.
It's not competitive
The Pro Bowl is a backyard football game being played by a bunch of people who have already proven their worth and have simply gone for the vacation. They have no reason to try. The teams are a mishmash of different players all from different schemes and systems, which means the playbook is incredibly simple. Football on a professional level is a team sport more than any other major sport, with every play being a calculated plan requiring everyone to be on the same page. You can get away with a backyard basketball game between all-stars, but even the best football players are so dependent on teammates that it'll never be the same effort for a game with one week of preparation to get everyone on the same page.
The players don't care
And why should they? They've just endured a season of physical suffering and they could literally lose their jobs tomorrow if they get the wrong injury. Why risk it? Especially not for the relatively meager payouts they get. This is still an exciting honor for players going to their first or second Pro Bowls, but for seasoned veterans, it's not worth the trouble and they all drop out. This year, the Pro Bowl selected Cam Newton, Tom Brady, Aaron Rodgers, Russell Wilson, Carson Palmer, and Ben Roethlisberger. Out of those five players, the five players we as a nation voted for, only one remains (Wilson). Cam obviously had to forfeit due to Super Bowl reasons. By the time you read this, he might have dropped out, too. Instead of those four, we get Eli Manning, Tyrod Taylor, Teddy Bridgewater, Jameis Winston, and Derek Carr. These guys had decent years, but were they really the NFL's Elite this season? It's gotten to the point where the Pro Bowl isn't who is the best, it's who is the best available for that week.
The timing is terrible
It's easy to understand why the NFL changed it to the week before the Super Bowl (more viewers = more money), but it automatically prevents a good chunk of stars from going to the Pro Bowl. Chances are, the two Super Bowl contenders have a significant Pro Bowl presence, but none of them are going to play. When the Pro Bowl was after the Super Bowl, it served as a cute farewell. Now it's just an awkward game in the middle missing a third of its meaningful members.
The voting process is a joke
The Pro Bowl has long been a popularity contest. Players and teams who have no national media attention struggle to get votes, and players long past their best seasons keep getting voted in due to name recognition, especially in categories like offensive lineman, who the average fan doesn't know very well.
It no longer has skills competitions
SERIOUSLY, WHY DID THE NFL GET RID OF THESE? People have been clamoring for these to return since they left. Skills competitions were amazing. They were a way to goof off and to give players a way to go head to head in a new way that was very injury free.
The NFL simply can't fix it
I'll give the NFL credit. They've tried to make the Pro Bowl a thing. They took away NFC/AFC and gave us team captains and an anyone on any team situation. They gave it crazy new uniforms. They changed the timing to get more press. They've tried to make the Pro Bowl matter. But they can't. The Pro Bowl means less than ever. Jameis Winston, thanks to five players dropping out, can now put "Pro Bowler" on his resume.
The Pro Bowl is a broken shell of an experience and nothing the NFL can do is going to remedy this. Players who get Pro Bowl nods should simply receive an honor like a plaque or something and not actually play a game anything tougher than flag football.
That said, I still have to draw it, don't I?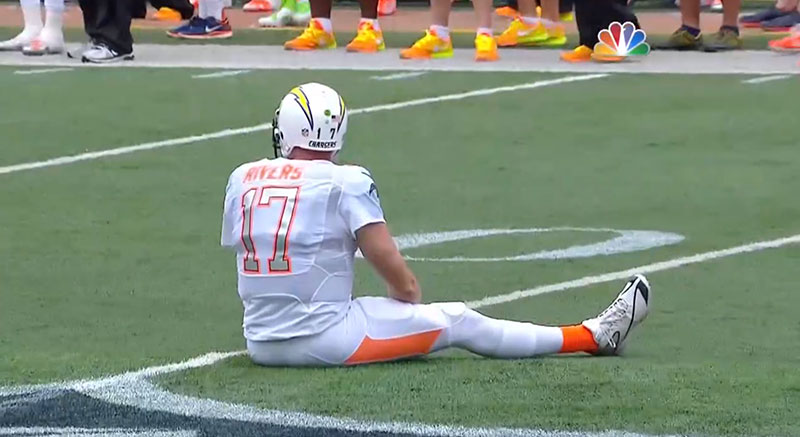 Whoever wins Pro Bowl MVP, I will draw them taking a dump in a gold toilet trophy that says "Who gives a sh*t? You do! 2016 Pro Bowl MVP" on the side.
Next week, let's talk some Super Bowl 50.