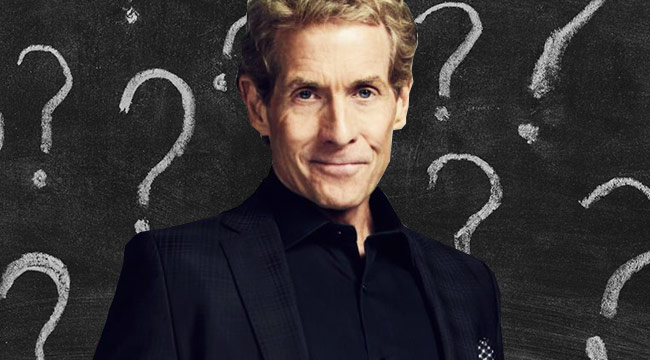 Skip Bayless is a creature of habit. He's a no-nonsense, award-winning journalist who sacrificed family for career, and he believes every word that he shouts on his television shows. He's awake at the wee hours of the morning to get to work on the day's talking points, and he studies more game film than most athletes. He cannot and will not make a mistake in his analysis, and he will never, ever lose a debate, because he is the most prepared man in his business. Viewers and athletes may not like him, but at the end of the day they respect him, because he is always right and never misrepresents his true beliefs for the sake of entertainment.
At least that's what every profile ever written about Bayless would have us believe.
The latest attempt to get inside the mind of the well-paid 65-year-old host of Undisputed comes to us from Complex, and it's an interesting read. The problem is Bayless is just recycling the same stories he tells every publication, almost as if the fearless king of Sports Shouting is afraid of anything that isn't scripted or prepared hours in advance.
A man with a daily platform for spewing his opinions, Bayless never seems like he is itching to tell all. Thus, his interviews have always been sparse and seemingly hand-picked, as if he considers it an honor for a reporter to ask him about his daily routine. It also seems like the PR strategy of a man who wants to tell the same story, while avoiding real questions about his controversies or, plainly, the dumb things he says and does. He calls himself a lightning rod, sure, but he never engages the bolts.
Instead, the man who once considered becoming a preacher delivers the same sermon in each new profile.
He's a Man of Character
"It's not an act," Mr. Bayless insisted. "It's not a character. It's the real me. I'm not a shock jock. I never ambush anybody. I just speak my mind and my heart and my soul." (The Observer, 2012)
In my 12 years on ESPN and my going on three weeks here on Fox Sports 1, I have never ever contrived one debate. Anybody who has ever known me or been to our morning meetings will know that when I walk in the door at 4 am LA time as I did this morning, my opinions are in concrete. (Recode, 2016)
"I just speak from my heart; I just get to truth telling," says Bayless. "And I have consistently been correct on all these outrageous takes." (Complex, 2017)