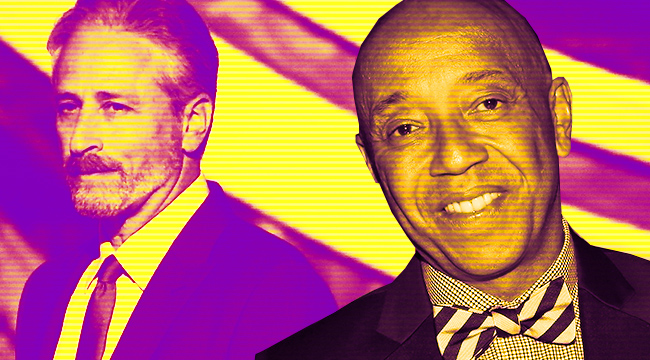 Welcome to Comedy Now, a weekly column cataloging what comedy fans should know about what's available in the streaming world. Whether it's a brand new special, an old classic, or the oddball show that defies categorization, we'll list as many as we can for your enjoyment right here. Who knows? We may even throw in a few non-streamable bits on occasion, like tour announcements from our favorite comics. You can check out the previous column here.
What's New
Untitled Jon Stewart Stand-Up Comedy Special (HBO)
In May, it was revealed HBO and Jon Stewart had to ditch their plans for a news-centric animated show, but that didn't mean the premium cable giant and the comic were through. After all, the former The Daily Show host's frequent appearances on Late Night with Stephen Colbert, ESPN and other venues suggested the "retired" comedian wasn't finished. Sure enough, he and HBO announced two new comedy specials earlier this week. The first would be Stewart's first solo stand-up film in 21 years, and the second would be a Night of Too Many Stars all-star benefit broadcast live from The Theater at Madison Square Garden on November 18th. Aside from the announcement, however, little is known about the stand-up special.

All Def Comedy (HBO)
Speaking of returns, another HBO stalwart is about to reemerge after years of sporadic dormancy. Throughout the '90s, and occasionally during the 2000s, mega-producer Russell Simmons' Def Comedy Jam offered young African-American comedians a high-profile platform they'd never before had on television. Chris Rock and many others owe their careers to the show, which HBO announced will return as All Def Comedy on Saturday, November 12th at 10pm ET/PT. Hosted by Tony Rock (All of Us, Apollo Live), the new weekly showcase will feature Chris Powell, Zainab Johnson, Kevin Tate, Robert Powell and Tony Roberts.
Maz Jobrani: Immigrant (Netflix)
When he's not too busy appearing as a semi-regular panelist on NPR's news quiz Wait… Wait… Don't Tell Me or terrorizing Superior Donuts' staff and customers, Maz Jobrani does stand-up. In fact, the Iranian-American actor, comedian and member of the "Axis of Evil" group of comics travels the road regularly — despite the country's particularly charged climate of hate regarding immigration and Islam. Hence why Jobrani's new Netflix special, Immigrant specifically tackles both subjects head-on. The new hour streams Tuesday, August 1st.
Joe Mande's Award-Winning Comedy Special (Netflix)
Parks and Recreation and The Good Place writer Joe Mande's new comedy special, however, has already debuted on Netflix. Even so, Joe Mande's Award-Winning Comedy Special (that doesn't actually win any awards, yet) is worth an hour and six minutes of your time. Though composed of the young comic's stand-up performance, the unconventional special has more in common with Rory Scovel Tries Stand-Up for the First Time and Maria Bamford: Old Baby, than your typical, hour-long stand-up routine. As Mande explained it to Uproxx, however, that's precisely what he had in mind.

The Opposition with Jordan Klepper (Comedy Central)
The Daily Show with Trevor Noah correspondent Jordan Klepper recently dazzled audiences with his hour-long comedy special Jordan Klepper Solves Guns, but the Michigan-born comic wasn't stopping there. As announced back in April, Klepper would be getting his own half-hour program in the 11:30pm ET time slot. Beginning September 25th, The Opposition with Jordan Klepper will follow Noah's The Daily Show on weekdays and "satirize the hyperbolic, conspiracy-laden noise machine that is the alternative-media landscape on both the right and left."
Untitled Goatface Sketch Comedy Special (Comedy Central)
Hasan Minhaj is best known for his work on The Daily Show, though his recent stand-up special, Homecoming King introduced audiences to (or reminded them of) his fantastic solo work. Beyond this, however, there's also Minhaj's work with the four-man sketch comedy troupe "Goatface," which also features Fahim Anwar, Asif Ali and Aristotle Athiras. The group of real-life friends have been doing sketch comedy for some time, and now Comedy Central is letting them produce a one-hour special for broadcast and digital distribution. In a statement, Goatface quipped they were "excited to work with Comedy Central and have cancelled all international flights to ensure our ability to stay in America and finish this project."
Norm Macdonald Live (YouTube)
Aside from releasing a new stand-up special on Netflix in May, performing and recording his latest comedy routines isn't the only thing Norm Macdonald is up to these days. He recently revived his video interview and podcast series Norm Macdonald Live, about which he recently spoke to Uproxx. With more new audio and video episodes coming out on a regular basis, and including such comedy luminaries as David Letterman and Jerry Seinfeld, Norm Macdonald Live is definitely worth the extra time this week — if you can find any.

What's Heard
Comedy Bang! Bang! 500th Episode (Podcast)
The sketch television series Comedy Bang! Bang! may be over, but the wonderful podcast on which it was based is still going strong. So strong, in fact, that creator and host Scott Aukerman and many of its most frequent co-hosts and guests returned for a 500th episode spectacular — including Nick Kroll, Jason Mantzoukas, Lauren Lapkus and Paul F. Tompkins. The episode, about which many, many oral histories were written to help promote it, is hysterical and worth a listen.
What's Wrote
Playboy Laughs: The Comedy, Comedians, and Cartoon of Playboy (Book)
When Playboy comes up, one doesn't typically think of stand-up comedy. Yet, as most histories of the genre will tell you, both the magazine and the popular clubs it built and maintained in the '50s and '60s played a significant part in the careers of many rising stars. Hence former model turned author and historian Patty Farmer's Playboy Laughs: The Comedy, Comedians, and Cartoons of Playboy, which will be available on Thursday, August 3rd. If and when you need a break from streaming everything into your eyeballs, Farmer's book will make a great read — if you don't mind being seen reading it in public.
What's Live
Title (Platform)
If you happen to be in Jamestown, New York next week, check out the annual Lucille Ball Comedy Festival. Why? Because, in addition to the usual festivities, the new National Comedy Center — what a release dubs "the first national-scale, non-profit cultural institution and visitor experience dedicated to comedy" — will host a special Comedy and the Human Condition event. Jim Gaffigan, Kevin James, Robert Klein, Lisa Lampanelli and more than 20 other comedians will perform, while Lewis Black, David Steinberg, W. Kamau Bell, Kelly Carlin, Kliph Nesteroff and others will participate in panel discussions on various topics. The event will also offer attendees a preview of the George Carlin Archives, which is set to open in 2018. Tickets are available for purchase at the festival's website.