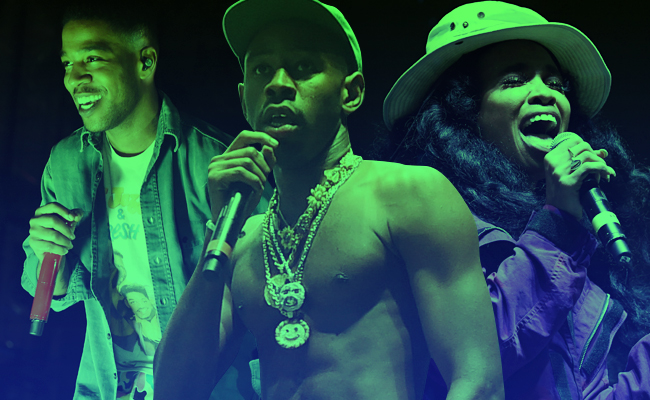 When almost every new, small festival is starting out, their organizers often talk about "scale" — that is, scaling up as the festival becomes more successful, moving from small parking lots to larger venues and bringing in bigger acts and correspondingly huger crowds. For instance, when I attended Adult Swim's inaugural Adult Swim Festival in downtown Los Angeles last month, representatives from the network told the small group of journalists covering the fest's media walkthrough (every festival should have one of these, hint, hint) that they saw a much bigger draw in five years, using this one as kind of a "pilot episode" to determine what works and where they can improve.
But what happens when a festival gets too big, too fast? Is there such a thing as "too successful?" As it turns out, Goldenvoice, the organizers for Tyler The Creator's Camp Flog Gnaw Carnival are finding out the complex answer to that question the hard way, through on-the-job experience, as 2018's bigger, undeniably better festival met a few bumps in the road on the way to its most successful year yet.
First, let's talk about some of the improvements. As I found out at last year's Flog Gnaw, location matters more than just about anything, as the confusing layout of the Exposition Park venue played havoc with my internal compass — and my poor sneaker soles. With the move to Dodger Stadium a few miles north, the fest was able to both expand and streamline operations, making for a more straightforward experience getting around.
Taking place in the massive parking lot surrounding the stadium, the concrete — while being little nicer to the feet of attendees — kept dirt and dust from further polluting the air already tainted by the local wildfires in Thousands Oaks and Butte County. Meanwhile, the two main stages were situated at almost straight angles from each other, but given enough distance that neither interfered with the other, with Gnaw Village situated more or less in middle but off to one side up a small hill. It's a great layout and I hope it sticks around for the next fest.
The walking actually turned out to be a bit of a benefit thanks to another improvement; Postmates partnered with the fest to allow attendees to order and pickup food from vendors without waiting in line — something I'm sure Post Malone probably appreciated. Given a semi-hefty credit to try out this new function, I appreciated the opportunity to burn off a few extra calories from my Kogi BBQ Black Jack Quesadilla and Sage Bistro jackfruit tacos. The usual assortment of games, rides, and concessions were sprinkled throughout the grounds, but mainly concentrated to Gnaw Village along with Okaga National Park Cafe and the DJ-focused Gnaw stage.
However, it was a lot of walking, and with all the extra space for the main stages, the crowds quickly became bigger than resources could handle. After threatening to shut down Jaden Smith's excellent, uproarious set due to fans near the front being nearly crushed by the constant press of bodies pushing toward the stage, the fire marshal actually did cut Brockhampton's set short several minutes after a few songs prompted even more near disasters. They resumed with the abbreviated setlist after around 10 minutes had passed, but it was enough time to suck much of the energy away from their bombastic — and much more polished — performance.
I was positively shocked at how much bigger the hip-hop boy band's draw seemed this year than last, but encouraged that they, much like the festival itself, had managed to scale up their already improbably high performance energy, mainly by stripping some of their elaborate stage setting down, allowing them to better choreograph their movements and interactions with each other and the crowd. Maybe the Flog Gnaw festival itself might take that cue and pare things down next year, or maybe ramp them up. I'm not sure whether more space or stronger ticket limits would fix the issue, but it was definitely a concern that was harder to anticipate than simply increasing concessions.
Logistical issues aside, the best part about the fest was seeing just how much the repeat artists from last year had grown, as well as the increased capacity for pandemonium the larger space afforded. The best example of this was Flatbush Zombies' outsized set, where Meechy, Erick, and Juice still managed to befuddle me with their stunning breath control and rampant energy despite having more stage space to work with than I'd seen them use before. Believe me, they used every available extra inch. I didn't know if or how Jaden Smith could ever match all three of them by himself… but then he did.
As he jokingly jibed Tyler in the crowd, it was apparent that he's as at home on a massive stage as he is awkward in the intimate family videos his dad Will posts to Instagram. And while I was further skeptical of the downbeat Earl Sweatshirt's ability to hold down such a big space, he was eager to meet the challenge with the addition of Rico Nasty, who appeared to perform some of her own high-energy hits. If she wore off on him musically, I'd definitely look forward to his next project.
Meanwhile, on the other stage, things got off to a bright start Sunday afternoon with Tierra Whack, whose relative novelty to the festival space didn't stop her from controlling the crowd like a 20 year pro at all. Raveena offered a stunning, magnetic R&B performance, with all the simplicity of fellow revivalists Kali Uchis and Jorja Smith, but with approximately five times the charisma and charm. Taco, Odd Future's resident DJ and Mr. Fix-It, brought out a pair of high-energy up-and-comers in Juice Wrld and YBN Cordae, who hyped the crowded Camp Stage after a musical tribute to the late Mac Miller.
And as often as sub-headliners Lauryn Hill and Post Malone are ripped and ridiculed online, both performed with polish, panache, and professionalism, with Hill's band playing high-energy versions of her Miseducation hits while she took them all the way to church with gospel-inflected twists that breathed new life into the 20-year-old jams. Likewise, Post more than lived up to his billing; whatever your feelings about his attitude toward the genre he cynically co-opts to make his living, he has undeniable stage presence and the crowd — mainly made of young women and unconventional, un-stereotypical boys — loves what he does. If he's more harmless pop than hardcore hip-hop, so be it — it's enjoyable, catchy, empty-calorie pop, which is fine in moderation.
It was certainly better, at least, than watching Kanye fumble his way through his headlining set with Kid Cudi in their first appearance as Kids See Ghosts. Cudi was certainly the more interesting draw in that instance as they ran through hits spanning from Kanye's 808s And Heartbreaks (the better parts of the set) to their recent, self-titled group debut.
Cudi was entertaining, engaging, and sincere as they roamed the inside of a transparent cargo container suspended above the stage. Kanye, on the other hand, mumbled his way through half-forgotten verses and only really came alive on his solo joints. Whatever has been going on with him all year, I think it's safe to say Uproxx's Andre Gee was right; his heart's just not in music at the moment, and I hate to see him this way, as a fan and as a man.
But all in all, Flog Gnaw was a rousing success, despite its growing pains. Tyler's festival demonstrates the potential of booking acts that all respect and like each other and their host, as shows of mutual appreciation rang off throughout the carnival, and stars could be seen roaming the grounds participating in the fun of the festival itself rather than cooling their heels in their backstage trailers. While in line to get some pictures from the ferris wheel, which was billed as one of the tallest traveling ones in America, I noticed Taco, SZA, and Tierra Whack go trooping past on their way to catch a ride of their own.
That sight summed up Camp Flog Gnaw in a nutshell; it's really fun for everyone — including the talent, who aren't just there to collect a check, but to catch up with friends and have a good time. If the festival can anticipate some of the kinks as it continues to grow and work them out ahead of time, Flog Gnaw might just rival some of the biggest festivals in world for sheer entertainment in no time at all.