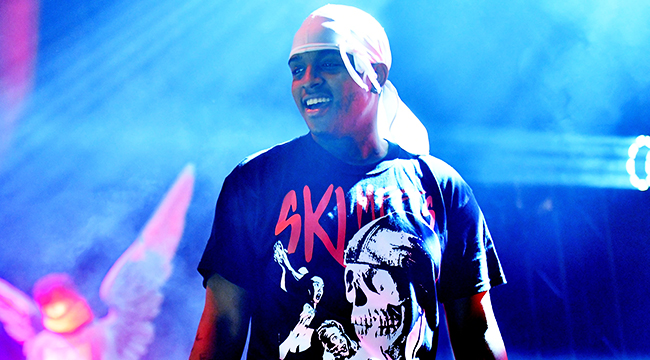 When it comes to hip-hop's enduring, endearing appeal to the masses, so much is built on nostalgia. Lyrical references often mine the idyll of adolescence, the recognition of pop cultural references from movies, sports, and other ephemera, and perhaps most importantly, musical cues from hip-hop's own extensive heritage, from R&B and disco classics to the masterworks of the genre itself.
Ski Mask The Slump God's appeal is built on a different kind of nostalgia, tapping into something more generational. The 2018 XXL Freshman litters his verses with references to anime, cartoons like Danny Phantom and Spongebob, and video games. He's also a fan of crude, absurdist humor that seems less designed to appeal to a generation raised of the eccentricity of Youtube and social media memes than born of it. It's not for everybody, but in a way, it is.
Ski Mask — born Stokeley Clevon Goulbourne at the tail end of the '90s — is a product of a generation raised to overshare. 22-year-olds like him sling their innermost thoughts, no matter how dark or gross or tender or strange, into the ether, where other young adults pick up on the barest threads of relatability. They begin to identify with the absurdity of shared experiences and even more memes are born. There's no such thing as too much, and recognizing this "throw everything at the wall and see what sticks" mentality is the key understanding just why Ski Mask The Slump God might be one of the biggest voices of his generation.
Watching his performance at Rolling Loud in Los Angeles — or rather, watching the crowd's reaction to it — I came to understand how much his approach, from his personality to his blown-out, temper tantrum reckless flow, resonated with the audience. Watching nearly 20,000 teens and young adults recite his high-speed bars — think Twista or Busta Rhymes at their most caffeinated, possibly in a race to see which of them could recite their verses the fastest — word-for-word, despite their velocity, woke me up to his charm and the awareness that his fans love him precisely because he's so willing to be bizarre on record.
Hailing from the same South Florida environs as similarly beloved, rebellious, Soundcloud darlings as XXXTentacion, Kodak Black, Rob Banks, and Wifisfuneral (many of whom are loosely connected as a group called Members Only), Ski Mask came to prominence in much the same way as his more controversial counterpart and close friend, XXXTentacion. As songs like "Babywipe" and "Catch Me Outside" gained popularity on Soundcloud, so too did Ski Mask's own prominence increase as he began to collaborate with Cole Bennett of Lyrical Lemonade and XXX's own notoriety began to reflect onto Ski's thanks to collaborations like "Take A Step Back."
The thing that most sets him apart from his peers and frequent collaborators is his raw, loopy approach that he pairs with the high-velocity raps of someone like Busta Rhymes — who Ski Mask counts as an inspiration — with the raucous, unrestrained energy of Ol' Dirty Bastard. Like ODB, Ski gives little regard to the niceties of the recording arts, screaming into mic and embracing the goofiest aspects of his personality. On the cover of his debut album, Stokeley, he pairs a regal, Napoleonic uniform with a neatly tied durag; the music is much the same.
It's clear that he could have the polish and clarity of previous generations of rappers, but he'd rather indulge his rambunctious impulse to rely on gross-out humor (he's got songs on Stokeley with titles like "Cat Piss" and "Foot Fungus" that have little to do with either, content-wise) and zany punchlines informed by internet memes: "Two girls, two cups, know I had to level up," he rhymes on "Nuketown," the title of which he changed from its working title of "Cutthroat" just because he didn't "want anybody to know what the song is until they click it." His usual approach, if anything about his varied, experimental approach can be considered "usual," is a punky, almost thrash-like mentality applied to cloud rap/trap rap principles — make it loud, make it weird, and shake the table.
That tendency to embrace the bizarre can undercut his attempts at more serious subject matter, though. When he tries to execute an anti-government diatribe on "Reborn To Rebel" from Stokeley, the cartoony punchlines undermine the urgency he tries to convey and songs dedicated to XXXTentacion's memory like "Save Me, Pt. 2" and "U and I" don't hold up to the sort of serious pathos the content requires. But when he's in his bag, as he is on "Nuketown" or 2018 mixtape Beware The Book Of Eli standout "Lost Souls," he shows flashes of irresistible charisma, which has already led to even greater exposure, including a placement on the soundtrack to one of 2018's most important and well-received films, Spider-Man: Into The Spider-Verse.
In an era where charisma can be the difference maker separating true stars from a seemingly endless deluge of content, Ski Mask's willingness to embrace the odder aspects of his persona might be the thing that makes him such a fan favorite that his fans are willing to memorize his rubbery verses. That he was so tight with controversial figures like XXXTentacion without the accompanying legal troubles confers some of the same spotlight without the resultant backlash — although at some point, he may be called upon to reconcile his friendship with X's troubled legacy. Until then, he's the Soundcloud rapper who's tapped into the zeitgeist of his generation and shown flashes of the artistic potential he needs to take the leap from underground favorite to mainstream star — as long as he's willing to leave some of the gross humor online, where it belongs.
Stokelely is out now via Republic Records. Get it here.