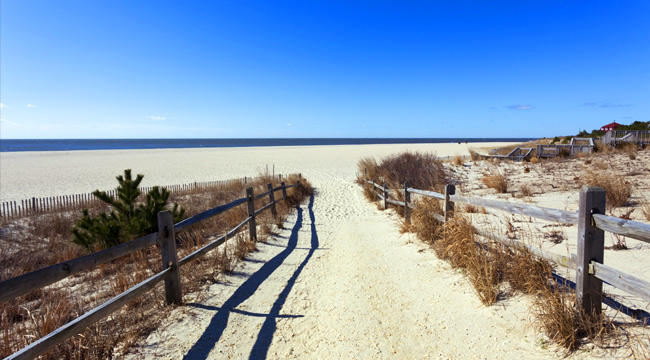 I've had my time at Seaside Heights, the definitive Jersey shore party spot from the eponymous MTV series. I've burned on the beach, crashed in dive-y motels, spent too much money in boardwalk arcades, drank more than I should, and eaten… just pure garbage. Because it's there, it's cheap, it's glistening, and "f*ck it!" — that's what you do at the Jersey shore. You go big, then you go home.
Honestly, it's so much fun when you're doing it. But eventually, you crave more substance from a weekend beach escape. Sometimes in your travel life, you feel primed for something new.
A search for the Jersey shore without all the Jersey Shore, eventually led me to Cape May — at the Southern tip of the state. I had heard that it would be an escape from my clustered and cranky North Jersey life, and in 2015 and 2016 it proved to be exactly that. It's a lovely little resort town with a diverse sampling of food and fun-to-look at Victorian relics. But for all it had been in those two previous trips, it still hadn't been perfect. Not quite.
Thanks to proximity and convenience, my wife Michella and I planned on returning to Cape May at some point in 2017. In all likelihood, we would have stayed in a sh*tty motel with premium pricing, because proximity to an ocean often supersedes everything else. We would have eaten good but forgettable food at a pub or a non-descript restaurant, seen the sights, and had a really nice time. Nice. Nice.
Then a better offer came along. Michella and I were invited to Congress Hall, a resort that has hosted four sitting US Presidents — Franklin Pierce, James Buchanan, Ulysses S. Grant, and that scamp Benjamin Harrison. I quickly accepted — we'd be going back to Cape May to live like kings.
After three trips — one of which was particularly luxurious — I've constructed a Cape May playbook, to help you on your own Jersey Shore trip.

Someplace To Rest And Remember
Beyond it's reputation as a presidential vacation spot, Congress Hall has some serious historic bonafides. You can trace them by taking a walk down the hotel's halls and admiring the framed pictures. They serve to tell the story of a landmark that was born in 1816, decimated by fire in 1878, rebuilt, and modernized by its current owner, Curtis Bashaw, in the early 2000s.
Congress Hall has a kind of earned character that conjures respect. It isn't generic or inauthentic. From the uneven floors to the decorative shuttered doors (which are a nod to when they allowed air to circulate through the hotel, in a time before HVAC), the swanky lounge (The Brown Room), a basement speakeasy (The Boiler Room), and its utter grandeur, Congress Hall feels like a functioning monument to old-American opulence.
The hotel occupies a city block, but its grand lawn takes up a massive chunk of that space and wood adirondack chairs are lightly sprinkled throughout, urging guests to sit and take in the views. Same as the rocking chairs that line the patio.
From our room, we could also fixate on the view of the ocean, thanks to a padded window seat that I claimed as my base of operations, while my wife claimed the large tub in the white tile bathroom (which also had a window view). In this cozy nook, I lounged, napped, and ate berries like a fat, happy bear (such an apt description, you guys).
This excess of comfort was so blissful, that it made it hard to venture out into the world and actually explore Cape May. That's completely opposite of what I had encountered the two years prior, where I'd held to the notion that hotels and motels don't really mean that much because it's all about location and it's just a bed. Looking back, that's nonsense that I told myself to justify hoarding dollars. If you can get luxury like this, I say grab it. If you can't, seek out the closest affordable alternative. Don't just assume that all your memorable experiences will come outside of your hotel.

Eating Well
As I've learned, some planning is necessary in Cape May if you want to avoid long waits for a table or desperate Wawa sub runs when looking for a place to eat in-season. So, a brief guide to a few spots that are worth seeking out:
For breakfast, we always hit Uncle Bill's Pancake House, an often bustling no-frills breakfast place with maple syrup so good you won't mind shelling out $7 to take a bottle home. It's also just a few yards away from the Congress Hall lawn, which was convenient. But The Blue Pig Tavern is just a bit closer (inside the hotel) and it may have overtaken Uncle Bill's in the breakfast power ranking, thanks to the Berries and Cream Waffle and savory pork link sausage.
Key West Tacos is another repeat favorite. It's a tiny taco shack located a couple of blocks off the beach that lives up to its name, thanks to the tropical kitsch and vibrant colors on its walls and the Caribbean influence in its food.
The Rusty Nail also has a beach shack feel, but it's bigger and more versatile. It's also across the street from the beach. I don't love hyperbolic statements like this, but the Rusty Nail really was the culinary highlight of the trip. I was impressed by the something-for-everyone layout, with two sand pits, live music, a lounge, bar, and casual dining areas inside. The staff was super cheery and their recommendations landed every time.
I had a full rack of ribs (above) and they were meaty, well-seasoned, and juicy. But with all due respect to the ribs and the flavorful basil and strawberry infused mojito that I washed it down with, the strawberry hot wings (which, the staff rightly predicted, require a bit of hot sauce on the side to contrast the sweet with some spicy) were a singular delight that I truly can't stop thinking about.
These restaurants are places that I had eaten at before or that I was, at least, familiar with prior to trying them on this most recent trip. The Ebbitt Room, however, is not the kind of place I'm used to considering. To quote Ron Swanson, I know what I'm about, and it's not upscale dining in a luxurious bed and breakfast (in this case, The Virginia).
That's not to imply that I eat my pork roll sandwiches sans sleeves in a parking lot. But I feel the pressure to keep my elbows off the table and mind my crumbs when I know there's a person whose job it is to sweep them up with a little table broom. I tense up a little bit. That easy going and happy boy with rib sauce in his beard at the Rusty Nail? That's me at my most real.
In pursuit of the perfect shore experience, though, I embraced the #OpulentLife and settled in nicely, I gotta say. A glass of 15-year-old scotch will have that effect. I could get used to bacon drizzled scallops, aged New York strip steaks, and cheese plates. I'm really into cheese plates now.
This is an evolution from the me that gained great joy from walking a pizza the size of a door across the boardwalk to jam down my face at the Aztec in Seaside when I was in my mid-20s. There is, apparently, a higher realm than that which funnel cake and pub burgers can provide and the experience certainly helped inch me closer toward the perfect Cape escape.

Shopping
We don't usually go to the shore to shop, but the Washington Street Mall is an open air space that is filled with shops that beg to be explored. Also, there's more food. Ice cream, fudge — it's a grown up boardwalk (the regular boardwalk in Wildwood is a quick 20-minute drive north, if you're so inclined, by the way) that swaps carnie-like barkers for friendly salespeople and skeet-ball for clothes, decor, and whatever you can find at Dellas 5&10.
Washington Street is a great place to kill a couple of hours, but it's not my idea of shore perfection. You may differ, but there are more natural and unique things waiting.
Appreciating Nature
The Cape May County Zoo's elevated walkways allow a chance to shakeup the typical zoo experience as you get a really good look at zebras and giraffes in something approaching their natural habitat. This after walking through a peaceful forest-like setting. There are more typical setups as well, but those walkways standout, especially when you go on a weekday when there are fewer people. The ability to move through at a crawl, unaffected by the throngs of people really allows you to focus on observing and learning.
Speaking of learning, we went out on a Salt Marsh Safari eco boat tour with Captain Travis Davis, Naturalist Sam Galick, and a bunch of feisty birders. When bird types would get called out, people would lose their sh*t, shouting out "That's my favorite!" and rushing to grab their cameras. It was a little intense — like bird paparazzi — but the guys kept everything light and informative with their easy banter. They also let me sit in the captain's chair a little, so the whole experience wasn't entirely traumatic for me, even though I don't even have a favorite bird.
I'm not the most educated person when it comes to these things, but it was an eye opener to get an up-close view of that beautiful setting and see what's happening to the marshlands due to erosion.
I'm also not someone who has, traditionally, put a lot of thought into where my food comes from, but I have to admit that there's a lot of charm in seeing how a place like Beach Plum Farms is run. You can taste the difference between a rando strawberry and the many (so, so many) that I had while in Cape May that came from Beach Plum Farm, which supplies The Ebbitt Room, The Rusty Nail, The Blue Pig Tavern, Congress Hall, and others with fruit, pork, eggs, and herbs. Maybe I'm starting to "get it" — because it's a lot clearer to me that the distance between a factory farm and a plate puts distance between that natural goodness and the food.

Finding It
Cape May moves at a slower pace than shore towns like Seaside and Wildwood where revelers sometimes honor the red-solo cup ethos of The Jersey Shore, but it's no less busy or lacking in activities. And that's great, but it can also be bad if you let the destination and your itinerary take control.
Originally, we were set to leave on Monday morning, but I get really selfish on vacation and often try to find ways to get just a little more time. I did exactly that this time, moving things around to stay into the night on our last day. The end result was a chance to explore more and relax by staring at the ocean.
Earlier in the trip, on a late night adventure, I'd found the ocean. Like, really found it and stared into it for awhile. it sort of became my thing, and each day after that, I had a really hard time looking away. No matter what was on the itinerary, my trip was about the ocean. It's cliché, but you really can't help but feel small and insignificant when you encounter the black void that is the night sky and the ocean when they merge. End of the f*cking earth, and it is so damn calming for all the perspective it mainlines into you.
Going to the shore is a great and celebrated thing. We're naturally drawn to the water and the beach, and then we're drawn to do everything around it that gets in the way of just experiencing it for a couple of hours. Our need to recalibrate ourselves is often done in by our need to feel fulfilled — like we really did something with our free time.
I can't lie, staying at a really nice hotel, eating great food, and drinking top shelf booze will get you a lot closer to the perfection that I was seeking for my Jersey shore weekend than a motel, food-on-a-stick, and stale beer. But no matter where you stay and what you do, when you come to the shore, steal those moments and just stare the ocean in the face. Be deafened by the silence and claim just a little peace. That's shore perfection. Well, that and the strawberry hot wings… but mostly the ocean staring thing.