Younger generations increasingly value experiences and travel… pretty much over everything. This means that the digital generation is spending more time on the road and in the outdoors than ever before. But the days of carting around a cumbersome Rand McNally Road Atlas and just showing up to a hotel or campsite without warning while on a long trip are gone.
That's the bad news.
Here's the good news: with summer approaching — undoubtedly the peak season for road trips and outdoor travel — I can confidently say that there is indeed an app for anything you might need to help plan a trip in 2023. And these aren't your average GPS apps, either. The best outdoor travel apps now have offline capabilities, crowd-sourced recommendations, and can offer users the information they didn't even know they wanted about nearly anywhere in the country if not the world. And, of course, CHAT GPT is also super helpful as a planning guide.
If you're going out on a long road trip this summer, or staying close to home for some weekend or outdoor day trips, you'll want to download one or more of the following apps, depending on how you travel:
BEST APP FOR NATIONAL PARK TRAVEL – Google Maps
Yes, really. I know you have Google Maps, but you may not know about its new features. The OG maps app has recently undergone a major update making it even more invaluable to National Park travelers. Google Maps partnered with the National Park Service to gain input from directors and park rangers to be sure maps were useful and accurate while visiting National Parks. Maps now show the entrances to each park on the base map, have photo pins for the most popular areas in a park, and show the entire trail on the map – not just the starting point.
Coolest Feature:
Google Maps now has support for user-generated content, including photos and reviews of trails.
Offline Capabilities:
One of the most exciting updates is that Google Maps has an easier action for downloading offline maps – making it safer and easier to use in parks with little to no internet access.
Cost: Free to download and use
Download here: Apple and Android.
BEST APP FOR FINDING HIKING TRAILS – AllTrails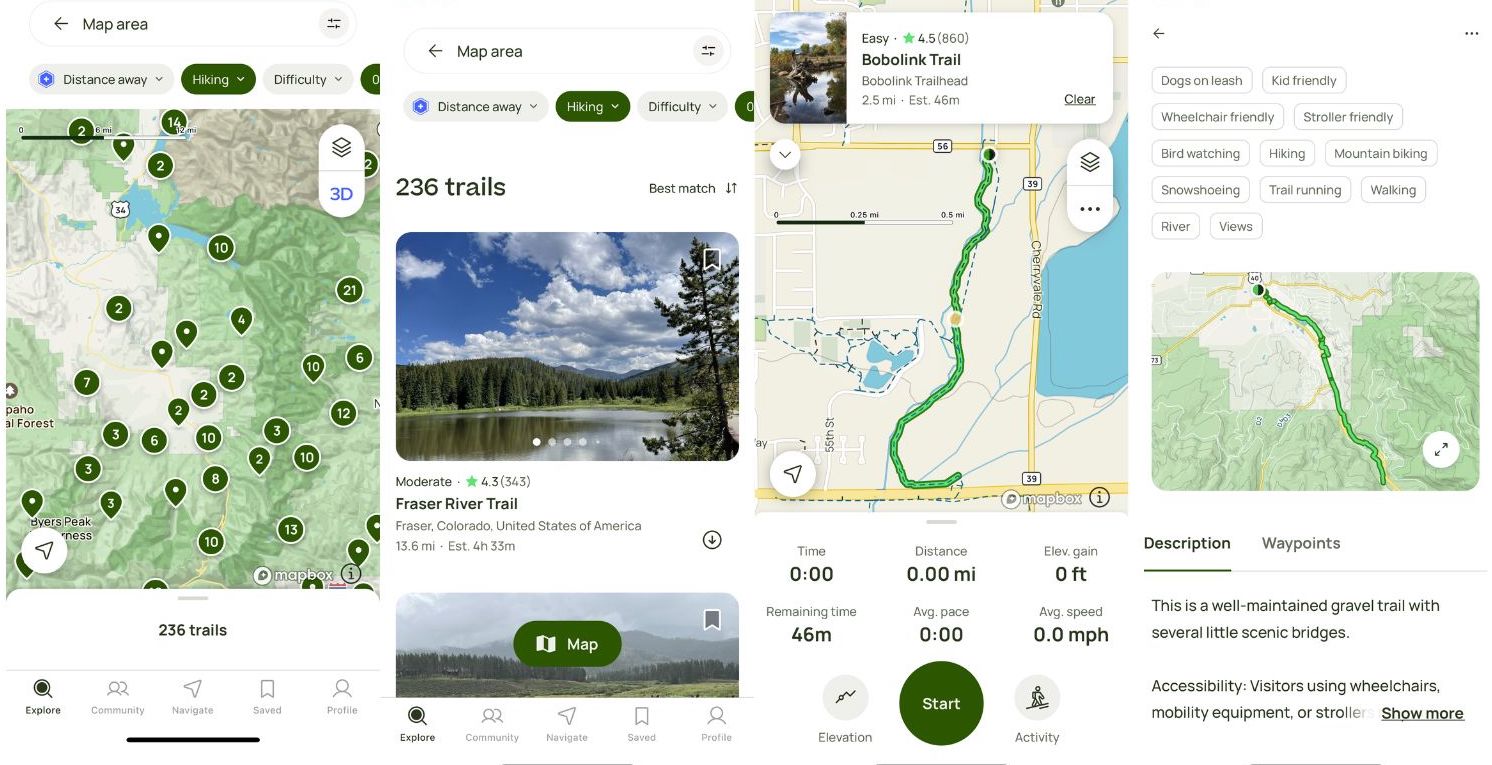 While there are always new additions to the hiking trails app game, the one that always comes out on top is no surprise: AllTrails. With over 400,000 trails on the app, and reportedly over 45 million registered users, it is by far the most comprehensive and useful app for hikers of any level.
Coolest Feature:
There are a lot of features that come in clutch for a day or week on the trail, but the most useful for me is the trail reports. If I am heading out to a new (or old) trail I love to see what users have reported within the last few days to get an idea of how I can best be prepared.
Offline Capabilities:
AllTrails + offers downloadable maps for offline use using your phone's navigation without a signal – a huge plus.
Cost: Many features are free to use with a registered account. AllTrails+ is $35.99/year and includes offline map downloads, 3D maps, and wrong turn alerts.
BEST APP FOR FINDING CAMP SPOTS – The Dyrt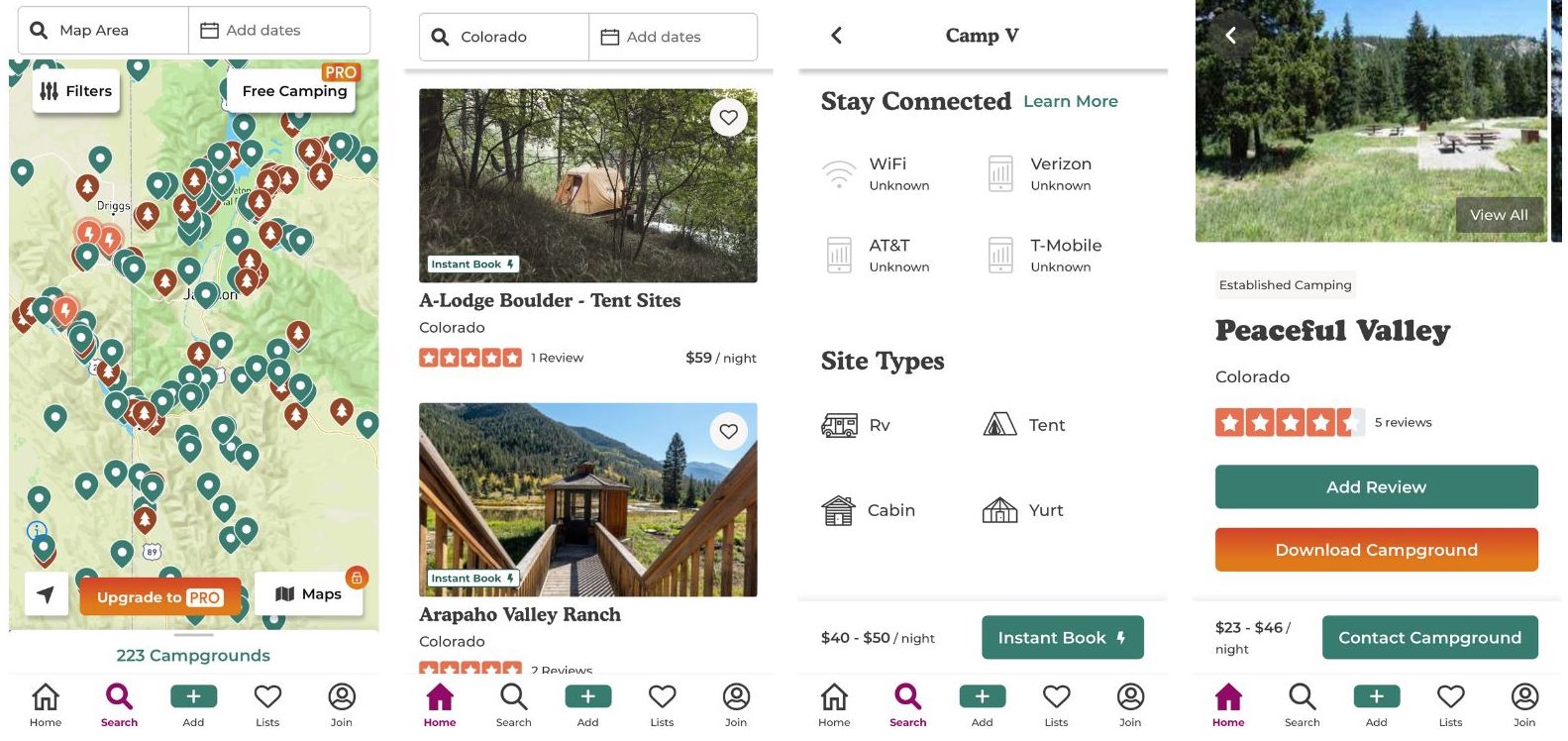 Whether camping, van-lifing, or looking for a glampground, it can be difficult to suss out which campgrounds or dispersed land will have the amenities you want until you get there. That's where The Dyrt comes in. A mix between AirBnb and Yelp – the app has everything you need to go off the grid or pretend to.
Coolest Feature:
I love the ability to see reviews and photos from other campers/glampers along with information on cell service and amenities that may be important to me. Users can also request to book many of the sites within the app and find free camping.
Offline Capabilities:
The Dyrt offers a downloadable campground database and downloadable maps for offline use with a Pro membership.
Cost: The Dyrt's free membership allows you to explore campgrounds and create lists. The Dyrt Pro is $35.99/year and includes offline maps, cell service maps, dispersed camping maps, route planner maps, access to 5,000+ free camp spots, and more.
Download here: Apple and Android.
BEST APP FOR FINDING QUIRKY ATTRACTIONS – Roadside America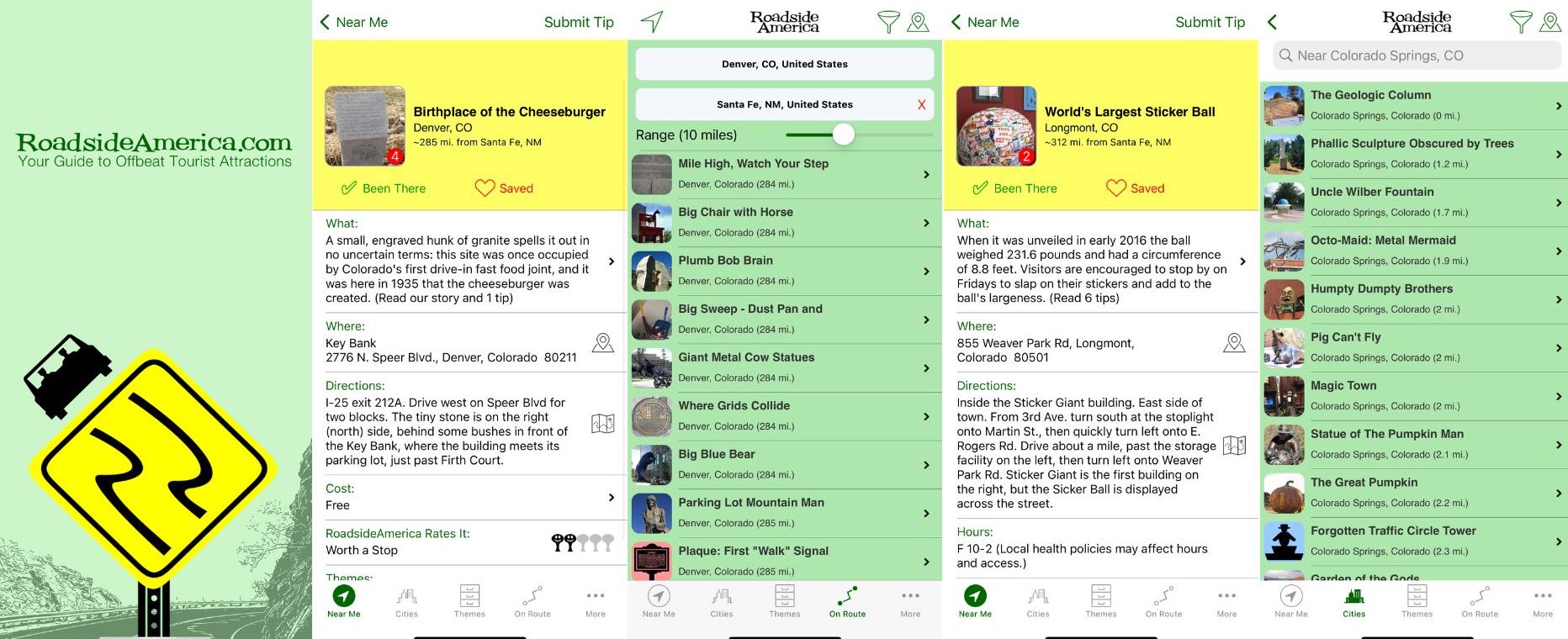 One of my favorite parts of summer road travel is finding quirky hidden gems. World's Largest Sticker Ball? I'm in. Giant Wooden Nickel? Sold. Killer Bee Capital of the World? Obviously, I'm there.
These off-beat attractions are a great way to bring a little levity to a long road trip – and an opportunity to stretch your legs while you're at it. The best way I've found to find them has always been Roadside America, first the website and now I use their app. You can find the offbeat nearby, on your travel route, or by theme (some of my favorites are "Big", "Graves" and "Irrational Geographics").
Coolest Feature:
I love the ability to save your attractions, as well as check off the ones you've visited within the app. Each attraction listing gives a wealth of info: what, where, directions, hours, cost, call, rating, and website.
Offline Capabilities:
Users can access their saved attractions while offline, although the rest of the app works best with network connectivity.
Cost: There is a one-time charge of $2.99 to download the app and unlock one region of the US. Other regions can be unlocked at a further cost of $6.99 for all.
Download here: Apple.
BEST APP FOR THE TECH-SAVVY MOUNTAINEER – PeakVisor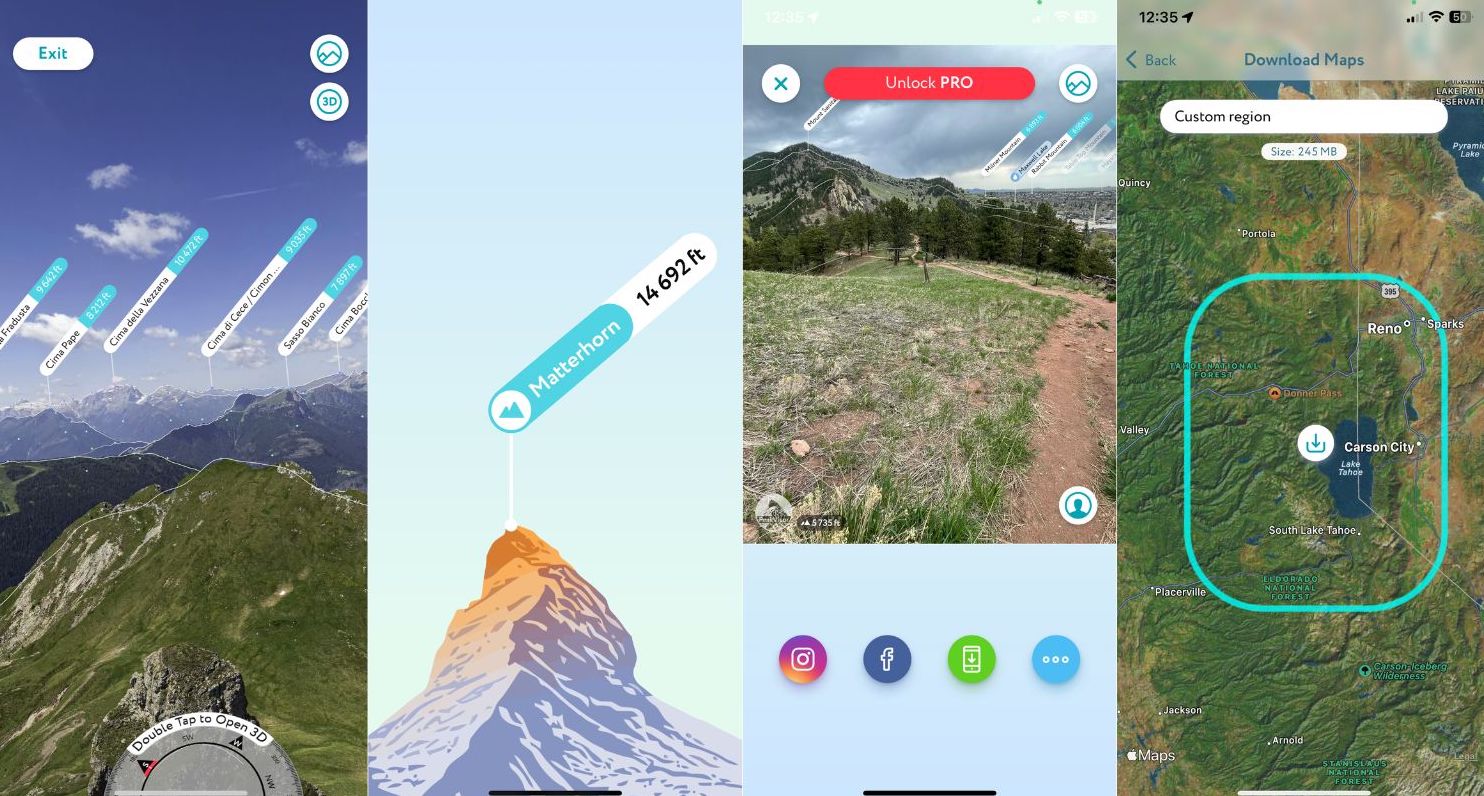 Whether you're hiking up a mountain peak or simply admiring one from a distance (or even in a photo), PeakVisor has your back. The Italian-designed app uses 3D augmented reality and your phone's camera to identify mountain peaks – giving their name, altitude, and a detailed interactive guide to the location for navigation.
Coolest Feature:
I love that PeakVisor will identify peaks in photos you upload from your phone – it doesn't have to be in the moment. A fun way to learn and explore new and old vistas.
Offline Capabilities:
The PeakVisor Premium subscription offers unlimited offline capabilities, as long as your map is downloaded before losing service.
Cost: PeakVisor is free to download and use, with a Premium subscription that includes offline capability, custom trails, and photography tools is $29.99/year or $89.99 for a lifetime subscription.
Download here: Apple and Android.
BEST APP FOR THE SOLO TRAVELER – Cairn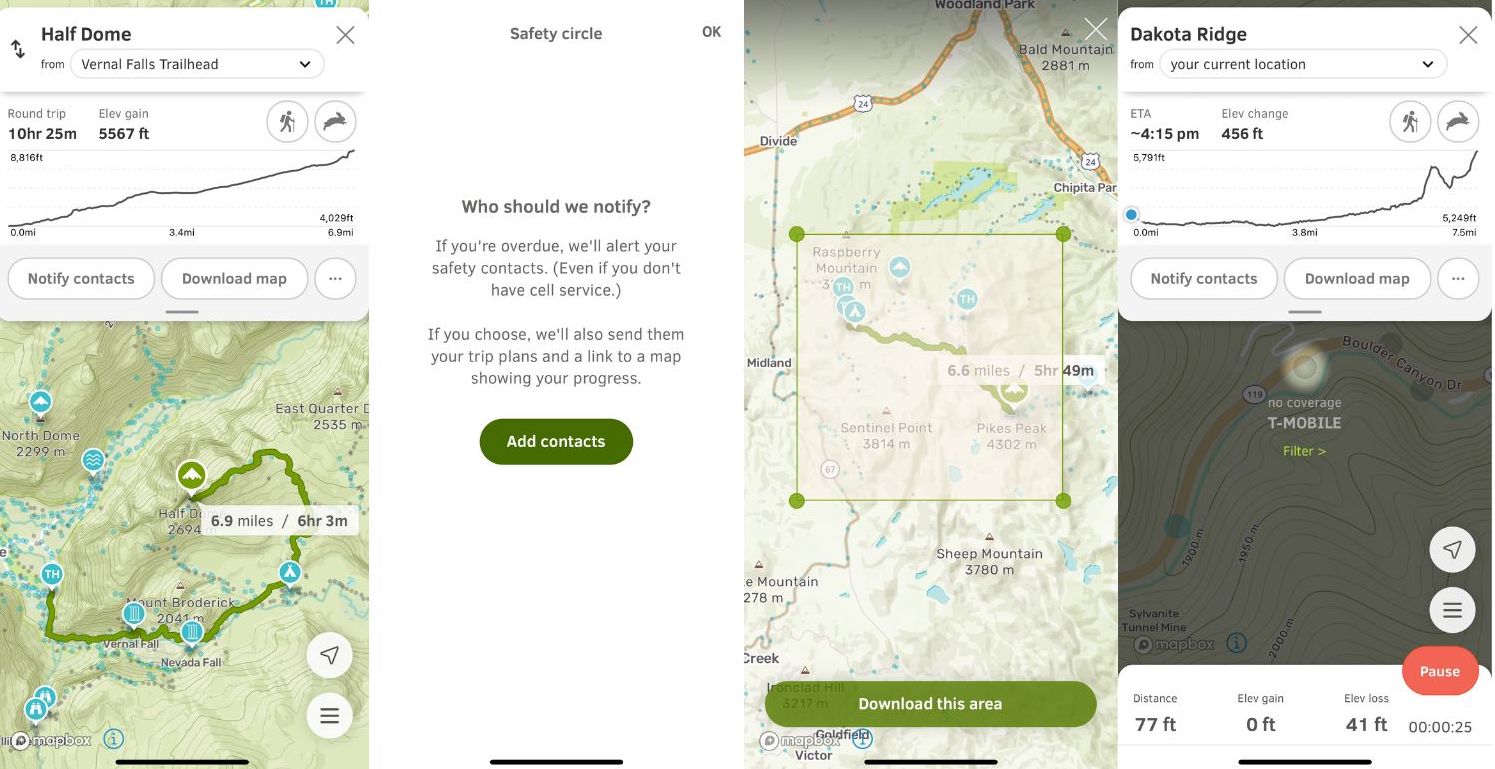 This should really be named the best app for hiking and outdoor safety, period – but it is especially essential for solo hikers. As a seasoned solo adventurer, my number one piece of advice is always to let someone know your hiking and travel plans – and Cairn makes it too easy not to. Users are able to add contacts of friends and family to a "Safety Circle" and then alert members of the circle to their hiking plans, starting point, estimated arrival time, overdue alerts (even when you don't have cell service), and a link to a map showing your progress if you choose.
Coolest Feature:
The thing that really drew me to Cairn is the crowd-sourced cell-service data via different carriers on the trail. While I love a good disconnect moment in nature, as a solo traveler and hiker it isn't the best idea to head off alone without any means of communication in case things go south. With Cairn you can check the route in advance and see if you can expect any service, and if not be prepared with other methods (I love my Garmin InReach for these times).
Offline Capabilities:
You have the option to download offline maps worldwide on Cairn Premium plans.
Cost: Cairn offers free and premium plans. The free version provides trails, track recording, and cell coverage data, while the premium offers overdue alerts for your safety circle, trip progress map, downloadable maps, cell coverage by specific carriers, and on downloaded maps. After a 7-day free trial, the premium is $4.99/month or $26.99 for a year.
BEST APP FOR RESPONSIBLE RECREATION – Native Land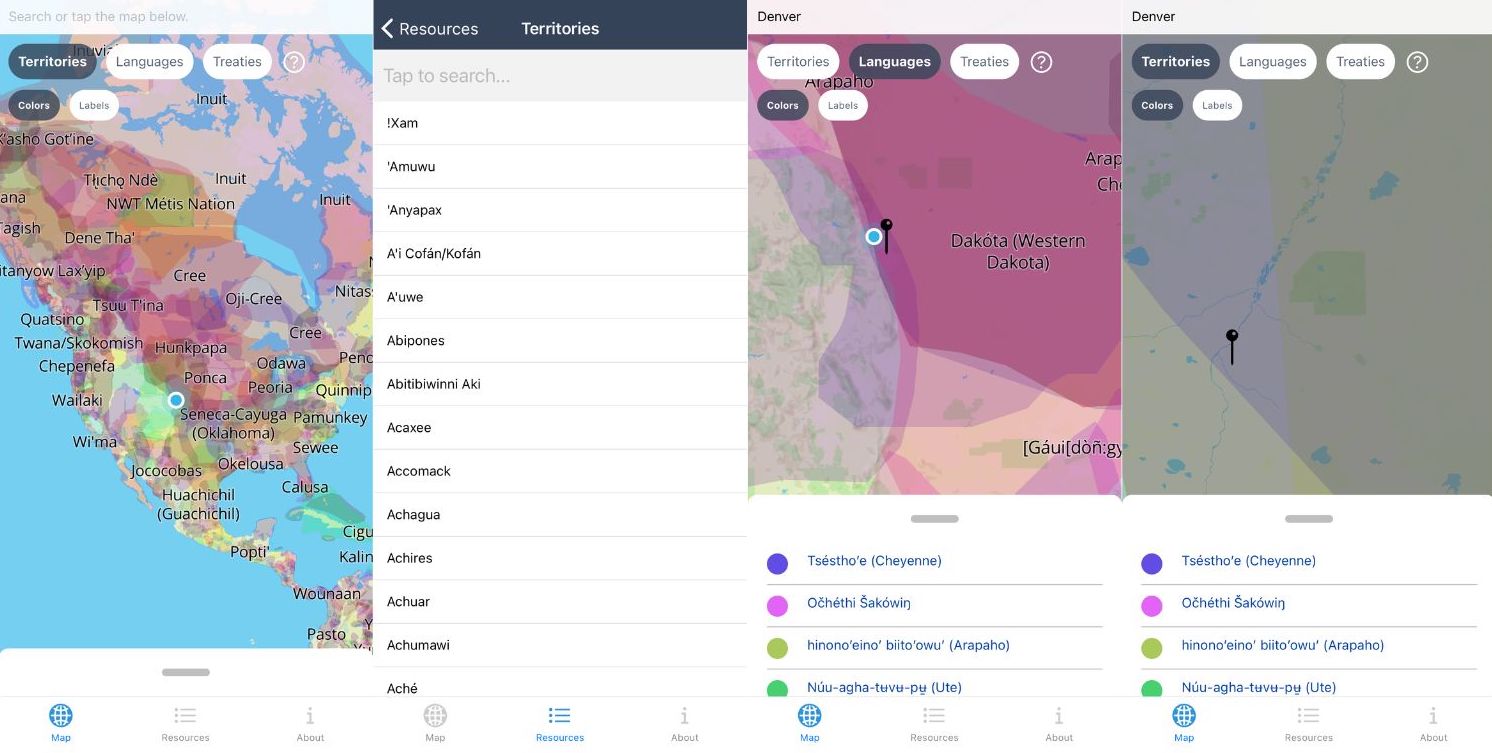 When traveling it is important to remember that regardless of where you are – you are on native land. While Native Americans and other indigenous people have experienced systematic erasure throughout history, it is more important than ever to take steps to learn and pay respect to the people who inhabited the lands before you. Native Land has long been the website I use to research before a trip, and their app is immensely useful while traveling.
Coolest Feature:
Native Land makes it easy to explore the map or search for an address to find which Indigenous Nation you are recreating or traveling on. They are clear that the boundaries aren't necessarily set and it is a work in progress, but it is a great start for your own learning. You can toggle between treaties, territories, and languages while exploring the map.
Offline Capabilities:
Native Land maps will work offline after the initial download while online.
Cost: Free
Download here: Apple and Android.
BEST APP FOR RESERVATIONS AT NATIONAL PARKS – Recreation.gov
With the onslaught of visitors to many public lands across the United States, reservation systems and timed entry tickets are being rolled out more and more – and the great majority can only be procured via recreation.gov. You'll need the app to secure campsites at many parks, timed entry tickets, and reservations to many of the most popular parks during the summer months.
Coolest Feature:
Recreation.gov is also how travelers can enter lotteries for some of the most in-demand outdoor experiences such as The Wave in Coyote Buttes and Angels Landing in Zion National Park.
Offline Capabilities:
The Scan and Pay feature for campsite reservations is available offline, with your transaction being processed when you come back online.
Cost: There is no cost for the app itself, but many reservations have a procession fee, while campground reservation fees vary.