This piece was updated to reflect Parasite's Oscar wins and the insatiable demand for Ram-Don.
Bong Joon Ho's Oscar-winning smash Parasite has been on my mind a lot this winter (check out Vince Mancini's review here). The film slices to the heart of working-class and upper-class tensions with an incredibly deft hand. It's a literal upstairs/downstairs story that skewers the wealth gap. And, like so many great pieces of cinematic art, food is often at the center of its pivotal scenes.
There's no shortage of interesting food scenes in Parasite — from pizza getting topped with packages of hot sauce to peaches serving a pivotal role (this is a spoiler-free zone). But one scene stands out, leaving an indelible impact on anyone who watches movies with their salivary glands percolating: The Ram-Don scene. I'm not going to get into why the dish is made in the movie or what happens while it's eaten, but the scene has definitely grabbed the attention of internet food aficionados. There are Reddit threads devoted to it and home cooks have been posting their own versions of the dish to Twitter to celebrate the film.
Has it been memed? You'd better believe it.
As a metaphor, Ram-Don is Parasite, in many ways. It's wealth and poverty co-mingled; inextricable from one another; tragically complimentary. As a dish, Ram-Don is actually jjapaguri — a Korean comfort food that combines two instant noodle packages into one stoner-inspired meal. According to reporting on the film in the L.A. Times, the name "Ram-Don" was a way to make the dish more accessible to non-Korean speaking audiences and make life easier for translators. Hence, ramen and udon, or "Ram-Don," was born.
The brilliance of Ram-Don in the film is that the rich family's matriarch insists that it's served with a strip of sirloin. What looks like it's probably a5 Waygu. This expertly bridges a working-class dish of instant noodles with an expensive slice of beef only the mega-wealthy would dare keep in the fridge. Our own Steve Bramucci tried to do something similar in the Oscar-themed UPROXX Cooking Battle [It seems to have worked, he's way out in the lead -ed].

After watching the film, I knew this was going to be a dish that became an instant part of my lunch rotation. It's ramen, udon, and steak. I set out to make the dish for the first time after a long flight. Nursing a jet lag requires hardcore comfort food and Ram-Don is exactly that.
The recipe below is my interpretation of the dish. There are a few wrinkles in my recipe here that aren't shown on screen. I also don't have access to the exact Korean ingredients from the film, since I don't live in Korea or near a flourishing Koreatown. I've done my best with what I have and added a few flourishes here and there. Still, the heart of the dish remains the same and the end result is freakin' delicious.
The Ingredients: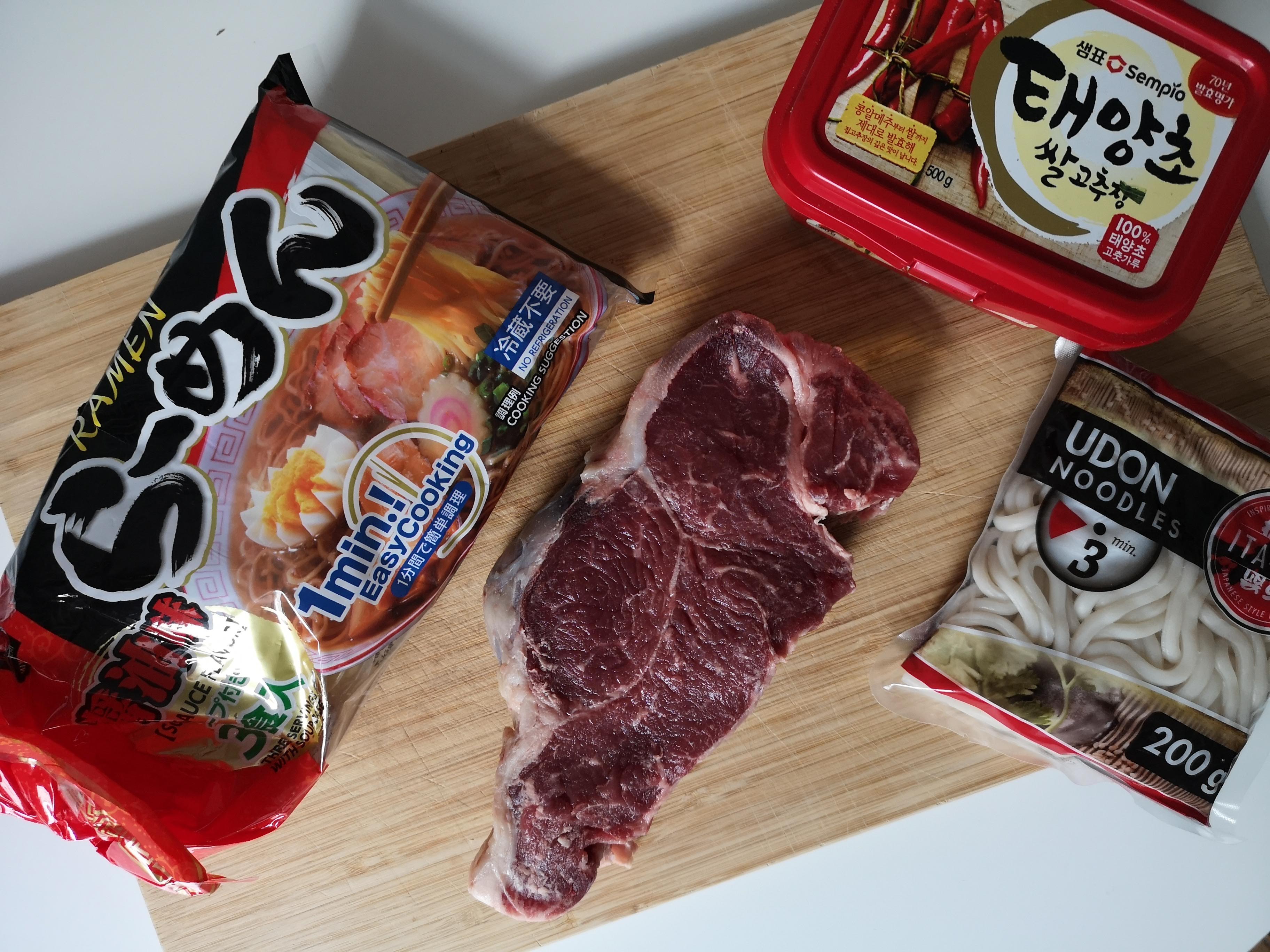 First, let's talk about noodles. I'm not making home-made udon and ramen for this. Sorry. This is comfort food and executing those noodles for a single batch takes all the "comfort" out of it. I am, however, using no-dried versions of the noodles for a little more depth to the taste and texture.
I didn't skimp on the steak but I didn't break the bank either. The steak in the film (pictured above) looks like it's verging on wagyu. I'm not so decadent (yet) that I can hack up a dry-aged wagyu top sirloin and toss it into a basic noodle dish. Instead, I grabbed a local, grass-fed, 28-day dry-aged top sirloin that was closer to 20 bucks (instead of 100). It's about an inch thick and gets the job done. I'm also going to marinate the steak to give it a little more of a sweet-sour-umami depth.
Lastly, I have some Korean Gochujang red chili paste on hand to add an extra layer of spice and funk to the finished product. This isn't seen in the film but I can't imagine it not being there.
So, the ingredients are:
1 package fresh Ramen noodles
1 package fresh Udon noodles
8 oz Top Sirloin steak
1 tbsp Gochujang
2 tbsp neutral oil (for searing)
1 Soup sachet from instant noodle package
1 tbsp Oyster Sauce
Steak Marinade:
1 tbsp Soy Sauce
1 tbsp Sesame Oil
1 tbsp Rice Wine Vinegar
1 tbsp Brown Sugar
1 Green Onion (chopped)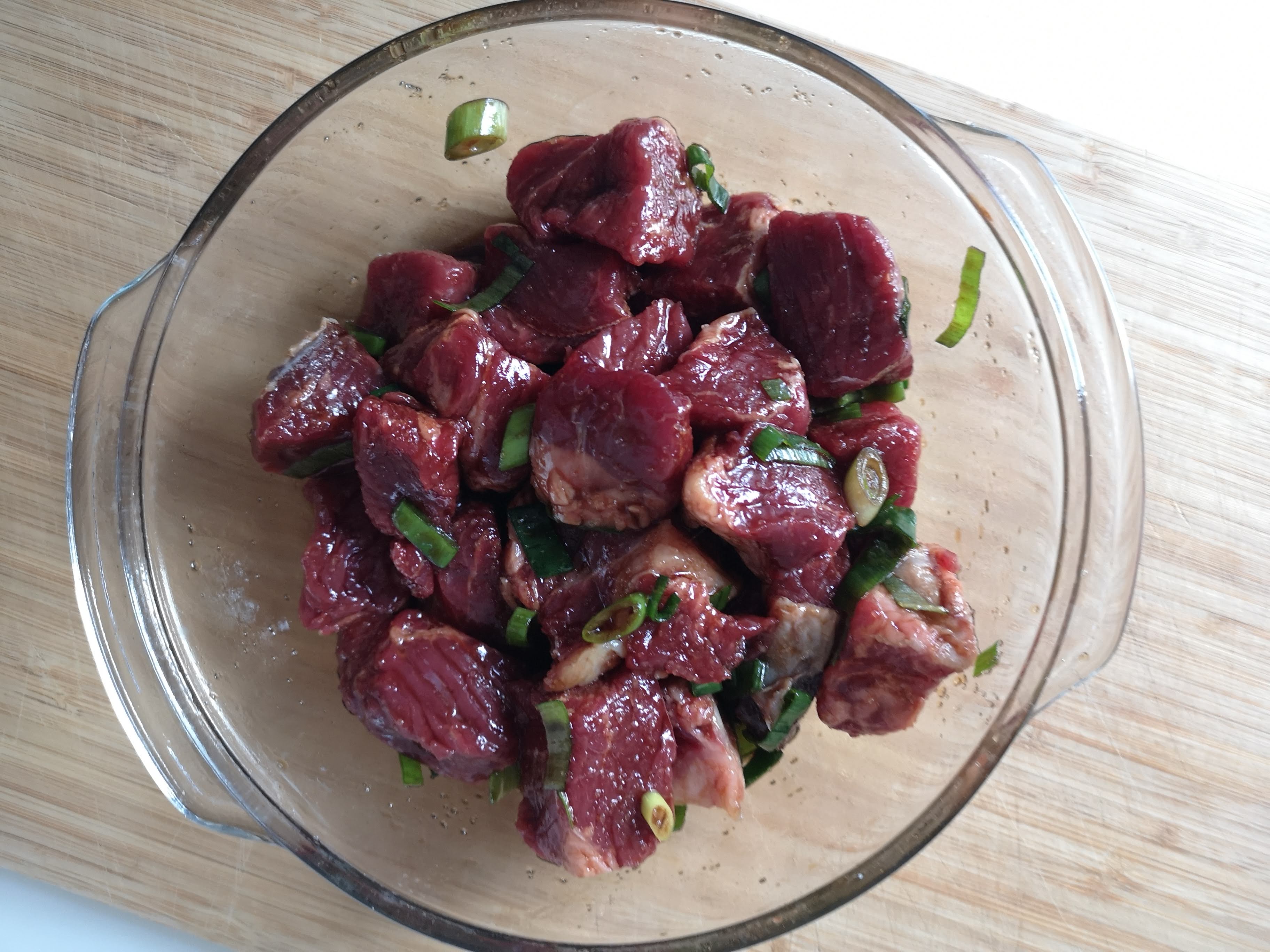 To prep, I trim the steak of all the gristle and thick layers of chewy fat and then cube it into one-inch pieces. I then toss the steak in the soy sauce, sesame oil, vinegar, sugar, and green onions.
I make sure the steak is evenly coated and place in the fridge (covered) to mellow for about an hour. I take the steak out an hour before I'm going to start cooking so that it comes up to room temp. Then, we're ready to go.
Cook: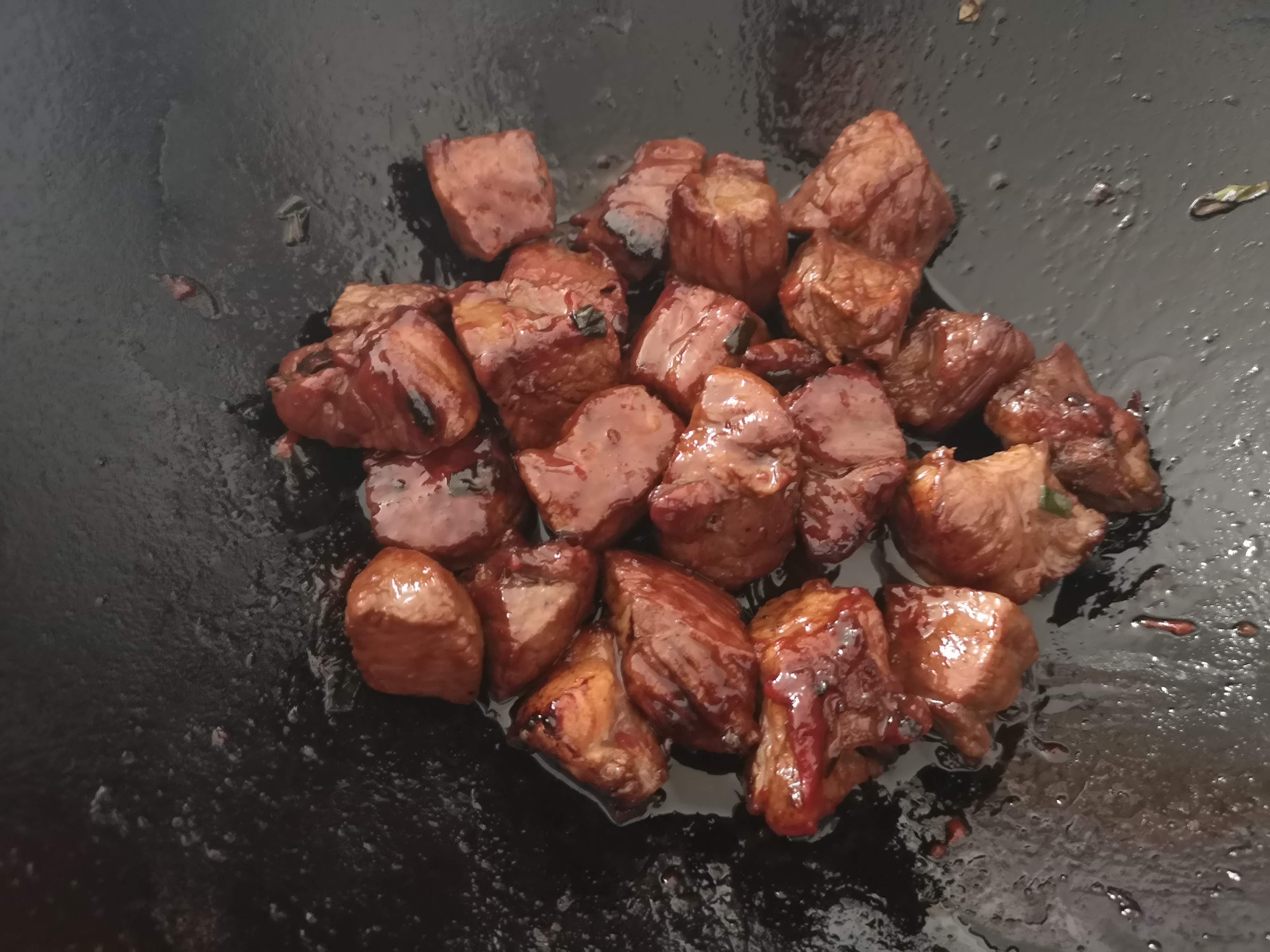 The first thing I do is get a wok ripping hot with a neutral oil (I used vegetable oil). Once the oil starts to smoke, I slowly add in the cubes of beef (do not just dump in the whole bowl as you don't want all the marinade to water down the oil). As soon as I've finished adding the cubes, I start to flip the cubes that went in first until they're all turned at least once. You're aiming for 60 to 90 seconds of cooking on each side to get to a pink medium-rare.
Once there's a nice sear on two sides of the cubes, I take them off the heat. I add in a good tablespoon of Gochujang and toss the steak until the spicy sauce is completely integrated, creating a dark sauce around the steak (this sauce is crucial later).
I take out one cube of steak to make sure it's where I want it. And, yup, perfectly pink and succulent.
I pour boiling water into a pot and bring it to a brisk boil. I add in the udon and cook for about two minutes. You don't have to do much here as the noodles will naturally separate. If they don't, use a set of chopsticks to help that separation along.
After two minutes, I add in the ramen and, again, use the chopsticks to get everything separated. As soon as the water returns to the boil (about a minute), I drain the noodles.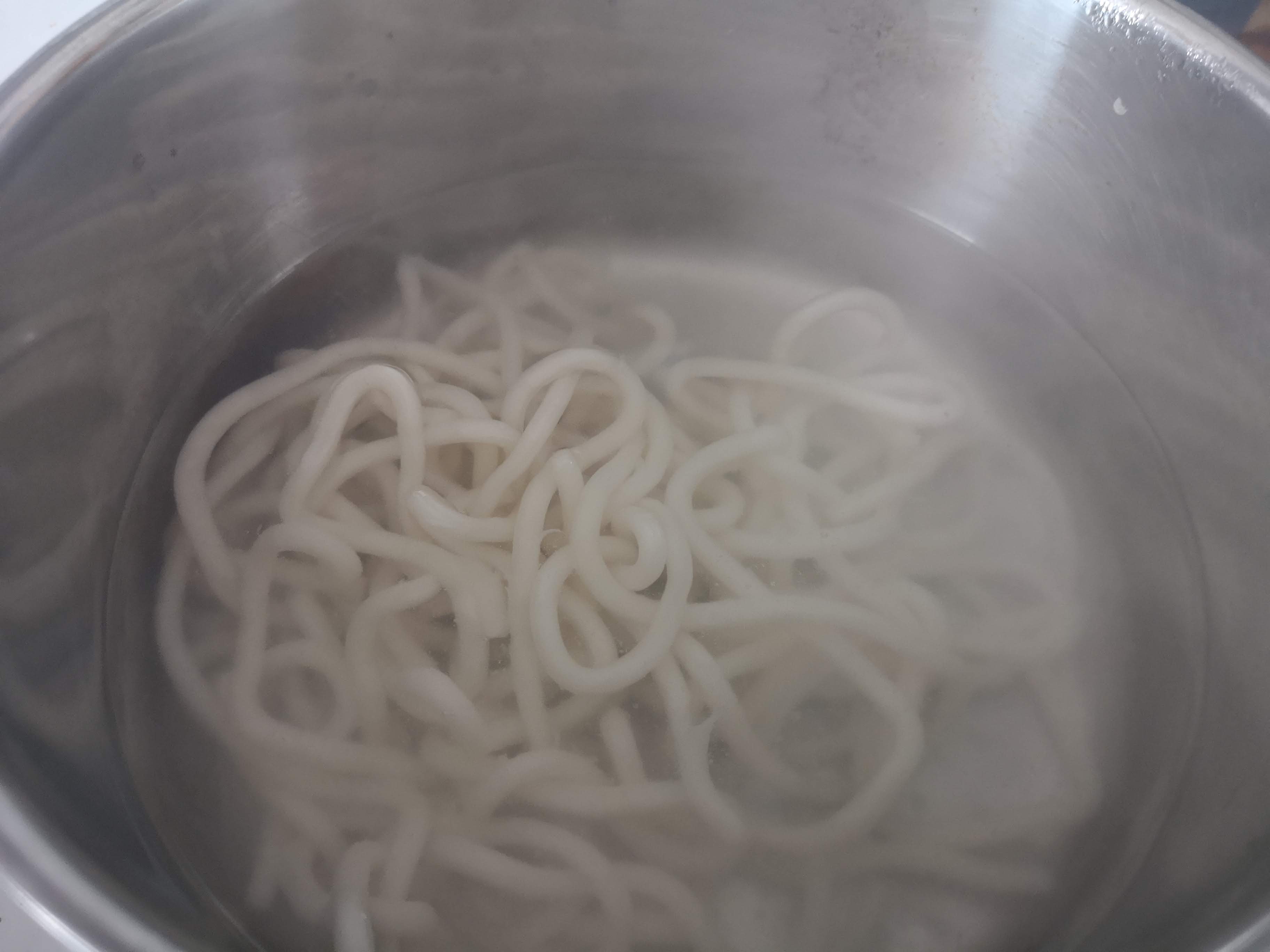 I add the noodles to the steak that's been resting in the wok. I also add the soup sachet from the ramen package. In this case, this is a soy sauce-based wet sachet (that is, not a powdered one). I also add a small tablespoon of oyster sauce. I then toss the noodles until they're well-coated and completely brown from the sauce. And with that, we're ready to serve.
Serve: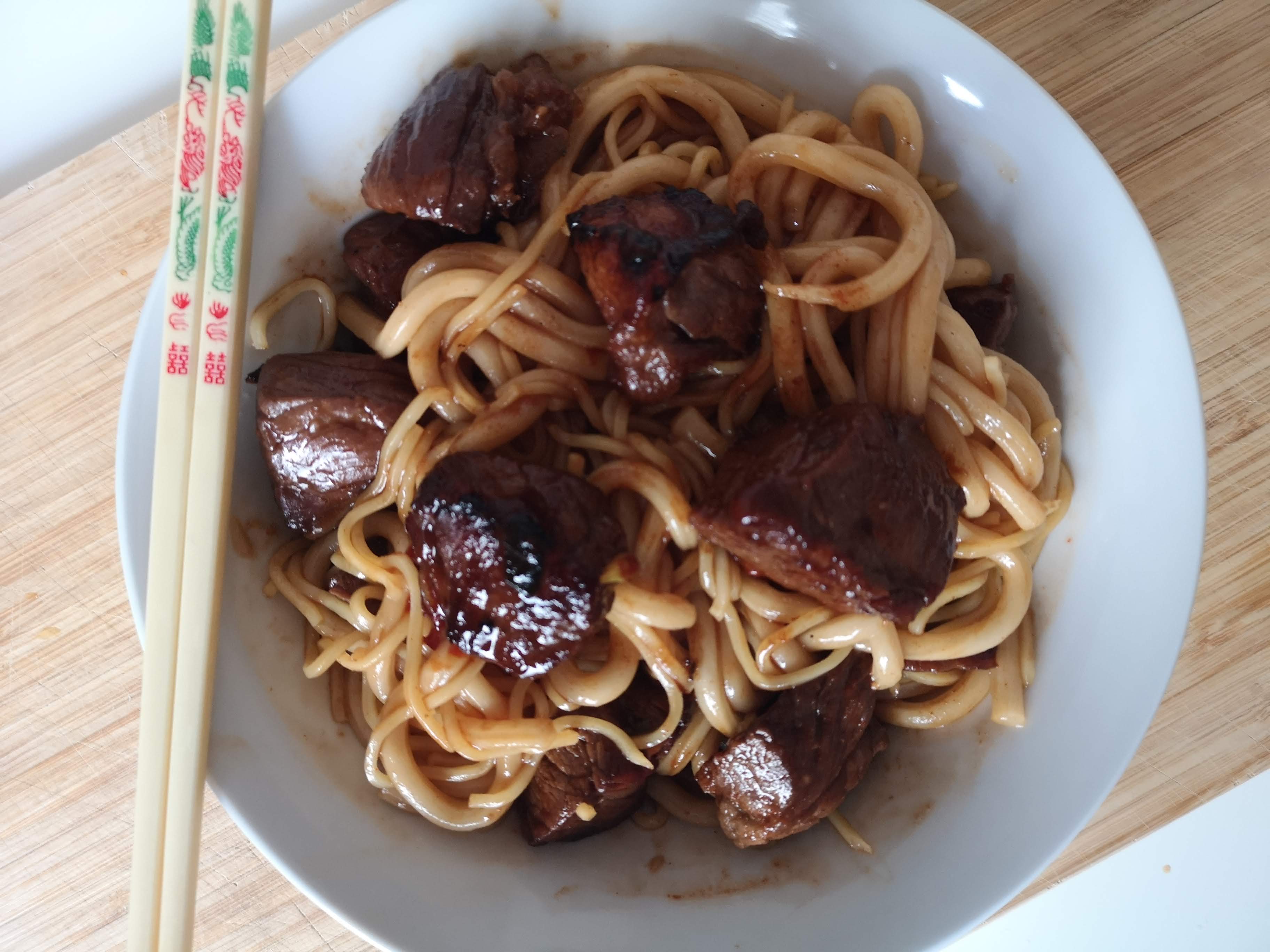 I grab a large noodle bowl and use my chopsticks to roll the noodles into the bowl, rolling up pieces of steak along the way. I fish out pieces of steak and place them around the rim of the bowl for presentation and get ready to tuck in.
This is a big dish — it's two servings of instant noodles with a big-ass steak. I dive in and it's nourishingly delicious. The heft of the udon matches the softness of the sirloin. The sear on the steak with sweet and slightly sour umami is underpinned with a hint of spice and balances well with the umami-bomb noodles.
At first, the ramen is barely there. Then, after digging past the first few bites, the ramen offers a light reprise form the heavier udon. This is pure comfort food that's super easy to make. If you take away the steak marinade, the whole dish took about six, maybe seven minutes to make from the time I turned on the stove to dishing it up.
Sadly, I couldn't make it through the whole bowl. It's filling and umami-heavy and there's a freaking lot of it. So I saved half of the dish for a late-night fridge run. The sort you crave after hitting the theater to watch Parasite for the second time in three days — which is exactly what I did.