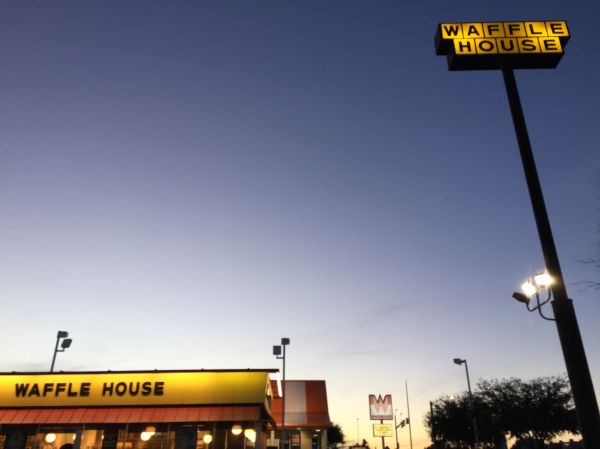 Still looking for the perfect Valentine's Day dinner plan to impress your beloved? Well, look no further. Waffle House is now taking reservations for its annual Valentine's Day dinner event!
That's right. The Southern chain will transform these 148 locations for the perfect romantic evening.
One Dallas, Texas Waffle House employee said the restaurant will "definitely be set up a lot more romantic." Wow, sounds legit. You may even be able to turn this into a dinner/spa date combo if you happen upon this particular location.

Diners can expect classy white table cloths, ambiance courtesy of a little candle light, and perhaps even live entertainment. PLUS, in addition to the regular mouthwatering menu, Waffle House will offer a T-bone steak special. Because nothing says 'I love you' quite like a giant steak with a humble side of toast. (At the very least, your dog will go crazy when you bring home the t-bone.)
Maybe you'll meet someone famous! Like Kanye, Kim, Chrissy, or John. Or B.W. Webb (peep his sleeve.)
This will be the ninth time Waffle House has held a Valentine's Day event, and they expect to be pretty packed. So, clear you calendar and pick up your phone because spots are limited!