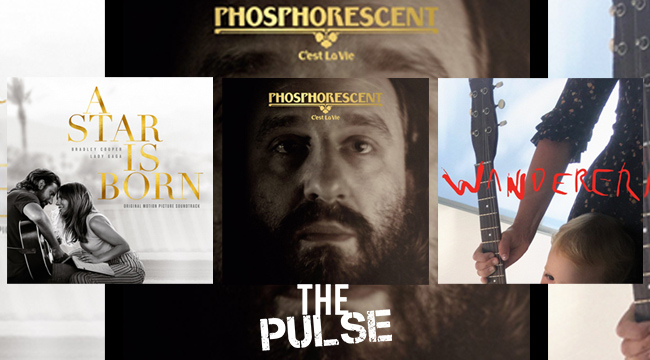 The Pulse is the Uproxx Music guide to the best new albums, mixtapes, and other music releases that matter this week. Find our complete list of the records coming out in September here.
It's a big week for indie comebacks, as both Phosphorescent and Cat Power are returning with their first new albums in quite some time. Actually, it's a huge week in general: As the holiday season creeps closer, the release schedule gets busier, which the slate of new records that's out this week proves.
There's Lady Gaga and Bradley Cooper's anticipated A Star Is Born soundtrack, a fresh batch of tunes from country icon Eric Church, a new version of another 2018 album from Jim James, a new record from alternative rock favorites Twenty One Pilots, and a whole bunch of hip-hop. Again, it's a big week, so let's dive into it.
Phosphorescent — C'est La Vie
Between albums, Matthew Houck kept busy with a lot of non-music things, but now he's back in the saddle and very clearly ready to ride. C'est La Vie is led by a parade of infinitely enjoyable songs, like the jubilant "New Birth In New England" and the more meditative title track.
Cat Power — Wanderer
It's been a long time since Chan Marshall's last album as well, and like Houck, she's making the most of her return. Included here are Lana Del Rey collaboration "Woman" and a sparse cover of Rihanna's "Stay."
Read our review of Wanderer here.
Lady Gaga and Bradley Cooper — A Star Is Born (Original Motion Picture Soundtrack)
This is Gaga's big screen big break, and it would seem like she's really capitalized on the opportunity. Cooper is also pretty darn impressive on the film's soundtrack, as he holds his own on songs like "Shallow," a striking ballad between him and Gaga.
Adrianne Lenker — Abysskiss
The folks from Big Thief have a knack for venturing out on their own and coming up with exciting solo endeavors, the most recent example being Lenker. The last single she dropped before the album's release was "From," a gentle and delicate track that you don't want to end.
T.I. — Dime Trap
T.I. has been one of the biggest hip-hop figures of the millennium, and now he's back with his first album in four years. There are a lot of excellent contributors on the project as well: Yo Gotti, Teyana Taylor, Jeezy, Meek Mill, Young Thug, and Anderson .Paak all guest, and there's also production from Swizz Beatz, Dr. Dre, and others.
Ghostface Killah — The Lost Tapes
The members of the Wu-Tang Clan are still getting after it nowadays, including Ghostface, who just dropped his first album since 2015. Again, there are great guests here, including Snoop Dogg, E-40, Big Daddy Kane, Raekwon, and a host of others.
Eric Church — Desperate Man
Church has a track record of being one of the biggest country figures of the past ten years or so, and he's looking to continue his streak of success with his sixth album. The title track is a fun summery tune that will bring some much-needed warmth and pizazz as fall's chills start to take over the land.
Jim James — Uniform Clarity
The My Morning Jacket frontman put out one of the year's best true rock albums with Uniform Distortion, but his voice has always been nicely complemented by softer acoustic instrumentation as well. That's the theme of this alternate version of the aforementioned record, which is led by a more tender version of "Over And Over."
Mozzy — Gangland Landlord
Mozzy has made the most of the attention he's received after appearing on the much-hyped Black Panther soundtrack earlier this year. The new album follows up his Spiritual Conversations EP, and it features ScHoolboy Q, YG, Ty Dolla $ign, A Boogie Wit Da Hoodie, Yo Gotti, and others.
Molly Burch — First Flower
Burch's 2017 debut album Please Be Mine was a fine slice of psych-country, and she's similarly expanding on country in her own special way on her upcoming record. Songs like "Candy" are downright gentle indie rock, "To The Boys" is akin to '60s-style lounge music, and through all that Burch tries, she sounds comfortable.
Sheck Wes — Mudboy
"Mo Bamba" was a hit, and now it's up to Wes that he's more than just that song. He'll try on Mudboy, and according to him, the album will be light on featured guests, an admirable move that should allow him to shine as brightly as he can.
Lil Baby And Gunna — Drip Harder
Gunna and Lil Baby are two of the hottest Atlanta rap exports in recent memory, so this is a momentous occasion for fans of the city's hip-hop. Songs like "Drip Too Hard" show that they work great together, as it features a smooth but booming beat and a ton of chemistry between the two.
Kero Kero Bonito — Time 'n' Place
The London group dropped this one out of nowhere, and it's their first album on Polyvinyl. "Time Today" is a load of breezy and cheery fun, and a great primer for an album that's full of infinitely listenable and light indie pop.
Fucked Up — Dose Your Dreams
And now for something completely different. The Canadian hardcore band has returned with their first album in four years, and they don't seem to be the same band you may remember from 2008's The Chemistry Of Common Life. "Dose Your Dreams" is downright funky, but "Accelerate" brings them back into more hardcore territory, albeit with some sonic experimentation at play.
Twenty One Pilots — Trench
Few alternative groups have had as much mainstream success in recent years as this Columbus, Ohio, duo. Their previous album, 2015's Blurryface, went No. 1, a feat that they presumably hope to repeat. The record is led by songs like a grungy and funky "My Blood," the massive "Jumpsuit," and the reggae-influenced "Nico And The Niners."