With Uproxx's Best Albums, Best Songs, and Best Hip-Hop Albums of the 2010s out of the way, it's once again time to look forward to some new releases, but fortunately, we only have to do those one week at a time. Whether you agreed with our picks or not, one inarguable fact is that every Friday a new pack of releases will vie for a spot on a future list and as usual, our Best New Hip-Hop Albums Coming Out This Week column is here to help fans hash out which ones are worth a spin.
There's no lack of options as we round into spooky season in full; not only are there a couple of New York-based rappers — Casanova and Lil TJay — looking to put their city back on the map (in truth, it never left, but that's for another time), two former XXL Freshmen — Curren$y and Wale — look to prove their longevity with a pair of releases embracing their respective signature sounds. The proof is in the pudding; you don't have to have one of the best albums of the decade to stand out from the pack and carve out a longstanding legacy, just good, old-fashioned hard work, consistency, and solid, enjoyable music come new album release day. Here are all the best new hip-hop albums coming out this week.
Casanova — Behind These Scars
The Brooklyn rapper is probably better known for his part in the rise and ignominious fall of rival Tekashi 69, but his August single "So Brooklyn" has picked up steam thanks to a vintage Fabolous feature and a series of remixes from other mixtapes stars, so that may change in the near future. His upcoming debut is a 10-song set that also features the currently white-hot Lil Baby and Young Thug, so he's already got a leg up on his regionalist brethren as a New York rapper with a chance to blow without social media antics.
Curren$y, Trademark, and Young Roddy — Plan Of Attack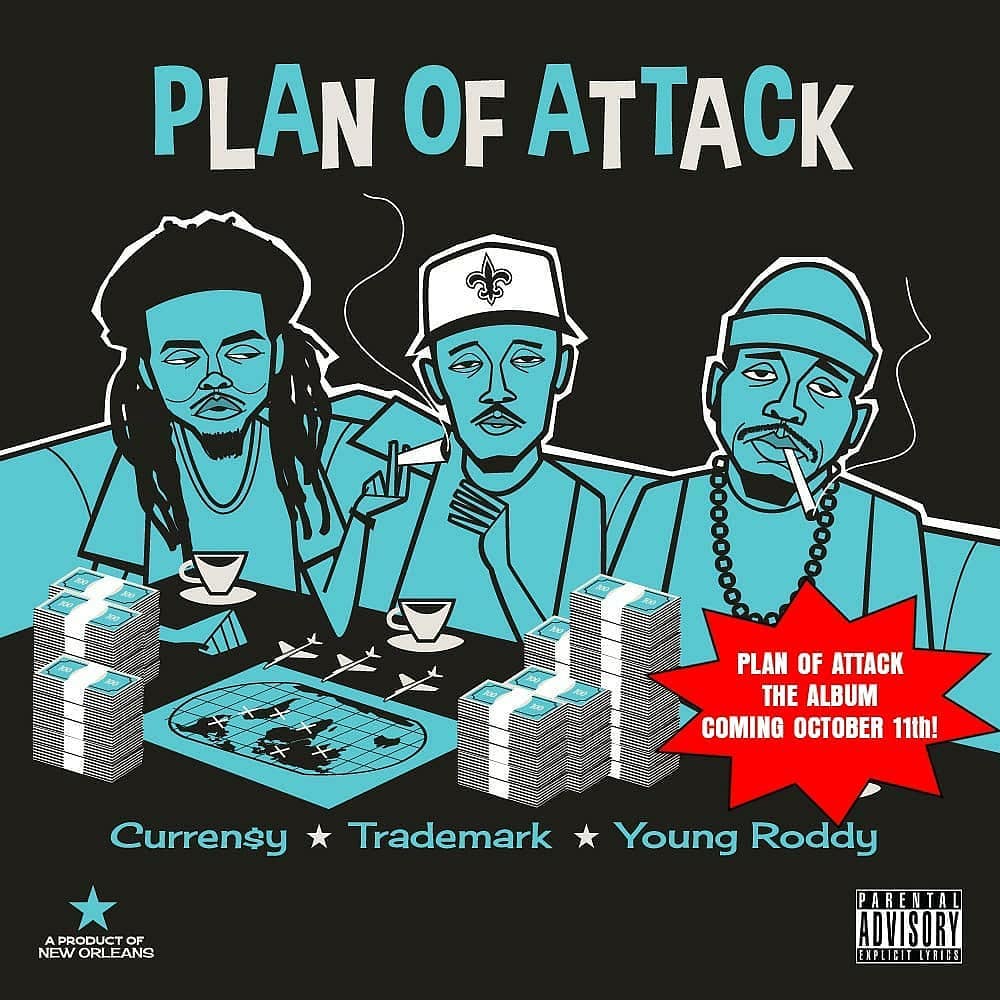 New Orleans trio — sometimes known has Jet Life, named for the venture de facto group frontman Curren$y put together in his XXL Freshman days — hasn't released an "album" as a group since 2012's Jet World Order 2. That doesn't mean they haven't been working, though. Curren$y has quietly been one of hip-hop's most consistent and productive artists, while Young Roddy, who stuck by him all this time, follows in his footsteps. The true wildcard is Trademark, whose pursuit of a solo career is what put their collaboration on pause in the first place. With him back in the fold, expectations should be high — as long as your expectations include a plethora of laid-back lifestyle raps on beats that burble along like a slow, cool forest stream.
Lil TJay — True 2 Myself
Hailing from the Bronx, New York, Lil TJay got his "big break" earlier this year alongside Chicago rapper Polo G on the hit song "Pop Out." Now, he'll get a chance to show out on his own with a 17-song project that introduces his melodic, trap-influenced flow and self-assured artistic confidence. He should be a big hit with fans of rappers like Polo, Lil Tecca, and Roddy Ricch, although he'll also have to work to distinguish himself from their shared, popular sound. With sharp singles like "F.N" and "Hold On" as the main draws, he just might.
Michael Sneed — Days We Lost
Oakland native Michael Sneed may embrace a melodic sound that mostly departs from the signature sound of his Bay Area compatriots — see: His outstanding single "Hula Hoop," for example — Sneed's perkiness and down-to-earth relatability will be the primary selling points recommending Days We Lost as the project you should check out. It'll be time well-spent, though; although Sneed is only just carving out his space in the game, if he maintains a consistent pace of production, his charm will win over a lot more fans in the future.
Wale — Wow, That's Crazy
After changing record labels in 2018, Wale bounced back with a newfound enthusiasm for rapping and a willingness to embrace his persona as hip-hop's Don Juan du jour, releasing a wave of singles centered around the concept of love and praising women. He's calling this project therapy set to music, and speaking from personal experience, it may well be one of his best yet. With features from 6lack, Ari Lennox, Bryson Tiller, Jeremih, Kelly Price, and MannyWellz, he's leaning hard into the R&B vibes, but have no fear — with guest rappers Boogie, Lil Durk, and Megan Thee Stallion keeping him on his toes, he'll still have plenty of reason to showcase his vaunted skills with straightforward rappity-rap rapping.
Some of the artists mentioned above are Warner Music artists. Uproxx is an independent subsidiary of Warner Music Group.