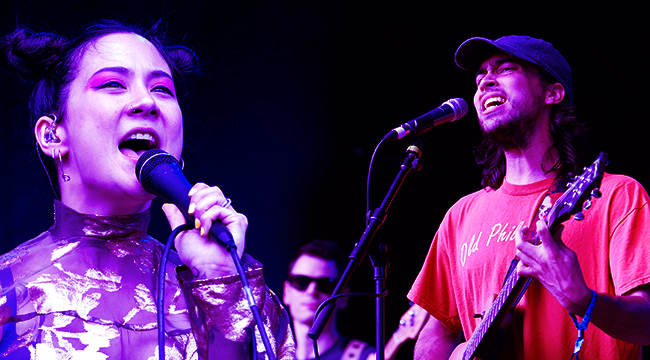 Indie music has grown to include so much. It's not just music that is released on independent labels, but speaks to an aesthetic that deviates from the norm and follows its own weirdo heart. It can come in the form of rock music, pop, or folk. In a sense, it says as much about the people that are drawn to it as it does about the people that make it.
Every week, Uproxx is rounding up the very best of the indie releases from the past seven days. This week saw (Sandy) Alex G return with new music that's like, "we get it, you worked with Frank Ocean" (in a good way), Japanese Breakfast unveil a beautifully intimate '80s cover, and Bon Iver share their first new music since 2016's 22, A Million in the form of a pair of super collaborative songs. Lots of indie darlings sharing new music this week!
Before we get into it, if you want weekly recommendations curated by Steven Hyden delivered directly to your inbox, sign up for our Indie Mixtape newsletter here.
(Sandy) Alex G — "Gretel"
Unstoppably prolific for the better part of the 2010s, (Sandy) Alex G's first new music in two years isn't unexpected, but it is certainly exciting. From the first moments of "Gretel," the first single of Alex's ninth(!!!) album, it clear that his time in the studio with Frank Ocean working on Blonde served his songwriting style as much as it did Frank's. With a sharp sense of melody and the signature pitched-up vocals, "Gretel" is yet another impressive entry to (Sandy) Alex G's increasingly massive catalogue.
Japanese Breakfast — "Head Over Heels"
We've heard Japanese Breakfast take on this '80s classic in the live setting before, but the official studio version of this Tears For Fears hit takes on a little bit of a different feel. "The recorded rendition is more intimate, as it's pretty much just Michelle Zauner and a keyboard," writes Derrick Rossignol for Uproxx. I probably don't even have to say it, but Zauner's version is hauntingly beautiful, and was released only a few weeks after "Essentially," the cover of "Head Over Heels" is Zauner's second partnership with W Hotel's W Records, and all of the proceeds from both tracks will benefit the American Civil Liberties Union (ACLU).
Bon Iver — "Hey, Ma"
Although they haven't officially announced a follow-up to 2016's epic 22, A Million, "Hey, Ma" is one of two new singles from Justin Vernon and Co. (literally — there are so many people on this track, including Bruce Hornsby, Moses Sumney and Aaron Dessner). As with most Bon Iver songs, the music is absolutely gorgeous and is supplemented by abstract, almost nonsensical lyrics, and "Hey, Ma" is no different. Based on the chorus, I believe this one is about an anthropomorphic stack of money that lives in a coal mine and wants the listener to call their mothers more — but I could be wrong about that. If you have other thoughts, let me know. All told, "Hey, Ma" is really awesome.
Stef Chura — Midnight
Produced and engineered by Car Seat Headrest's Will Toledo, Midnight finds the Detroit indie rocker easily side-stepping the sophomore slump and delivering some of her finest tunes to date. Seemingly straight out of the mid-'90s, the songs have a unique sense of swagger and energy that has felt missing from the indie world of late, and the lo-fi buzz is immediately invigorating.
Whitney — "Give Up"
Only a few days after unveiling the new track "FTA" and sparking rumors of a new album around the corner, Whitney officially announced their record Forever Turned Around with another single, "Giving Up." The track takes a very nice step forward for the Chicago band, and is, according to Derrick Rossignol for Uproxx, "a fine example of their idiosyncratic brand of indie soul that made this upcoming album so anticipated in the first place."
Palehound — Black Friday
Fun fact: I booked Palehound in my basement in 2015. It was a great show. Now, Ellen Kempner has released the third full-length album under the name Palehound, though this version of the band is more refined and calculated. Black Friday is chock full of striking melodies and empowering lyrics that feel even stronger with Kempner's reserved, near-whispered vocal delivery.
Bedouine — "One More Time"
Bedouine has been a longtime favorite of ours since her wonderful self-titled album , and the singles from her forthcoming effort, Bird Songs Of A Killjoy, deliver more of the same quiet, introspective beauty that we've come to love from Azniv Korkejian's unique folk. "One More Time" explores the difference between sharing your life with someone and being alone, and you're definitely going to want to put on your headphones and take a deep breath of fresh air with this one.
Jay Som — "Superbike"
With "Superbike," the first taste of her second label effort Anak Ko, Melina Duterte is simultaneously channeling the best of reverb-soaked dream pop and polished shoegaze. The track is the result of a big life shift when Duterte packed up and moved to Los Angeles, allowing for input and collaboration from a number of her peers, including Vagabon's Laetitia Tamko, Chastity Belt's Annie Truscott, and more. "Superbike" is "a bold step forward for Jay Som… and also an affirmation of her past effervescent impulses," Caitlin White writes for Uproxx.
Dude York — "Box"
Although it features opening lines that echo the infamous "Mr. Brightside" refrain, "It started out with a kiss / how did it end up like this?," Dude York's "Box" sounds more like some of The Cure's biggest hits than The Killers. On the latest single from their forthcoming album Falling, their first official release since 2016, "Box" is anchored by riffs and riffs and, uh, more riffs. This is a really fun one, and it'll stay on our summer playlist for weeks to come.
Kate Davis — "rbbts"
For her label debut, Kate Davis got a pretty big cosign in Sharon Van Etten, who premiered the new single "rbbts" on Facebook, calling Davis "one of my favorite singers today." The track itself is an eery, ethereal number with an off-kilter lead guitar that builds the tension underneath spot-on harmonies before the chorus crescendos into focus.
Some artists covered here are Warner Music artists. Uproxx is an independent subsidiary of Warner Music Group.