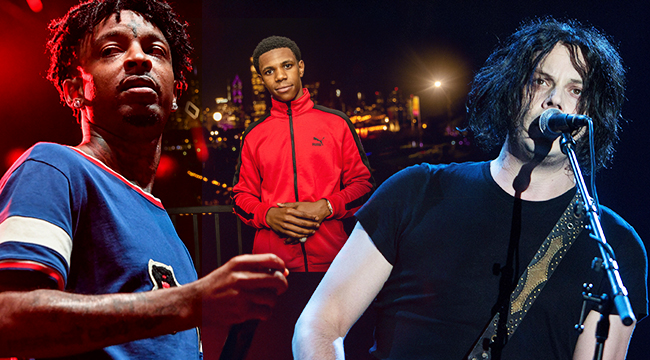 Keeping up with new music can be exhausting, even impossible. From the weekly album releases to standalone singles dropping on a daily basis, the amount of music is so vast it's easy for something to slip through the cracks. Even following along with the Uproxx recommendations on daily basis can be a lot to ask, so every Monday we're offering up this rundown of the best music released in the last week.
This week sees the year winding down with the much anticipated new album from 21 Savage, Jack White's return to one of his old side projects, and a new tune from Valee and Dram that feels like an early Christmas present. Yeah, it was a pretty quiet week for music, but not without a few gems. Check out the highlights below.
21 Savage — I Am > I Was
You could see a virtual tumbleweed blow through the album releases this week, but 21 Savage still managed to make the week worth tuning into. His much anticipated album offers up a rare Childish Gambino feature as well as J. Cole asking the public to "pray for" Tekashi 69, but the show is 21 Savage's primarily, proving himself capable of following up his beloved Issa with another essential release.
A Boogie Wit Da Hoodie — Hoodie SZN
The week's only other major album release comes from rising rap star A Boogie Wit Da Hoodie, who made waves near the end of last year in an incident involving Lil B. Now that the drama has faded from memory, it's a perfect time for him to follow-up his previous effort, The Bigger Artist. As our own Aaron Williams notes, its sort of the opposite strategy of what most are doing with "nonstop content," but one that might be fruitful for a guy that needs to get in the music world's good graces again.
The Raconteurs — "Sunday Driver" and "Now That You're Gone"
Jack White is a man of many interests, and The Raconteurs are just one of his many projects. On the project's first new music in a decade, White shares vocal duties with Brendan Benson for a pair of straightforward rockers that feature White's wailing guitar prevalently.
Stoney Willis — "Nu Stogie" (Feat. Earl Sweatshirt)
Fresh off the release of his excellent new album, Some Rap Songs, Earl Sweatshirt is back with a feature on this new Stoney Willis song, "Nu Stogie." As our own Derrick Rossignol wrote about the song, "The production and rapping styles aren't unlike the music Sweatshirt was making during the time of his 2013 debut album Doris, with a menacing-but-hazy beat and more monotonous flow.
Valee — "About U" (Feat. Dram)
Following collaborations with Pusha T ("Miami"), Matt Ox ("Awesome"), and Vic Mensa ("Dim Sum") already this year, Valee is back for one more before the year closes. This time he enlists the help of Dram for a smooth and melodic flow over a ChaseTheMoney trap production. Valee's voice is fragile and affected, going just a little outside his own range in a way that's charming and memorable. He continues to establish himself as a unique presence in hip-hop, and this is one more reminder before the calendar turns.
Rae Sremmurd — "Christmas At Swae's" and ""Nothing For Christmas"
It's the time of year for the holiday single, and though many artists have already offered their yearly entry, Swae Lee and Slim Jxmmi are determined to make the "nice list" of music fans before it's too late. Swae's offering is somber and reflective, showing the sentimental side of the holidays, while Jxmmi's goes full throttle for a merry rave-up. These two have had a prolific year, including beginning it with the release of a triple album. It's only appropriate that they say goodbye to 2018 with a little more music.
Laura Stevenson – "The Mystic & The Master"
Happy birthday to the mom of Laura Stevenson! The singer celebrated her mom's birth by releasing these two new songs. "The Mystic & The Master" in particular is a stunner, slowly building from just Stevenson's voice to include lush flourishes, moments where all the cues lineup to take the song into another galaxy. The song's message is ultimately one of appreciation for her mother's sacrifice, delivered in a way that's unforgettable.
Some artists covered here are Warner Music artists. Uproxx is an independent subsidiary of Warner Music Group.