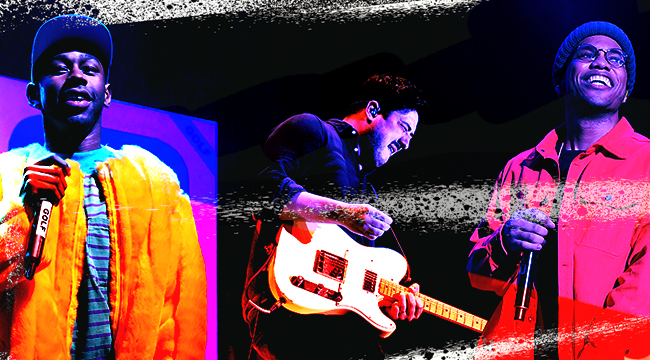 Keeping up with new music can be exhausting, even impossible. From the weekly album releases to standalone singles dropping on a daily basis, the amount of music is so vast it's easy for something to slip through the cracks. Even following along with the Uproxx recommendations on daily basis can be a lot to ask, so every Monday we're offering up this rundown of the best music released in the last week.
This week offered up a highly anticipated new album from funk-loving hip-hop rising star Anderson .Paak, Tyler, The Creator's collection of Grinch songs, and a number of records from alt-rock royalty. Yeah, it was a pretty great week for music. Check out the highlights below.
Anderson .Paak — Oxnard
Anderson .Paak is one of the most exciting young musicians to emerge in the last few years, impressing with his songwriting, his genre fusion, his distinct voice, and his drumming. Following up his beloved Malibu album, .Paak goes further up the coast to the north to Oxnard for an album featuring the impressive likes of Kendrick Lamar, Pusha-T, J. Cole, Snoop Dogg, and Q-Tip, while offering production credits to Dr. Dre and Madlib. There might not be a better representation of west coast hip-hop at the moment.
Tyler, The Creator — Music Inspired By Illumination & Dr. Seuss' The Grinch EP
Tyler, The Creator and The Grinch might now seem like the most obvious pairing, but on this six-song EP, Tyler dives head first into the world of the green meanie. Music aside, this presents a commercial turn for the rap star that's previously been unseen, painting him as an artist whose reach has now gone so far beyond his Odd Future roots, that we've probably still only seen the tip of the iceberg of what he's capable of.
The Smashing Pumpkins — Shiny and Oh So Bright, Vol. 1 / LP: No Past. No Future. No Sun
All roads led to this, but still it kind of felt like The Smashing Pumpkins' tour was more of the main event, rather than this reunion album. Still, Corgan's songwriting is stronger than its been in years, as if he knew that more ears were gonna be on him following the much-publicized year. No one was expecting the band to return to their '90s heights, but the moments that drift within spitting distance of their classics feels like the whole thing has been worthwhile.
Mumford & Sons — Delta
Four albums in, Mumford & Sons have crafted the most ambitious album of their career. After going electric on 2015's Wilder Mind, the London four-piece continues down that path, bringing the banjo back but making it barely recognizable under Paul Epworth's production. "We didn't need a quick album, we needed a good one," Marcus Mumford told me recently, and the band has certainly achieved their goal.
The Good, The Bad & The Queen — Merrie Land
Damon Albarn is one of the hardest working musicians alive. When I spoke with him about his Gorillaz music festival, he had the next year of his life mapped out with projects. The Good, The Bad & The Queen is the return of one of his beloved entities, where he makes tunes with Paul Simonon, Tony Allen, and Simon Tong and produced by legend Tony Visconti, resulting in an album that is distinctly British, and focused on what it means to be British in 2018.
City Girls — Girl Code
City Girls might be under fire for some homophobic comments of late, but the group is still as much in the conversation for the hip-hop vision they provide. Their second album of the year, Uproxx's Aaron Williams notes that the album should be loved for its "card-snatching, cash-grabbing, baller-tricking anthems."
Sloucher — Be True
There are few cities with a musical history as rich as Seatle, so Sloucher has a lot to live up to. "Every track has its own vibe, with the band consciously trying to bring different angles to different compositions," Corbin Reiff writes, noting that the band is the "the next great indie rock band" to come out of the Pacific Northwest.
Girlpool — "Hire"
Girlpool have just announced a new album out in early 2019, What Chaos Is Imaginary, and their first sampling from the project certainly ups the anticipation. The song finds Cleo Tucker and Harmony Tividad doubling down on attitude and angst in what Uproxx's Leah Lu calls"a blissed-out exposition that captures the duo's maturation both musically and mentally."
Karen O and Danger Mouse — "Lux Prima"
Danger Mouse is a master collaborator, having worked with artists like Jack White, James Mercer, The Black Keys, and Sparklehorse. His latest cohort is Yeah Yeah Yeahs leader Karen O, with whom an entire album is expected out soon. Our first taste comes in the form of the sprawling "Lux Prima," a selection that sprinkles mystery into Danger Mouse's psych-pop formula. Most importantly, Karen O's voice is just as captivating as always.
Zayn and Nikki Minaj — "No Candle No Light"
For all the flak thatNicki Minaj has received this year, it's kind of inspiring to see her continually pushing forward. Her latest song is an appearance on this Zayn track, which incorporates tropical house for a dancefloor-ready slapper. The two pair up nicely, not limiting the song to his and hers parts, but genuinely intertwining their two personas into a coherent offering.