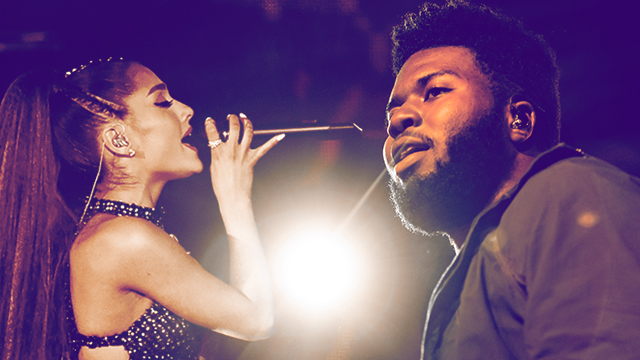 Keeping up with new music can be exhausting, even impossible. From the weekly album releases to standalone singles dropping on a daily basis, the amount of music is so vast it's easy for something to slip through the cracks. Even following along with the Uproxx recommendations on daily basis can be a lot to ask, so every Monday we're offering up this rundown of the best music released in the last week.
This week saw rising R&B star Khalid link up with Disclosure, a bananas collaboration between Beck, Robyn, and The Lonely Island, and Ariana Grande delivering one of the most anticipated albums of the year. Yeah, it was a pretty great week for new music. Check out the highlights below.
Ariana Grande – Thank U, Next
There might not be a more anticipated album so far this year. Ariana Grande's quick follow-up to her mammoth Sweetener already has two No. 1 singles to boast. Early storylines include a ton of Mac Miller references, a video that displays the importance of self-love, and a shout out to Rihanna's Fenty beauty line. Pop's current queen loves giving her fans something to talk about, and this album has that in spades.
Currensy And Wiz Khalifa — 2009
Two of hip-hop's biggest weed lovers join forces again for this new collection, 10 years after their previous How Fly offering. As our own Aaron Williams notes, "2009 is a great reminder of a simpler time without being cloying or precious about it. It simply recalls the essence of those early days of stardom for two hustlers with kindred spirits and their heads in the clouds, rapping together for the fun of it before either had much of a fan base to cross-pollinate with the other."
Jessica Pratt — Quiet Signs
Los Angeles-based folk singer Jessica Pratt seems to operate from another dimension, where spare, quaint songs rooted in tradition have room to breathe. It almost feels like the antithesis to the monoculture of the moment, but Pratt doesn't back down from an increasingly noisy world. She's proof that some things are timeless, that her somber reflections can thrive in any circumstance. And, in many ways, she's right.
Cass McCombs — Tip Of The Sphere
Cass McCombs is something of a nomad, having recorded in Los Angeles, San Francisco, New York, Baltimore, and more over the course of his 16-year career. But his big physical moves are balanced by incremental recording shifts, a honing of his craft that has been nothing but a pleasure to witness. Uproxx's Steven Hyden thinks the latest is his best yet, which is saying a lot if you've followed McCombs great output.
Music Inspired By The Film Roma
If you haven't taken the time to queue up Roma on Netflix, it's a powerful slow-burner, that saves up its big punches for when you are not ready for them. And in addition to the great film, there is now a collection of tunes inspired by it. Beck, Billie Eilish, Patti Smith, El-P, and Laura Marling are just a few of the artists who turn up for this.
Beck Feat. Robyn and The Lonely Island — "Super Cool"
The first Lego Movie was almost as memorable for its Tegan & Sara jam "Everything Is Awesome" as it is for the actual content of the film, speaking more to the enjoyment the song brings than the film's quality. And its sequel is trying to catch lightning in a bottle again, this time with Beck and Robyn in tow. The Lonely Island pop up too, with lines like "It's the credits, yeah that's the best part / When the movie ends and the reading starts." If the movie is nearly this fun, it won't have a problem winning over fans of the original.
Charly Bliss — "Capacity"
Charly Bliss' 2017 debut album, Guppy, was full of power-pop zest, and put them squarely on the radar as a band to watch. Now, they are back and their sophomore album's first single, "Capacity," and the Brooklyn four-piece sounds even more assured and confident. If the rest of their album, due in May, is this strong, Charly Bliss will be ready for a bigger spotlight.
Khalid — "Talk"
Disclosure have been pretty quiet as of late, but their return is producing this new single from Khalid. For the R&B singer, "Talk" represents a new chapter, one that should include a new album before his upcoming Coachella sub-headlining appearance. He already calls the tune "one of my favorite songs I've ever been a part of."
Migos — "Position To Win"
The song that was debuted in a Mountain Dew ad finally gets a full release. It's an energetic anthem, one that speaks to the Dew extreme aesthetic, but also stays true to Migos' worldview.As Quavo said about the song, "It's a highly energetic record, a chant, a song for you to be ready to go out to battle and fight. Fight for what's right, fight for nothing but positive energy."
Jamila Woods — "Zora"
Whether you call her a musician, a poet, or just an artist, Jamila Woods will shatter any expectations set up by those classifications. The truth is she is one of the finest young creators that we have, and her latest release, "Zora," sets the table for exciting music to come. About the song, Woods said, "It's about refusing to be essentialized and not allowing your identity to be put in a box. You contain multitudes. You are ever-evolving."
Some artists covered here are Warner Music artists. Uproxx is an independent subsidiary of Warner Music Group.