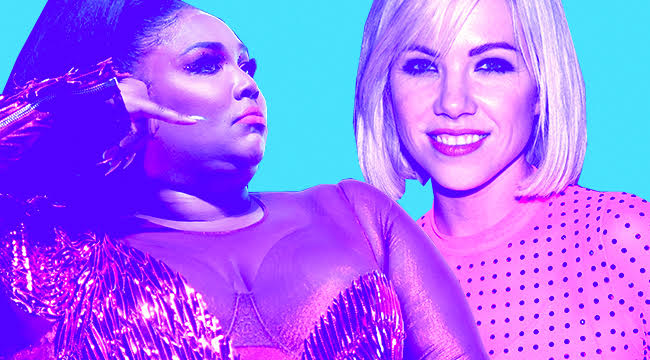 We'll get this out of the way right off the bat — Lizzo's Cuz I Love You is fantastic, and one of the best pop albums of the year. It's effervescent and earnest and all the good, happy adjectives, and Lizzo is an absolute star. But this week also had lots of other great releases worth spotlighting. Jade Bird, who I've included in this column a few times released her self-titled label debut on Friday. Your mileage may vary on Carly Rae Jepsen's post E•MO•TION singles, but I've dug everything she's put out recently, and her latest release is solid, too.
Every week, Uproxx will round out the best new pop releases of the last seven days. Listen up.
Kygo, Feat. Rita Ora, "Carry On"
Yes, I realize this song is from the Detective Pikachu soundtrack, but Kygo and Rita Ora's latest collab is pretty great. Ora has a beautiful voice, and Kygo dials it down from his usual dramatic EDM style to match her mellow vibe. "Carry On" was initially demoed by Charlie Puth, and if you listen closely, you can still hear him on the background vocals.
Lizzo, "Like A Girl"
The first few seconds of this bouncy, joyful track sound a little like Chance The Rapper's "No Problem," and "Like A Girl" only goes up from there. Lizzo salutes the badass record-breakers who came before her — Chaka Khan, Serena Williams, and Lauryn Hill, to name a few — but "Like A Girl" is also a celebration of Lizzo's unique strength and powerful voice. Cuz I Love You is getting Lizzo a lot of acclaim, and for good reason. Her music is a breath of fresh air and a jolt of energy.
Carly Rae Jepsen, "Julien"
We're only a few weeks away from the release of Carly Rae Jepsen's newest album (Dedicated is out May 17), and the Canadian singer-songwriter has shared another new track from the upcoming album. "Julien" is an ebullient electro-pop banger, as Jepsen explores her heartbreak over a disco-tinged beat. Jepsen wrote on Twitter that "'Julien' is the song that taught [her] the heart and direction of this album." If "Julien" is the roadmap for the rest of the album, we're in for some more great stuff.
Daddy Yankee, Feat. Katy Perry And Snow, "Con Calma"
Puerto Rican hip-hop superstar Daddy Yankee and Canadian rapper Snow released the addictive, endlessly catchy "Con Calma" earlier this year. If Snow's name (and "Con Calma"'s melody) sound familiar, it's probably because Snow's song "Informer," which featured the same rapid-fire vocal style and melody, was a no. 1 Billboard hit for a few weeks in 1992. Daddy Yankee and Snow reimagined the track as a reggaetón and dancehall banger in their original version, and the new remix with Katy Perry adds another permutation to the mix. In its remix and standard forms, "Con Calma" is a dizzying musical pastiche, a delightfully campy and fun mix of past and present.
Jade Bird, "Side Effects"
On the moody, contemplative "Side Effects," English singer-songwriter Jade Bird contemplates transformation. Love has her feeling mixed-up and full of potential, but the positive feelings quickly give way to more serious "side effects," as Bird narrates a relationship going sour. Bird is an ageless soul — her otherworldly voice and poignant songwriting make her sound more mature than her 21 years, maybe smarter and more thoughtful than all the rest of us. "Side Effects" is great, but Bird's entire self-titled LP is worth a listen, too.
Dinah Jane, "Heard It All Before"
Former Fifth Harmony singer Dinah Jane launched her solo career with last year's "Bottled Up," but the singer has followed it up with her first collection, the EP Dinah Jane 1. Jane doesn't stray too far from what she did in Fifth Harmony, but the EP is pretty solid, especially the cheeky, swaggering "Heard It All Before." In the song, Jane eviscerates an uncreative guy tossing off the same excuses instead of working to earn her affections. The song is full of attitude and very early 2000s R&B, and the video is a retro girl power throwback to match.
Olivia O'Brien, "Just A Boy"
Speaking of disappointing men, Olivia O'Brien's new single this week is another musing on the same topic. In "Just A Boy," O'Brien narrates her time spent pining after a cute guy who proves himself to be too immature to merit her affections. O'Brien is a great storyteller, and can rip a guy to shreds with the best of them: "And baby, you're disposable / I would rather be alone / Than have to deal with you one more time." "Just A Boy" is a breezy, fun electro-pop anthem — unless you're the type of guy she's singing about.
Becky G, Feat. Maluma, "La Respuesta"
Becky G and Maluma joined forces last December for a feminist reimagining of Maluma's song "Mala Mia," and the duo have paired up for another empowering banger. "La Respuesta" is an upbeat, danceable Spanish-language pop anthem. Becky G sings about not needing a man to take care of her or buy her things (very "7 Rings"), while Maluma offers to step down and be the mutable guy of her dreams: "You can treat me bad if you give me a kiss at the end," he asks. The answer (the "respuesta" of the song's title) is, of course, no. Who needs a man when you can make a pop anthem like this all by yourself?
Some artists covered here are Warner Music artists. Uproxx is an independent subsidiary of Warner Music Group.